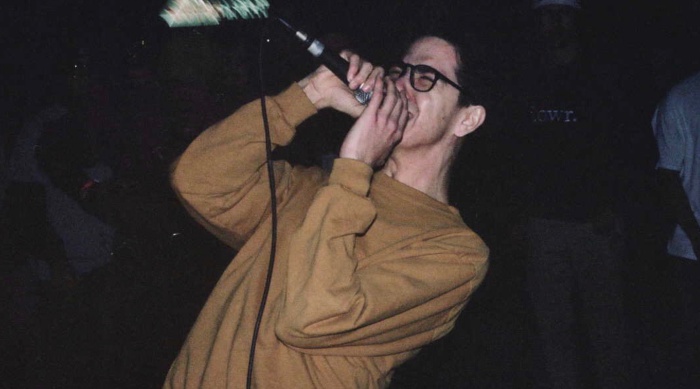 Arizona's long been a unique bastion for aggressive, passionate music, with an eclectic selection that has included everything from gritty metalcore, accessible post-hardcore to serrated death metal. To elaborate, there is much being brought to the table from the Grand Canyon State, with each dish adding its own flavor to the larger banquet. Arizona's thriving hardcore scene is exemplary of this variety. Construct, a relatively new, but welcome, addition to the feast, certainly adds their own sound to the bustling heft around them. To that end, I had the privilege of exchanging my questions with their drummer Noah Garcia, touching on subjects such as their strong '90s influence, their inspirations within and outside hardcore and what they bring to the table for AZHC.
We'll get some of the basics out of the way. How did Construct come together? Was there a specific ideology and / or sound you were collectively pursuing?
Whats up, man. So basically, we were all in a band called Freedom of Choice. It was a band mainly built up on straight forward/faster hardcore with some Youth Crew influence. We had the demo out for some time and were honestly just getting bored of how the writing process was coming about. Sticking to the initial theme was becoming bland and we wanted to write some music that seemed more interesting I guess. Will, who played guitar at the time, just had a more melodic style of writing riffs so when FOC was writing new stuff, we kind of just veered off into the sound Construct has today.
My playing style on the kit was also more relative to the slower, melodic sounds that Will and Lucas were outputting. At this point of sharing riff ideas and also jamming a bunch, we jammed out this song we pretty much came up with in a day. That song eventually became "Contrition" that's on the demo. After jamming it a bunch we pretty much decided to base whatever we came up with after, off that song. A completely different sound was pretty much born and we then decided that since our whole sound and vibe was different, the name change happened. After coming up with all our next songs, some things happened and we had a little lineup change. Will ended up hopping on the mic and we brought in Markie to fill in Will's spot on guitar. Big shout out to Markie man, he's an insane guitar player that just gets it. It was a natural fit.
As far as influences go, what other bands, artists or otherwise have inspired Construct's sound?
A few bands that inspire us are Turning Point, Judge, and Outspoken. These bands play a huge roll in the way we play our instruments and they mean a ton to us. The beliefs and words of these bands have shaped the individuals that we are today. Talking about subjects like; vegetarianism, straight edge, individualism, and being who your true self is if that means losing people in your life.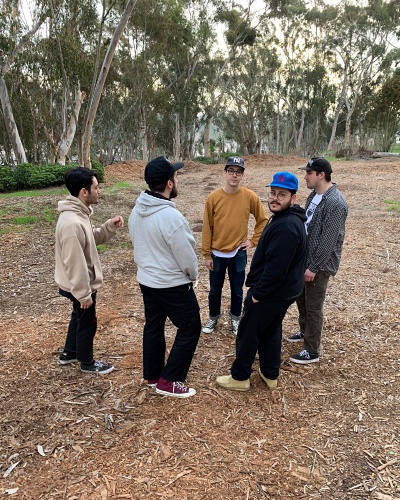 There's been a prevalence of '90s-centric imagery within hardcore lately. Personally, what has attracted you all to incorporate these aesthetics into your art and merch?
I personally think it fits best with what our vibe is. When making the stuff for Construct, I try to make things look good and simple and not over do it.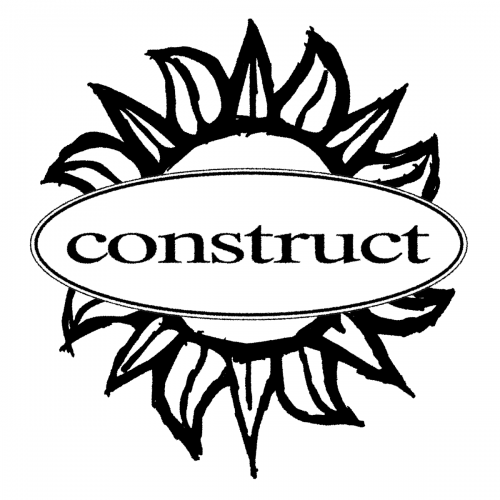 Arizona's consistently had an ever-changing, though always growing, hardcore scene. How has it been contributing to this scene and what do you feel Construct brings to the table that other bands may not?
Youthcore, and any embodiments around late '80s/'90s melodic hardcore hasn't really been too predominant recently in Arizona. Especially in Phoenix. It's been real cool contributing to what we have here because we are the only group out of Phoenix with the sound and vibe that we have. We just want to showcase a sound that some kids might not be too familiar with, and if they like it, that's even better. Recently in an interview I mentioned how Phoenix doesn't really have a thriving hardcore scene like some of the places I've witnessed firsthand and from afar. Some people here got upset at that and let me say that I should have elaborated more on what my actual meaning behind that was.
What I was communicating through that, is there isn't a scene built up for the opso-head. A person that's maybe interested in more of our sound and vibe. That's not to say there isn't a lot of effort being put in all throughout the state. There definitely has always been people here grinding and putting in that work for the music they love to play. We are a young band with us all being in our early 20s, and there are also a lot of younger kinds in this scene, too. It would be awesome to see more and more younger kids starting bands to speak out on their emotions or what they believe in.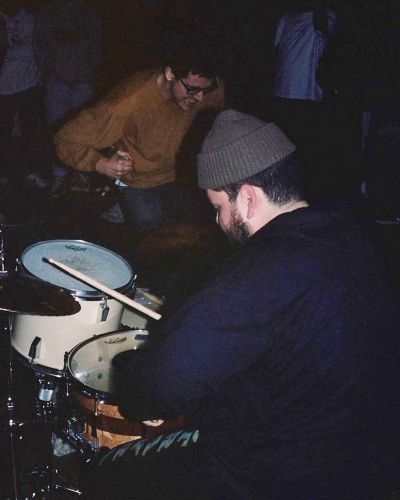 Your demo has been making waves in and out of Arizona. Given the young age of the band proper, how has this reception impacted Construct's newest material, if at all?

The love has definitely been very humbling. The demo has only been out just shy of 4 months so we didn't really expect the demo to reach so far and we are so hyped people love it. Very cool to see orders from the East Coast and even across the pond. People being interested in places like Reykjavik and Manchester. Since we've seen and felt the love, the new material we are working on I think will blow some people away and maybe give some people The Feeling.
What can we expect from your upcoming promo on Florida-based Plead Your Case Records?
I think what we're going to put out will have something to offer to everyone. There's some melodic, some slow, it's got some faster, some hard, and some ospo. There might be a nod or two from some of our favorites. We will also be covering a song I don't think many people would have expected, but I think they'll be stoked nonetheless. Big shout to Lennon and Michael over at PYC for presenting us this opportunity. We are big fans of the label and what they put out so to be united with this roster is so cool.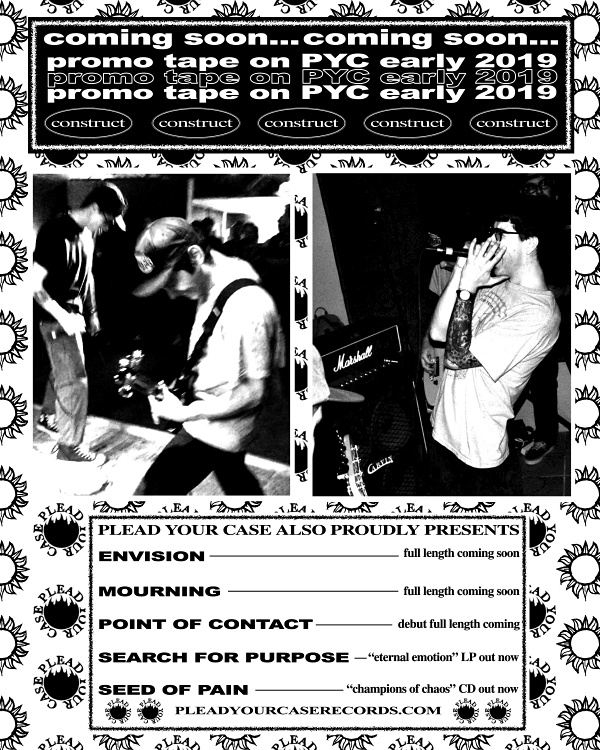 Do you have any other material planned for 2019 that you can speak of?
As of right now, we want to release the promo tape late February, and then we wanna plan a run in the spring. With all our work schedules being all over the place, this would be a perfect time to start off the year with some touring. Then late summer we were asked to join forces with a rockin' Florida band for a West Coast tour. We are trying to align the perfect time so we haven't dialed in anything yet. And we honestly just wanna play and travel as much as we can this year, so we're stoked to see whats to come.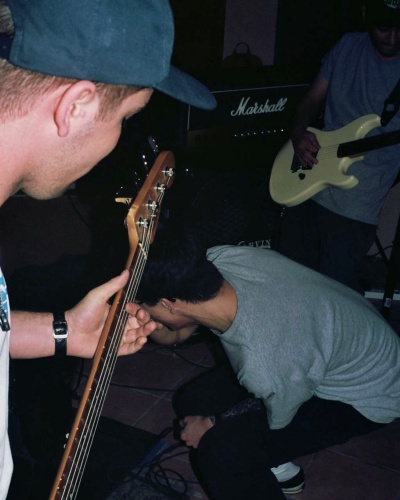 You just finished a tour with Wise, Jinx and Soul Power. How did that go overall, any interesting anecdotes from the road?
That went over really well and it was our first time playing some out of state gigs! Lemme just say playing Las Vegas took me by surprise. It was my first experience being there overall and I honestly didn't know what to expect. A bunch of kids showed out and the vibes and frequencies were gratifying. I was also filling in with Soul Power on the run and rockin' with those dudes was something else. Those dudes are the best and are true artists man. Honestly one of the coolest things we encountered on the road was the 24-hr Taco Bell in Las Vegas after the gig [laughs].
Another interesting thing was that our van did not have a damn AUX chord. The sad thing is that our van wasn't even that old [laughs]. It might have been a good thing though because it honestly just lead to us entertaining ourselves by having good conversations. Conversations about hardcore, music in general, and what we wanna accomplish. True friendship was solidified.
What current hardcore bands, in the US and abroad, are your personal favorites? Are there any in particular you'd like to play or tour with?

Wow there are so many [laughs]. Wise, Seed of Pain, Magnitude, Unified Right, Sleight of Hand, Fury, Illusion, Ekulu, Abuse of Power, Altered State, Mil-Spec, Method of Doubt, Dominant Force, Dead Heat, Restraining Order, Ecostrike, Division of Mind, Envision, Deflect, Day By Day, Diztort, Overload of Natural Energy (O.N.E), Final Expression, and Search for Purpose. Sorry, I could go on and on [laughs]. My Top 3 that I'd love to gig with would probably be Seed of Pain, Magnitude/SFP, or Envision.
Thanks for taking some time for this interview. Do you have any parting words for No Echo's readers?
No, thank you for this opportunity, it's been great! Thank you to anyone reading this for taking the time and listening to what we've crafted. It truly means a ton to us. Thank you to the people in Arizona and all other realms who rock with us and have shown us love. Big love to Zach Rippy for recording and mastering the tape. Thank you to Matt Marcum-ugalde down in Tucson for cultivating some of the best gigs. He's a real big reason bands go through Tucson and he works real hard at what he does. Shout out to Wise, Jinx, and Soul Power for considering us and bringing us out for our first time, and just being the people that they are. True musicians. Thank you Plead Your Case and anyone apart of SFLHC for sending us so much love
.
P.S. if anyone reading this has any sort of material from the Phoenix outfit Wind of Change, please contact me. I will buy anything.
***
Check out Construct's 2018 demo on their Bandcamp page.
Tagged: construct