At this point, almost two years on from the release of their punishing debut, Sonoran Depravation, you should really know who Gatecreeper is. Like really, where the fuck have you been if you haven't? No reason? Cool. Well, to bring you up to date, this Arizonan quintet formed back in 2013 (as a trio), with its roster continually filled by some of Arizona's most prolific youngish artists. An unforgettable demo, four splits, an EP and two albums (studio and live) followed in meticulous succession, with no shortage of praise in tow.
Sean Mears, the band's bassist, has long contributed to his scene beyond the power-saw madness of Gatecreeper, with Territory's dark mosh conjurings and the grindcore broodings of Languish (as its vocalist) injecting further variety into Arizona's heavy music scene. With Gatecreeper's tour with Full of Hell kicking off this month, it was the best time to discuss all these projects and more with Mears, which is consumable below.
Gatecreeper has seen a busy few years following the release of your debut LP, Sonoran Depravation on Relapse Records, as well as an EP and split with Iron Reagan. What're your personal favorites among the tracks made during your tenure as bassist with the band?
I would say my favorites to play right now are "Patriarchal Grip" off the LP, "Carved Into Stone" off the 4 way split (with Homewrecker, Outer Heaven, and Scorched), and the Sweltering Madness 7" and Iron Reagan split songs are a lot of fun to play.
What has the experience working with such a storied, influential label like Relapse Records been like?
Working with Relapse has been awesome. The guys are always really cool and welcoming when we're in town, and they continue to put out a lot of great albums every year. I'm really honored to be on their current roster and to be a part of their history.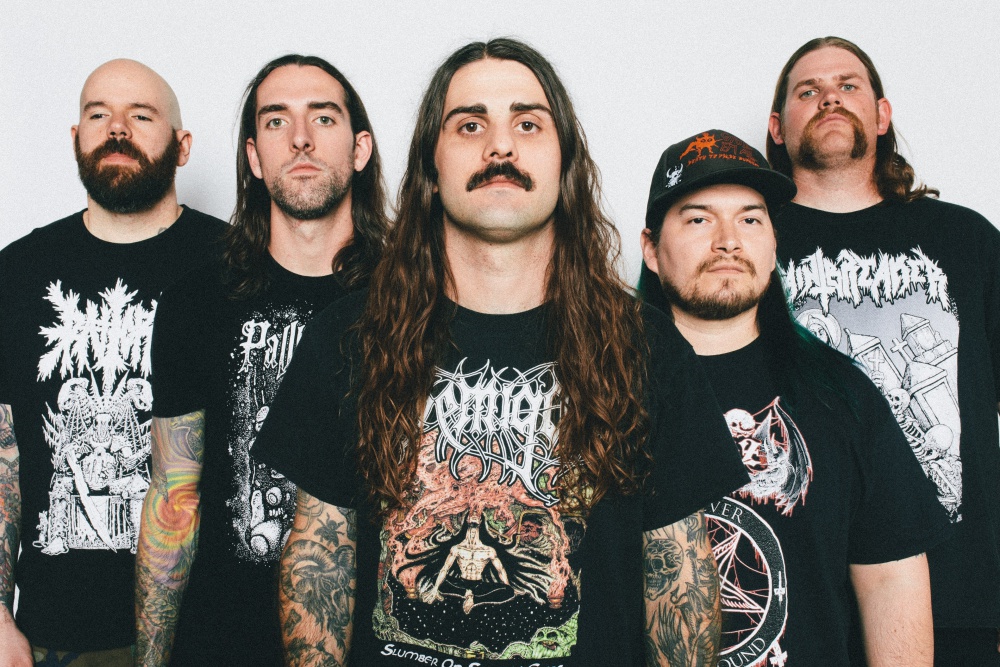 You've played in several bands prior to Gatecreeper and Languish, how have those experiences contributed to your work with your current projects?
They really just helped prepare me for being in a band that tours like Gatecreeper does. I've been on a few horrible tours and learned a lot from those. It's hard to name all the little things you pick up from being in small, unsuccessful bands.
How do you feel Arizona's metal and hardcore scenes have changed over the years? Do you feel Gatecreeper has had an influence there? What other bands have in your opinion?
I haven't been as active in the local scene the last couple of years as much as I would like to be, so right now it's hard for me to point out any real changes. From the few DIY hardcore shows I've been able to go to more recently, it looks like Tucson is doing good right now. People are going out and supporting their friends bands and that's awesome, you really don't see that a lot of places, and has not always been the case here.
I think Gatecreeper's influence in Arizona has been positive for the community part of the scene. Our shows in Tucson are always wild and a great time. I hope that influence will extend to newer/younger bands from here, and that our, and our peers' success will drive them to get out of Arizona.
I would personally say Sex Prisoner, The Beautiful Ones, and my other band, Territory (which I don't know how to say without sounding like an asshole [laughs]), have had an influence over the last few years. After Sex Prisoner and The Beautiful Ones started to tour and gain momentum out of state and local support, a lot of newer bands with their own takes on hardcore started popping up. I can't remember a time in the last 15 years AZ had this many hardcore/metal bands out and touring and getting love at home.
What death metal and grind releases, new and older, have inspired you the most or are simple go-to records?
Go to's for me are Cannibal Corpse's The Wretched Spawn, Pig Destroyer's Prowler In the Yard, Brutal Truth's Need to Control, Napalm Death's Utopia Banished, and Deicide's Serpents of the Light.
What would you consider the absolute best death metal record of all time?
Oh man, that's impossible to say, so many amazing albums throughout the genre to choose from. The Bleeding, Altars of Madness, Left Hand Path, Scream Bloody Gore, etc. All those old popular death metal classics really are the "best" for their own reasons. In my opinion, there isn't and can't be just one.

Gatecreeper has played all over the world at this point with titans like Cannibal Corpse and The Black Dahlia Murder, among others. What's your favorite touring experience thus far?
I have so many favorite tour moments, it's hard to choose what to talk about. On our first East Coast tour we got to stop and see a lot of historical sites and some of our favorite musicians' graves. On our European tour we got to walk around and explore Moscow for 5-6 hours with the promoter from Helsinki before our show.
But my favorite would probably have to be when the Cannibal Corpse/Power Trip tour went to SLC. We played at the Complex in the smaller theater, and had the huge one to hang out in with everyone. It was freezing outside, and all 3 bands had a lot of time to kill before the show, so we just got in different groups and started really hanging out with everyone. Eric Wagner and I were playing catch with a football with CC and PT members, others were playing catch with a baseball, our sound guy, Rippy, was skating around everyone, Nate Garrett was shredding the Hamer in the corner, CC crew guys lifting weights. It was just everyone having a great time hanging out and shooting the shit.
Is there any specific show you enjoyed the most? Touring with Cannibal Corpse must've been surreal.
I definitely can't decide on a show I enjoyed the most. We've had a lot of amazing shows for different reasons. On our first tour playing Perez Tire, on the Nails tour, I really loved the Tampa show, or the Cannibal Corpse tour, there were a lot of great ones that I'll always remember.
I can say one of my absolute favorites was playing Psycho Las Vegas pool stage. It started sprinkling while we were setting up and starting to play and I could see security was stopping people from moshing. Chase told security to let them do it and encouraged the crowd to do whatever they wanted. We go on to play "Desperation" and the pit erupts. Everyone circle pitting in front of us and in the pool. We all later found out from different people security was trying to stop our set the whole time because the crowd was getting too crazy for them. I believe one of them yelled "shut these clowns down." We were told by a few fans across the country they first saw us there and were hooked on us from that set.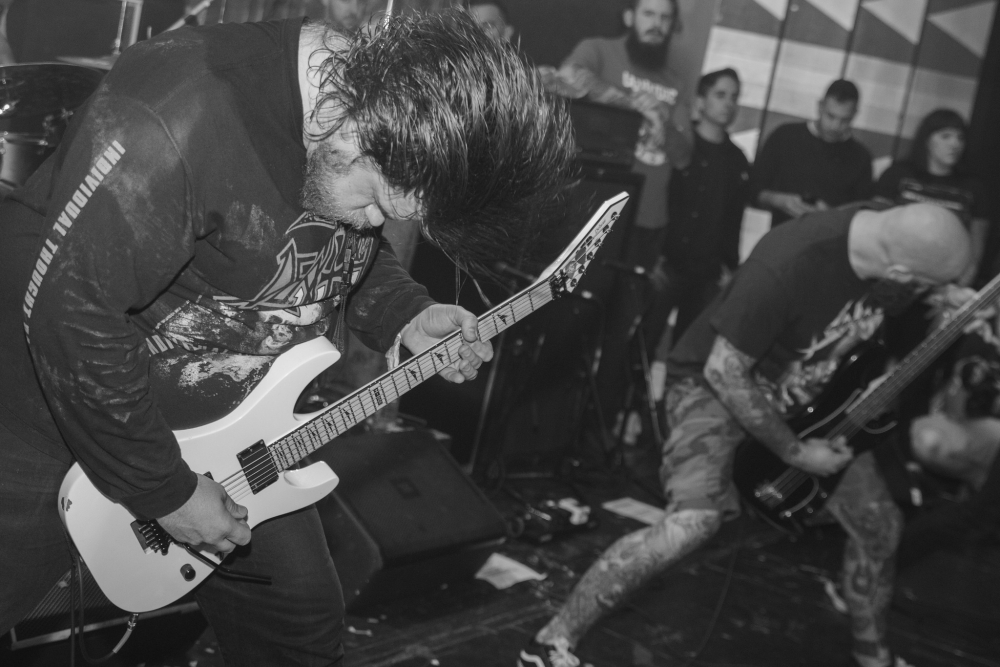 Your other band, Languish, sees you handling vocal duties, in addition to other duties, including collaborating further with the Dark Cowboy on the band's first LP, 2015's Extinction. What's on the horizon for Languish?
As I answer this, we're shopping our second LP around for a release this year. 15 new songs, including a song we wrote with Eric before he left the band. Once that part is in order we hope to do a couple small runs to support it this year and play locally more often than we have been.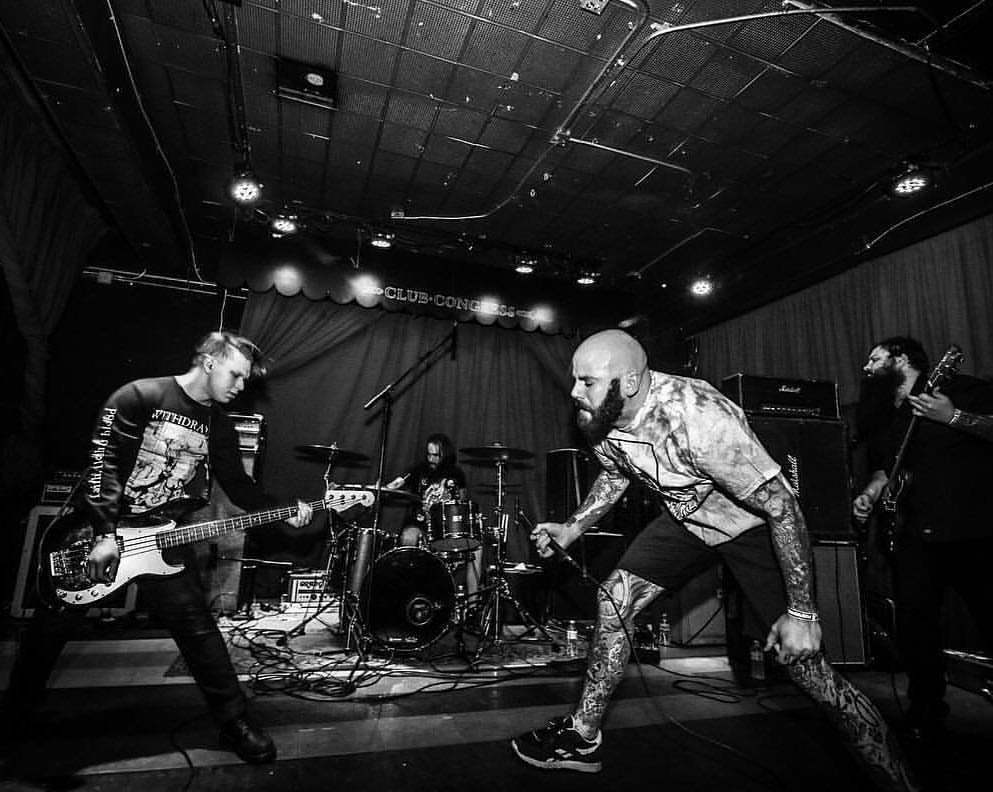 Sound-wise, where do we find Languish on your new LP, how has the crushing darkness found on Extinction changed?
On Extinction, I'd say other than it being a grind record, it has a lot of doom as the other main influence, whereas our upcoming album has a lot more death metal and D-beat than before. Me and the guys are excited for people to finally hear these songs!
***
Catch Gatecreeper out on tour with Full of Hell on their North American tour starting this week in Columbus, OH. See the dates below.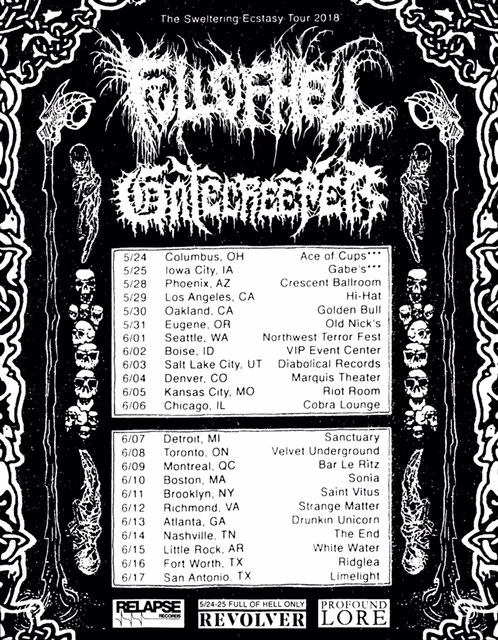 Tagged: gatecreeper