Greg Bennick has been an active part of the hardcore community going back to the '90s. Currently the singer of Bystander, he's best known for his work in the influential straight edge outfit, Trial. In addition to his musical discography and countless tours, Greg has dedicated much of his life to humanitarian work, including One Hundred for Haiti, a non-profit organization helping with development programs for the people of Haiti.
All of these experiences have helped shape his other passion: public speaking. That arena is something that I admittedly don't know much about, so in honor of Greg's forthcoming spoken word tour of Iceland (May 9-12), I chatted with the fellow hardcore lifer about his journey into that world and overcoming the fear that came along with it.
I guess the first and most obvious question would be, what can someone expect when they go check out a Greg Bennick spoken word performance?
I always start my shows by casting spells and follow that up with a lot of ultra-religious chanting in foreign ancient languages. Then we all clap our hands in unison for an hour. Then I sing show tunes while tap dancing. [Laughs] None of that is true. At my shows I combine spoken stories and ideas, rooted in punk and hardcore, with a focus on them being either funny or impactful or both. Always focused on a central overall theme, and am always inspired by the idea of vulnerability and ultimately getting through life in a better more encouraging way.
There's one thing to go up on stage and scream into a microphone while loud music is playing beneath it, but I for many of us, the thought of standing up there and just talking for an extended period of time is very intimidating. How was that experience for you early on? Is it something you feel you've gotten much better with through the years?
I was terrified the first time I went out on tour to speak. I just kept telling myself that I had to start somewhere. The first actual tour day I did was at the now-defunct Laughing Horse Book Collective in Portland. I walked in and set up tables between myself and the audience. I honestly think that psychologically I was setting up a barrier between them and me if they decided to riot and attack me for my terrible performance. I had pages of notes laid out in front of me that I could read from. It was pretty tough and definitely rough but I got through it. Things have gotten much different. No more notes needed. I have memorized all my spells and show tunes now [laughs].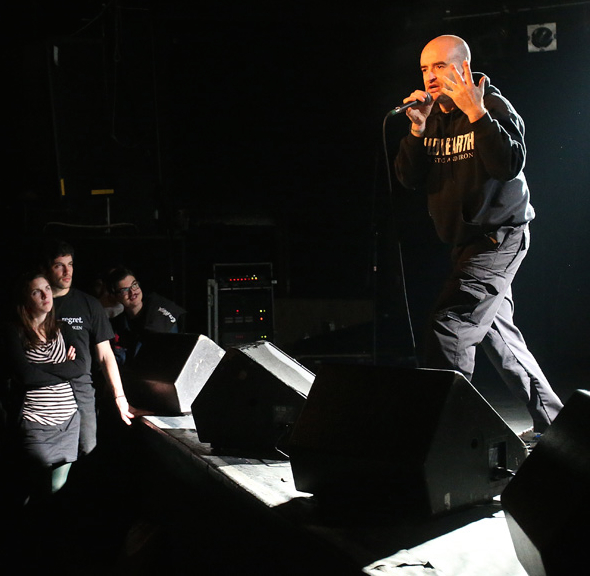 Did you have to work on your diction/speech? I find that I tend to speak really quickly when I listen back to my voice in a recording. Maybe it's the NYC in me? How about you?
Thankfully a large part of my speaking ability is genetic because my mother is a brilliant public speaker. I inherited a tiny bit from her. I've only seen her do one full keynote and it was so intense. It was ninety minutes of her getting very direct with a group of 200 senior citizens telling them that if they don't start exercising that they are going to die sooner than later. She's no joke. Basically she is like a 4'11" hardcore singer without a band [laughs]. But yes, I trained as a stage actor and have been speaking since I was 14, so my voice is pretty crafted at this point.
You'll be heading out on a run of 3 dates in Iceland. Do you address the cultural/language differences when you travel to foreign countries for the spoken word shows, or do you keep things the same?
Yes, I always either address differences or poke fun playfully at them. Stereotypes we have of one another culturally make us all laugh if approached in the right way especially when I turn the tables on myself first being from the USA. The Trump regime being in effect has helped that immensely. The world sees us as a complete joke, and everyone is always ready to laugh at us and about us. There are universal truths amongst people: we want to be laughing, at ourselves and playfully at one another, and the cultural norms we have established are really good targets for that, especially if the goal of the laughter is a deeper understanding of our shared humanity beneath the norms.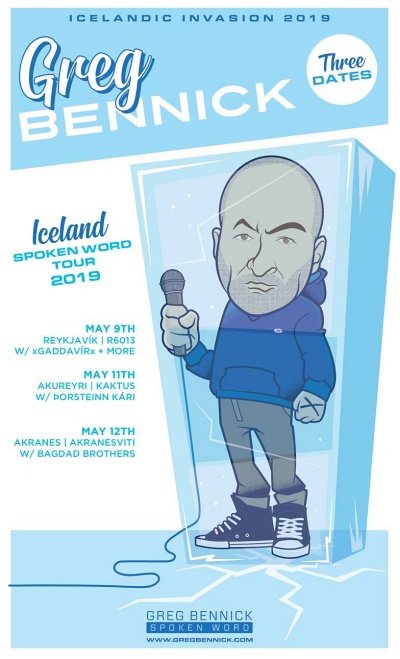 If someone hasn't delved into spoken word yet, what are some releases/folks they should start with?
What a great question. I've never been asked that before. I'm terrible in that I don't listen to other spoken word so I'm not sure what to suggest. But I'd actually say start with podcasts unless you dive into the traditional Biafra/Rollins spoken stuff. Even then I'm not sure what to suggest. But in terms of podcasts, I like ones in which the speaker uses stories to express ideas and brings you on a journey. My favorite is the S-Town podcast from a year or two ago. It was brilliantly done and an example of totally accessible, captivating story telling. It was really entertaining and engaging.
Do you ever have people shout out random Trial song requests during your spoken word sets?
All….the….time. They want to hear the intro to "Reflections" so they ask if I brought a string section, or they want to hear "Reflections" itself, so they sing the opening guitar riff. I have heard countless people do their own version of the opening moments to that song! Thanks for the interview. I am excited to go to Iceland and meet new people there. Russia was great for me with spoken word. As was Mexico. And Europe always is. If anyone worldwide has interest in bringing spoken word to their country, town, state, kingdom, keep in touch anytime. You can find me on www.gregbennick.com, Instagram, and Facebook, aka data mining world headquarters, and we are all basically ego-driven fools for joining in the first place. See you on the road!
***
Greg Bennick tour dates:
May 9th in Reykjavik at R6013 at 7PM with local band xGADDAVIRx
May 10th in Akureyri at Kaktus with Þorsteinn Kári
May 12th in Akranes at Akranesviti with Bagdad Brothers
(All shows are all ages. All shows are by donation with no one turned away due to lack of funds.)
Tagged: bystander, greg bennick, trial