Unity Now is a new short film which takes a glance into the Swedish hardcore community. Directed by Adam Holmkvist and photographed by Robin Asselmeyer, Unity Now is a sort of visual tone poem, atmospheric in a way I've never encountered in a punk-related film before. "We all grew up in different places, but we met and started hanging out at hardcore shows in Örebro," Adam tells me. Before he started working in the cinematic realm, he played bass in Path of No Return, a hardcore outfit who released an album on Burning Heart Records/Epitaph Records in the '00s. Joining Adam in the Unity Now project is Daniel Nätterdal, a veteran of the Swedish hardcore scene who also plays alongside the director in a current band called Prison Riot. Keeping things even closer in the family, Prison Riot is not only featured in the movie, the group also cut the music heard throughout it.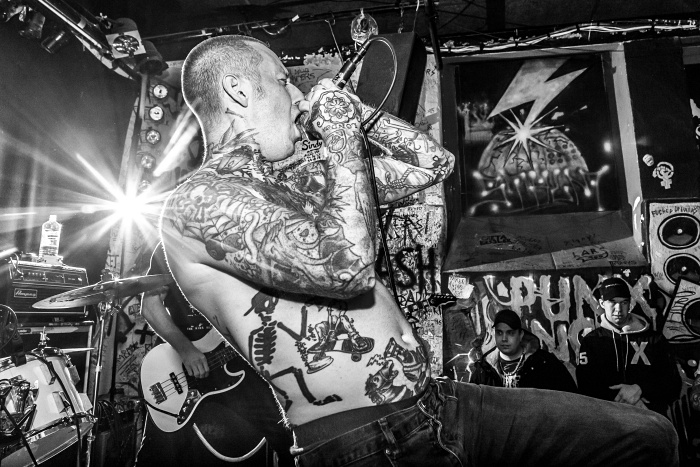 "I've been involved in the hardcore scene since the mid-'90s, and I've done a label, distro, zine, put on shows, and for the last 5 years, I've been doing a label called Dollar Grin and a hardcore podcast called Nere på noll," says Daniel. Daniel chimes in to school me on his other Prison Riot bandmates: "M.K, our drummer, has been touring the world furiously with bands like Madball, At the Gates, Hatebreed, etc., for over 10 years and he also plays the drums in Akani with Jorge from Merauder. I'm still doing artwork and videos for bands I like and we all go to shows on a regular. Also, [guitarist] Push-B is finalizing his studies to become a dental mechanic. That's pretty hardcore to me!"
But back to Unity Now. Adam tells me about the film's origins: "I've had the idea of making a short film based on my youth and involvement in the punk hardcore scene in the back of my head for years. When Prison Riot recorded the Unity Now demo, it suddenly felt like I had the right reason and motivation to fully develop the idea." Daniel describes the project perfectly: "Unity Now a short film about hardcore told as a mosaic of more or less abstract scenes."
So, even though it's loose, was the film's storyline inspired by a true-life event? "I would say it's more of a collected feeling of moments experienced, than specific events and memories represented in the film," reveals Adam. "I knew I didn't wanted the film to be a linear story with a heavy plot, but rather present itself in a dynamic stream of moods, symbols and metaphors. I wanted the musical performances to weave in and out through the whole piece and I also wanted to implement a rather hazy, dreamlike quality to the storytelling, that would represent the inner life of youth and the alienation we all felt to some degree, growing up."
Daniel offers his summation of Unity Now and its story: "The film is basically about a hardcore band and kids growing up in the hardcore scene, which we all did, but it's presented in a very unique way... from the past to the present to the imagined, with a hazy, dreamlike quality."
I'm imagining the film was done on a shoestring budget, so I ask Adam how the DIY aspect of hardcore came into play while making Unity Now. "First of all, I think the DIY mentality we all grew up with creates a certain kind of confidence that still makes you believe you can get a film like this done with a little effort. We decided to put the whole budget into the film gear to really make sure we could uphold the production value we set out for and made sure we got all the discounts we possible could. After that, we just contacted everyone we knew that could help lend us their home or fit into the storyline. Lucky for us, most people were excited to be a part of it.
"When we got the photographer, Robin Asselmeyer, onboard, I really felt like we had a chance to make some next level shit. He's a great DP with a lot of love and passion for music and we will be forever thankful he put up with our crazy schedule for four days in a row, running around with a over-sized camera package on his back!" Daniel breaks down the numbers for me and also injects a bit of humor into it: "All and all, 100 people were involved and we have to repay favors for years to come," laughs the Swede, who I profiled in a Record Collector piece back in 2017.
If making an indie film wasn't already a gargantuan task, then you have to go and shop it to distributors. That's sometimes tougher than actually making the movie in the first place, as Adam attests to. "We've had a few screenings of the film here in Sweden, and we've also applied to a lot of short film festivals. That was pretty much my intention and distribution goal with the whole thing before we started making it, so I'm pretty happy with that. When it comes to shopping for distributors on the internet, we haven't turned ourselves inside out yet, to be honest.
"To reach a wider audience, the internet is a great tool, but to me personally as an artist, I think it's impossible for a film like this to really get a chance and make the same impact in a compressed environment where most people's attention span doesn't hold for more than a few seconds. If you really wanna get the most out this experience, at least put on your fucking headphones, kid!"
Daniel brings the conversation back to hardcore: "One of our goals with Unity Now was to present the greatness of hardcore to a non-hardcore audience. But it has been pretty hard to explain to people not familiar with this what we are doing. We did everything ourselves, so I guess we are promoting it ourselves as well."
Now that Unity Now is being screened, what is next for Adam and Daniel? "Right now, we're focusing on Prison Riot, writing music and playing live as much as we possibly can, so there's no other film in the pipe at the moment," Adam tells me. Daniel closes out our conversation with some words of wisdom: "Getting into hardcore changed not only my life, but also the lives of many of my friends. Hardcore has really affected us and the way we live, act, and think to this day."
***
If you're shopping for vinyl, CD, and cassette hardcore titles, head to No Echo's partner store, Reverb LP, to see what they have available. Every purchase you make helps No Echo with site costs.
Tagged: prison riot, unity now