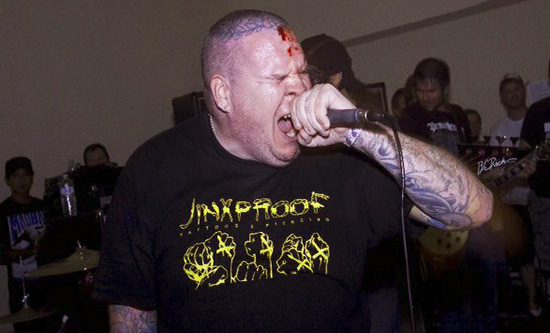 Few bands walked the line between hardcore and metal more effectively than Damnation A.D. did over the course of their discography. Formed in the '90s, the DC outfit eventually released three studio albums on three influential underground labels: Jade Tree, Revelation Records, and Victory Records. The musical side of the band was led by guitarist Ken Olden (Worlds Collide, Battery, Better Than a Thousand), while Damnation A.D.'s vocal assault was handled by Mike McTernan. The frontman's delivery style always matched the ferocity of Olden's riff attack.
Upon its release in 1998, I spent a lot of time spinning Damnation A.D.'s second album, Kingdom of Lost Souls. It remains one of my favorite heavy albums of the late '90s, and a big part of that is due to McTernan's possessed vocal performance. I reached out to McTernan to see if he would be down to talk about his time in Damnation A.D., and his various other musical projects, and he generously agreed.
Where were you born and raised, and were your parents strict?
I was born in DC, about five blocks from the original Dischord Records house, and grew up about 15 minutes from there. We lived in a very safe suburban area, so my parents were not strict at all. My closest friends lived really close, so they never had reason to worry about where I was.
In a previous interview, you mentioned a skinhead who moved into your neighborhood when you were a kid who ended up turning you on to punk music. He must have been a huge influence for you.
His name was Jason and he was originally from New Zealand. I had already started getting a little into punk and hardcore, but he really took me under his wing and introduced me to so much. He also took me to my first show. He was very much into English punk, so we would hang out and listen to bands like The Exploited, G.B.H., and Discharge. He was such a kind person and wanted to share his love of music with me. I will always be thankful to him.
Outside of music, what else were you into as a kid? Did you get into sports at all?
I was never really into sports. I like playing and watching, but I am not a competitive person at all, so playing team sports was very unfulfilling. I got into computers when I was about 10. That is a fascination that I still have today.
SEE ALSO: 2016 interview with John Pettibone (Heiress, Himsa, Undertow).
What were some of the local bands you would go out and see when you were a teen? Were there any local heroes that never quite broke out on a national level?
I was lucky because I used to see Swiz and Soulside all the time. It seems like they would play every show. Another band called Immoral Discipline played a lot. It makes me happy that the resurgence of interest in Swiz and Soulside is happening. They deserve so much credit. It seems like the only band that gets much credit is Fugazi.
When did you start identifying as straight edge?
I first called myself straight edge when I was 12. At the time, I was looking to distance myself from the kids I went to school with. They would brag about taking a sip of beer and being drunk. I did not identify with that or with them. At the time, I did not fully understand what straight edge meant. Also, my views on it have changed over the years as I have grown.
You formed Damnation A.D. with guitarist Ken Olden in 1992. Previous to that, he had played in the highly underrated Worlds Collide. When did you guys first meet, and why do you think you guys have always gotten along?
I met Ken through my brother, Brian. They had mutual friends and started Battery. He and I worked on putting out the 7" and that is when we became really close. I think part of why our relationship works so well is because he naturally takes charge of everything and I kind of just go with it. So, it balances out.
Jade Tree signed Damnation A.D. soon after you formed. The label would eventually go on to release seminal albums by bands like The Promise Ring, Lifetime, and Pedro the Lion, but when you guys signed with Jade Tree in the early '90s, the company was still finding its feet. What was it like working with founders Tim Owen and Darren Walters during those early days?
I went to high school with Tim, so we had known each other for a long time. All of us would hang out together, so working with them was the way to go. It was great to watch how they expanded the label and did things the way they wanted. I can't believe they have been doing it for 25 years. I am so proud of Tim and Darren, and thankful that they gave us a chance.
Damnation A.D.'s first album, No More Dreams of Happy Endings, came out in 1995. Listening to the album now, do you think it does a good job of representing where you guys were at that point, musically speaking?
I think it represents us really well! I think about recording that record and I am so proud of what we did and the way it still resonates with people today. When we were working on it we never thought about how it would be perceived 20+ years later.
I've always wondered what the story was behind the No More Dreams of Happy Endings album cover photo. It's creepy as hell!
Tim and our friend Chris took those pics. I never had any input in the artwork, so I was so amazed about how cool it looked when it came out.
1995 also saw Damnation A.D. collaborate with Bloodlet under the name Bloodnation for a track called "Flesh of Another" on the Squirrel EP that Level Records released. Damian Kulash of the band OK Go designed the cover for that record! Anyway, tell me about that collaboration. Being that they were from Florida and you guys in DC, how did you go about writing and recording that?
They were staying with us for a couple of days in DC and Ken had the studio, so we put it together. We had played with them several times and working together was really easy. We really hoped to do more, but our touring schedules did not allow it.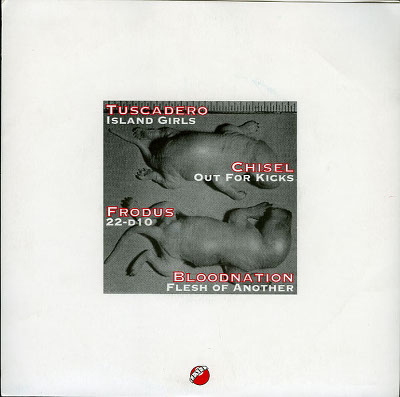 Yeah, I remember seeing you play for the first time around that time when I still lived in NYC.
Yeah! Ken and I were always out with Battery or Damnation. It was a lot of fun because I loved being out and meeting new people.
SEE ALSO: Best Orange 9mm Songs
Why did you leave Jade Tree, and why was Revelation Records the right fit for you guys?
We originally wanted to go with Victory, but there were a couple of things that made us decide to go with Revelation. If I remember correctly, Victory wanted to do a bunch of 7"s. I am not sure what became of that idea. We also had interest from a couple of other labels, but I really wanted the Rev star on our record [laughs]. We would have continued with Jade Tree, but we felt we would have gotten lost in the shuffle. I am proud to say that I was able to work with Jade Tree, Revelation, and Victory. Looking back, who knows what the right fit for us was? I just feel so lucky to have been able to work with such amazing people.
Kingdom of Lost Souls came out in 1998 via Revelation Records. When that album dropped, my bandmate at the time had the CD and we would play it over and over again in our tour van. Your vocal style on that record is so heavy!
[Laughs] hopefully you don't hold that against him! I have zero musical ability. I do what Ken tells me. He is amazing because he is so patient and knows exactly what he wants. He guides me through until the end result is what he wants.
That was a neat album to record because we did it at Inner Ear and some of my favorite records were recorded there. At one point, the guys in Fugazi dropped by while I was doing my vocals and all I could think was that the singer of Minor Threat and Embrace, and the singer of Rites of Spring, could hear me. It was overwhelming.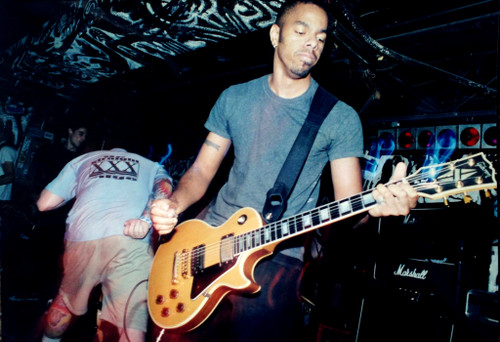 Why did the band break up in 1998?
I think it was just time. Ken was doing Better Than a Thousand and I had spent years putting off dealing with my mental health. I had a slight breakdown and disappeared.
You went on to form When Tigers Fight with members who had played in bands like The Promise, Death by Stereo, and Adamantium. The eponymous EP you released in 2005 was recorded by Alex Newport of Fudge Tunnel.
JD asked me if I wanted to add vocals to some songs and so I contacted Ken to see if he would help me. It was so great to work with him again. I was not there when they did the music. I am pretty sure JD flew out to California one weekend and did it.
What led to you and Ken reforming Damnation A.D. in 2007? Did you guys stay close in the years in between? I know he helped with some of the When Tigers Fight recording sessions.
Ken and I lost touch for a long time. But when I went to him for the When Tigers Fight vocals, it felt natural. It brought us together again and we decided to give it a try. I am glad we did, because it reignited my love for writing and music in general.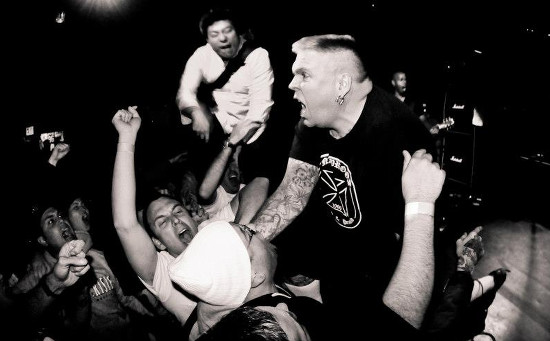 The third and final Damnation A.D. album, In This Life or the Next, came out on Victory Records in 2007. By then, Tony Brummel already had a bad reputation in the hardcore scene for supposed shady business practices. What was your experience like being on the label?
We had a great experience working with Victory. We did not deal much with Tony. But I think no matter what people are going to have an issue with someone who is successful. I can't speak for any of the other bands, but they did exactly what they said they would do. We worked with Clint Billington and he became one of my closest friends.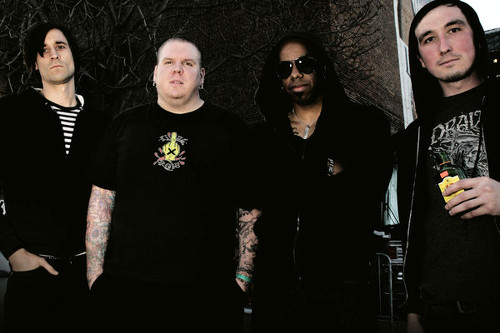 In This Life or the Next featured a bunch of guests musicians, but it was Fall Out Boy's Pete Wentz and Patrick Stump who raised a lot of attention.
We have known them for a long time. My idea for the guests was to have the people who influenced me to start playing music again. I guess I was not really thinking about how popular they were at the time. There might have been some issues with their label, but they took care of everything. It was such an honor that Karl [Buechner], John [Henry], Wes [Eisold], Petey, and Patrick took their time to help us out.
You have a love/hate relationship with one of Damnation A.D.'s most beloved songs: "The Hangedman." Tell me about that.
It comes from a really dark place. Knowing that I can never live up to the lyrics when I say "never again" is hard. I fall into the same holes. All these years later, I fight the same demons. I can't seem to get life or relationships right. I feel like I keep failing.
What's the status of When Tigers Fight? I love the second album, Death Songs.
Thanks for the kind words. Jonathan [Dennison] and I are always talking about doing something, but since we are not a real band it is difficult to get anyone to want to put something out. Both of us are always writing, so something may come out of it it someday.
SEE ALSO: 2014 interview with Kyle Bishop (Grade, Acrid, The Black Maria, The Swarm).
At the end of 2015, you released an EP with a band called Black Dead Empty that also features guys from Reign Supreme, Agitator, and Outer Heaven. What's the story there?
My friend, Pat Voytko, sat on those songs for about a year and asked me if I wanted to add vocals. It was a really dark period for me so the timing could not have been better. I went to DC and recorded the vocals with Mike [Schleibaum] from Darkest Hour. So far, we've only recorded those songs and played one show. We all have crazy schedules, so it's difficult.
Your brother, Brian McTernan, is an accomplished engineer/producer who has worked with Hot Water Music, Thrice, and Turnstile, among many other bands. Do you guys get to spend time together often? What do your parents think of you and your brother's deep passion for music?
I am so proud of Brian. He stopped recording a couple of years ago, and I get to see him a little more often because he has more of a set schedule. I love spending time with him and his family. My niece is the best ever! My parents have always been very supportive of everything we have ever done. They let so many bands practice at our house. I can't imagine coming home from work and having to listen to that. It would drive me crazy! They are amazing.
If you had to pick a DC area band from any era that you feel has gone underrated, who would it be and why?
Of course I have to say Battery! I don't think they got the recognition that they deserved. It makes me happy that people still listen to them. I can't wait to tell Cassidy that her daddy was a rock star!