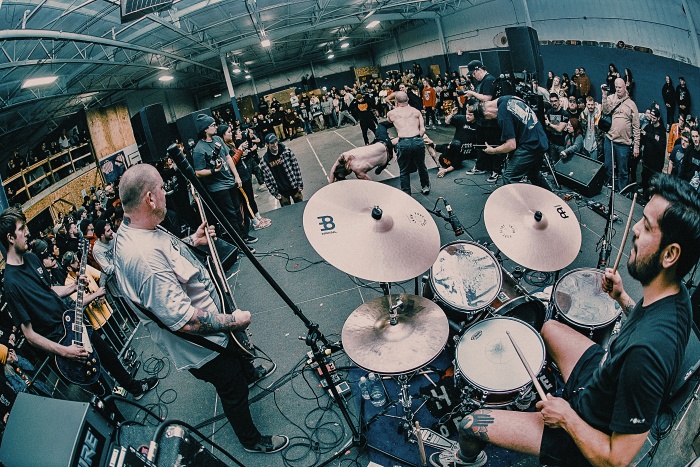 I've covered Piece of Mind on No Echo before, but for the uninitiated, they're a 5-piece metallic hardcore band from Tulsa, OK that formed back in 2015. With a discography 12" entitled Trilogy that hit stores last fall, and a split 7" with Miracle Drug issued back in February, the group is releasing a new studio record in the form of Unfulfilled, a 6-track EP being released by Trip Machine Labs.
"We started writing this record 2 years ago for a split release with another band," Piece of Mind guitarist Jake Scott tells me. "The split fell through, so we decided to use the songs toward writing an LP. We realized nobody wants to sit through the weirdo songs to get to the bangers, so we cut the fat and kept 6 songs that we felt best represented us and what we're about. We recorded it, re-recorded it, re-recorded it again, spent 9 months mixing, and here we are today. Our friends Matt Anderson (Purgatory) and Scott Vogel (Terror, World Be Free) did spots on the record and really made the songs twice as cool.
"It's been a long labor of love (and frankly, hate) to make this EP, but we're super proud of it and excited to share these songs, some of which we've been playing live for 2 years now."
So, let's get into it. Ladies and gentlemen, check out Unfulfilled below to hear the results of Piece of Mind's labor:
The digital release for Unfullfilled is Aug. 5, but the vinyl version will be later in the fall due to delays at the pressing plant. Stay tuned to Piece of Mind's social media pages (Facebook, Twitter, Instagram) for more info.
Piece of Mind tour dates w/ Stepping Stone:
8/7 - Bangor, ME
8/8 - Boston, MA
8/9 - Trenton, NJ
8/10 - Amityville, NY
8/11 - Philadelphia, PA
8/12 - Baltimore, MD
8/13 - Roanoke, VA
8/14 - Greensboro, NC
8/15 - Atlanta, GA
8/16 - Nashville, TN
8/17 - St. Louis, MO
8/18 - Kansas City, MO
8/19 - Tulsa, OK
***
If you dig No Echo, you can donate a few bucks to help with the site's operating costs:
Tagged: piece of mind