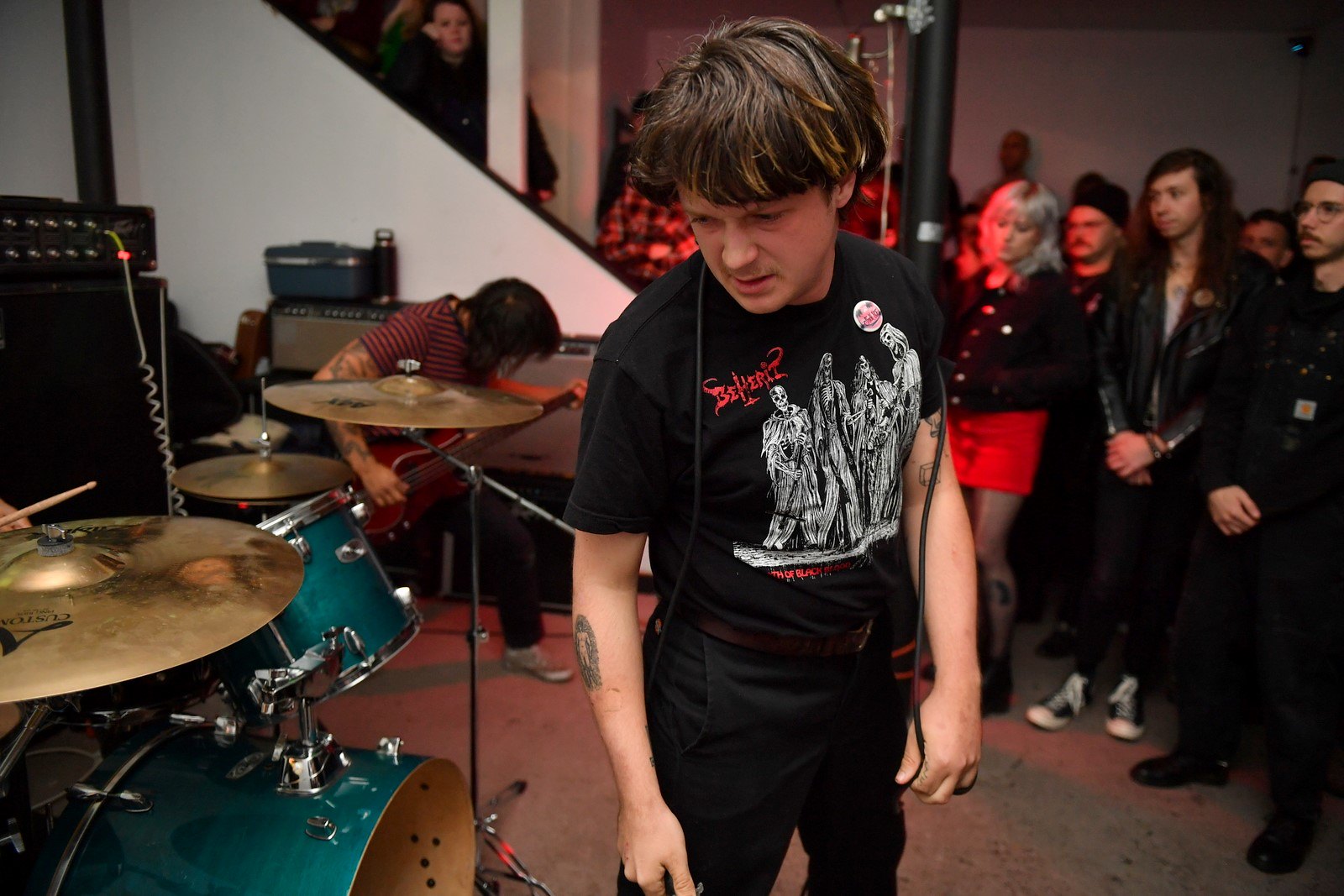 Washington D.C. has long been at the vanguard of punk and hardcore. From Bad Brains and Dischord Records through to The Nation of Ulysses and the birth of post-hardcore—America's capital city is a fertile breeding ground for bands seeking to push the genre forward.
Hologram are the latest in this long, progressive lineage. Led by Brendan Reichhardt, Hologram warp the genre's contours, blurring its facades, distorting the boundaries and outlines. The nine tracks of their debut full-length, No Longer Human, are packed with muddied guitars, crackling drums and frantic, pained vocals. It all adds up to a strangely unsettling and wholly unique package.
Released on the venerable Iron Lung Records, No Longer Human is one of last year's most singular hardcore albums. We spoke to Brendan to find out more about his project and its creation.
Hi Brendan, thanks for doing this. Please introduce yourself and how Hologram formed.
Hi, I'm Brendan and I play in Hologram. Hologram started sometime back in 2017 after Closet Christ dissolved. Some of the songs I had been writing carried over. I wanted to expound upon that particular style of music but felt a bit limited by its confines so I decided a clean slate was the proper move.
Tell us about the current state of the DC scene. Is it in good health? There's obviously so much history there.
It's in as good of health as it can be in the pandemic era. Plenty of new faces at shows. Demon Unit and Deliriant Nerve are a few newer bands that deserve attention. There are also new records on the way from Ztuped and Asesinato that I'm excited about.
Your debut, No Longer Human, is awesome, congrats. First up—what does the title refer to? Is it an Osamu Dazai or Junji Ito reference?
It is indeed a reference to the Osamu Dazai book of the same name. Does it link with the themes and emotional tenor of the album? Yes it does. Shame and alienation (to the point of feeling inhuman) are themes I explore in depth on the record, but there is no lyric sheet included because I want the record to speak for itself.
I'll often misinterpret lyrics or themes from other artists and resonate deeply with that misinterpretation. That fascinates and excites me, and I don't want to burst anyone's bubble—I think you should decide what this record means for you, if anything.
I'll be honest, it was the album's cover that made me first check you guys out. It's so unique, and also eerie. What's the story behind it?
The photo is of an abandoned mansion in Boyds, Maryland that I took with my phone. The layout of the cover is in direct reference to This Heat's 1979 self-titled LP. I'm a sucker for experimenting with artwork and layout; it can really make or break a record.
In part, the intention when designing the layout was to present something that is minimal and seemingly innocuous but cram its interior with chaos.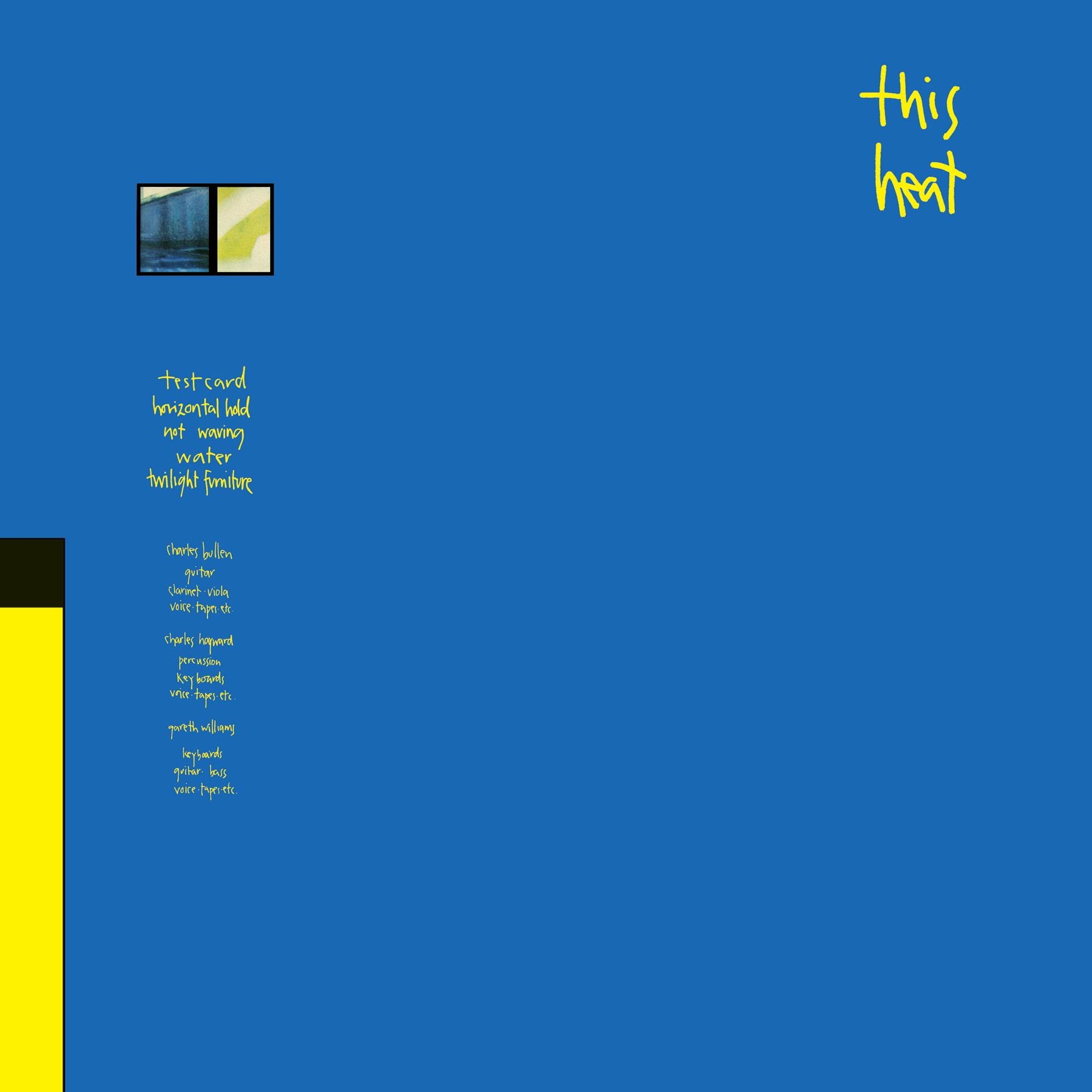 I love Iron Lung's description of No Longer Human - "reclusive enigmatic hardcore that spans a lifetime". That's such an evocative image. Can you unpack it for us? I'll do my best. "Enigmatic" I think applies to what I was saying before about the themes of the record and how I don't want to set its interpretation in stone. "Spans a lifetime" - for me, this refers to what and where I take influence from. I'm all over the place. "Reclusive" … that checks out, I'm not exactly a social butterfly.
You played all the instruments on the album, how did this situation arise?
Partly out of necessity, really. The other members of Hologram are spread across the country, and No Longer Human was recorded during peak COVID. Hologram started as a solo project and has always had a rotating lineup until very recently.
When it comes to writing and recording for Hologram, I'm aiming to nail the sounds and the ideas I have floating around in my head, and so I take creative control. I do love collaborative writing in bands though and I'm hoping to do more of that in the future with the current lineup.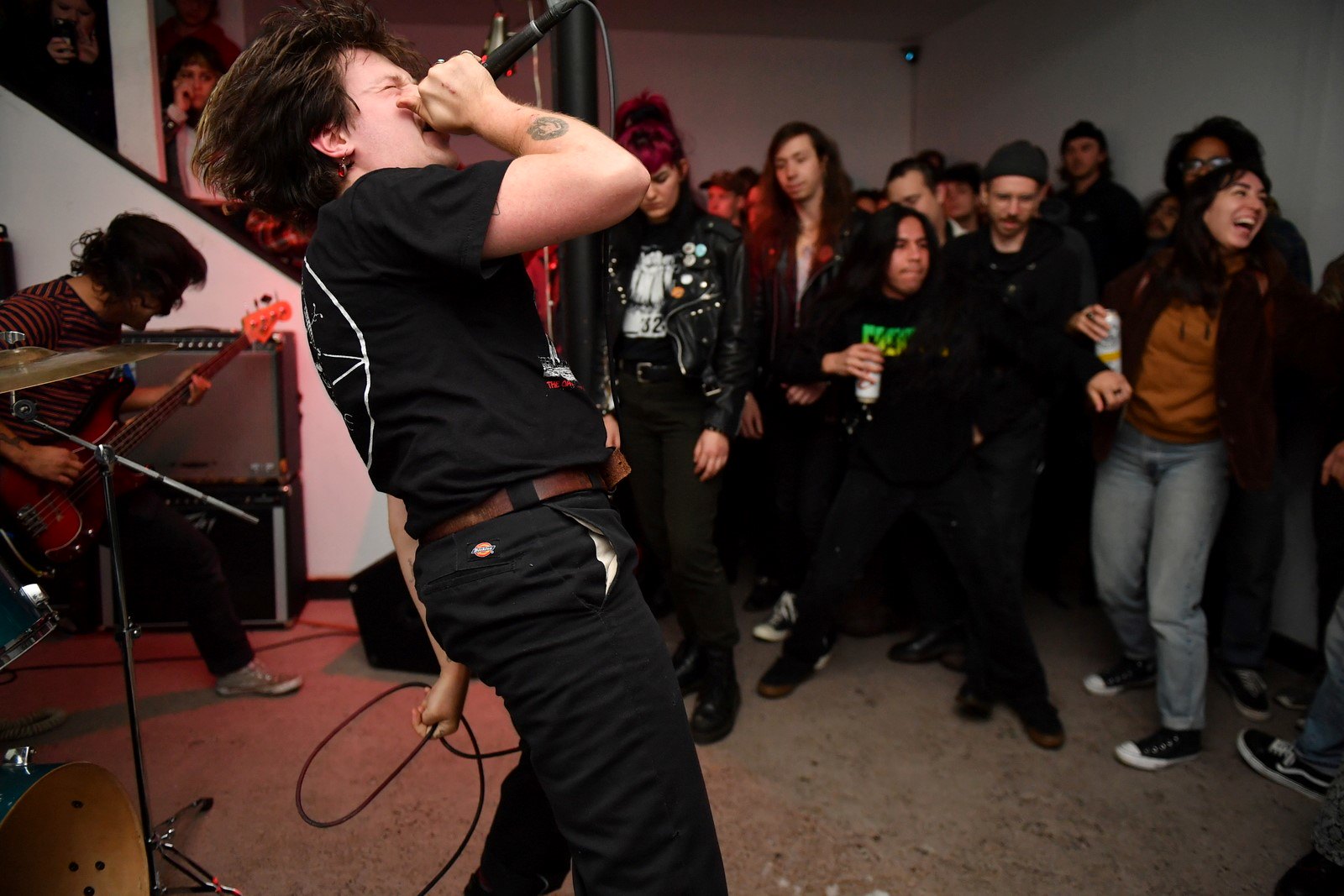 You also helped with No Longer Human's final mix, what effect did this have on the final product?
Again, it's an extension of that creative control; I recorded everything myself. However, I do love collaborating with people whose work I admire: Carson Cox and I mixed it together before sending it off to Will Killingsworth to get mastered, Emil Bognar-Nasdor recorded the 7-inch and added his own amazing sonic fingerprint to it.
The writing, recording, and mixing processes are all very much intertwined for me – much of what you hear on the record was written at the time of recording, and there are many moments that were entirely composed while mixing. I've been mixing and composing since I was a child; it's absolutely my favorite aspect of music creation.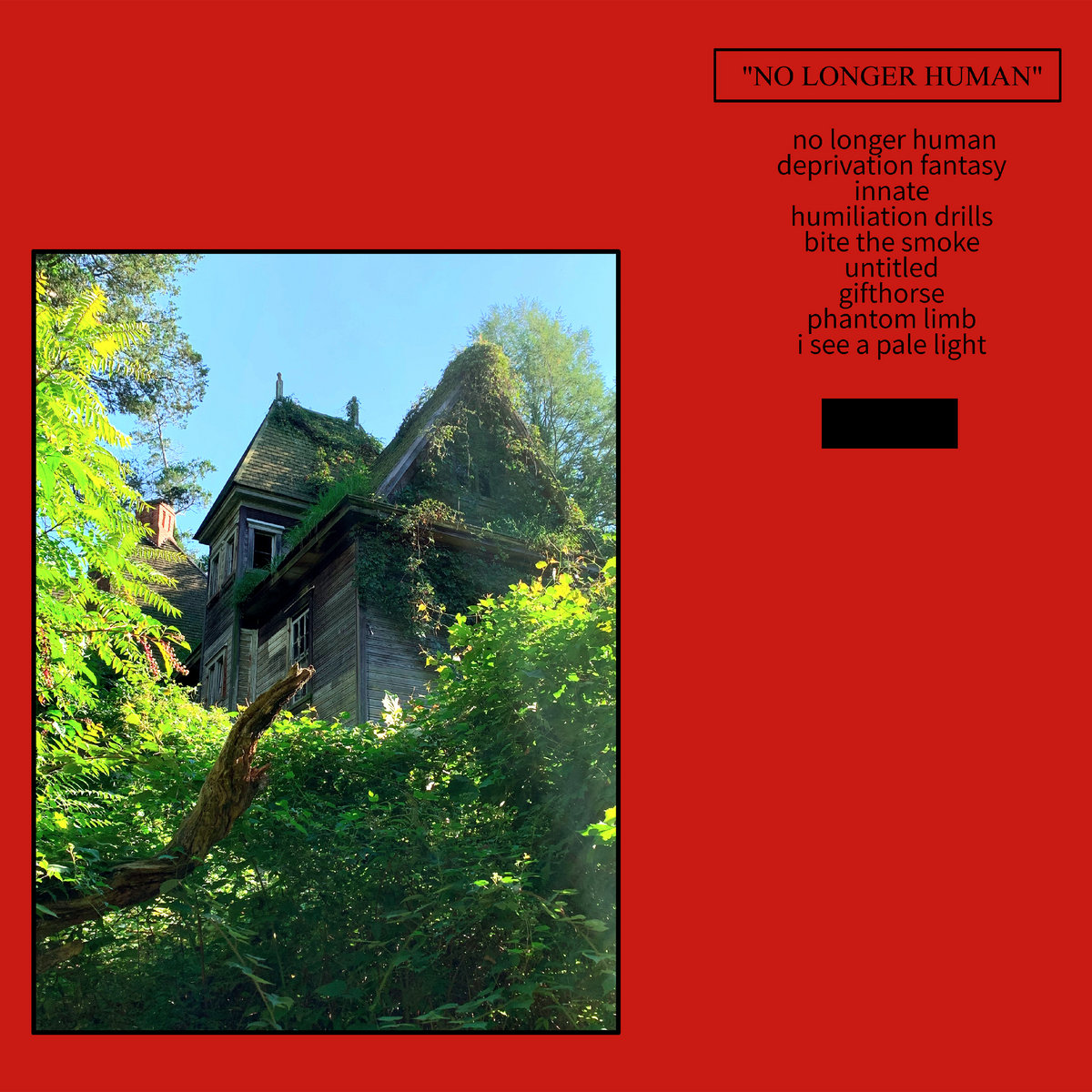 I've read people describe your music as a blend of hardcore, post-punk, noise rock, even industrial. Who are some of your key musical influences?
The list is endless. However, in regards to No Longer Human, there are flashes of Sonic Youth, Stretchheads, Teenage Jesus and The Jerks, contemporary inspirations like No and Anxiety, but also classical (Shostakovich) and afrobeat (Fela Kuti, Witch).
I also try to interpolate various sounds and musical fragments that have been lodged in my brain forever—a sound effect from a video game, a vocal pattern from a movie, some noise I hear on the street, etc. Hologram is basically sonic word vomit.
How did your relationship with Iron Lung Records come about? You guys' sensibilities are such a perfect pairing.
I agree, I've always admired their work and their catalog and am so excited to get the chance to work with them. Basically, [Iron Lung Records co-founder] Jensen [Ward] approached me about releasing music for Hologram after seeing us play in Washington.
What are some of your biggest influences outside of music?
I'm deeply influenced by authors like Antonin Artaud, Clarice Lispector, Tristan Tzara, Jean-Paul Sartre, and Anais Nin. Emotion and cognition are the primary influences for Hologram however; I try to sonically emulate some of my more upsetting thoughts and feelings, especially through rhythm and time signature changes, because oftentimes these feelings have no adequate language with which to describe them.
What does Hologram's future have in store?
More music, more touring (as soon as we're able). I've got some ideas brewing.
No Longer Human is out now on Iron Lung Records. You can access it here.
***
Help Support What No Echo Does via Patreon:
***