Dorock Bar (Istanbul, Turkey)
Open almost around the clock, Dorock Bar in Instanbul closes around 6:00am but reopens by 11:00am. The bar has good vibes, amazing cover bands, and is well-maintained. The bar is very relaxed and unpretentious. They play everything from hard rock to death metal, and the place is often so crowded people just hang outside of it.
Rainbow Bar & Grill (Los Angeles, CA)
When I was a kid I briefly lived in Los Angeles, and while I was not allowed to go to The Rainbow, now whenever our tour goes to Sunset Boulevard, we head there. It is not often you go to a bar where rock and metal is playing on the jukebox. The Rainbow is a down to Earth place with good pizza. Lemmy of Motörhead is always hanging out there. Porn legend Ron Jeremy and members of Cypress Hill, among countless other groups, are also always at the bar. The Rainbow has a kitsch, old school kind of vibe, but in a good way.
Le Black Dog (Paris, France)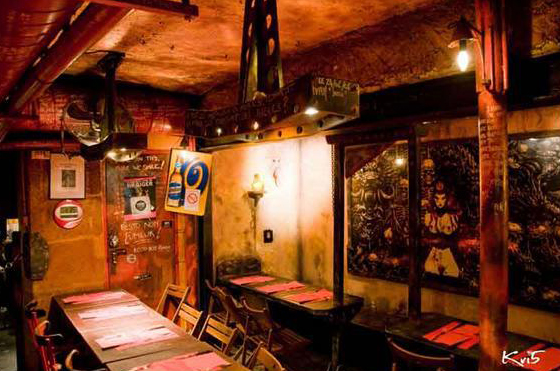 Le Black Dog is a beautifully decorated heavy metal bar in Paris. Whenever I am in Paris and got time to spare, it is one of the stops I make in the city. Paris has several good rock and metal bars, but this is one of the essential stops. Though, I must admit, at times I just go to some obscure, hole-in-the-wall dive bars and have some interesting adventures there as well. But do go check out Le Black Dog.
The Garage (Bergen, Norway)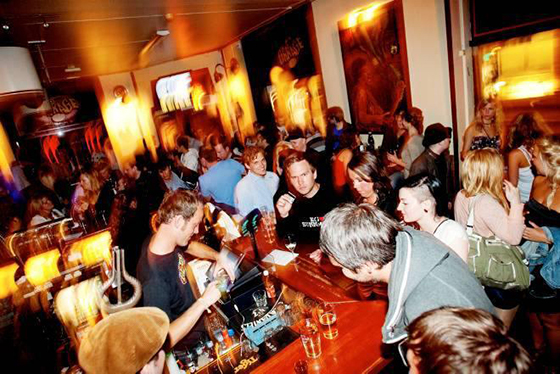 Just like The Rainbow Bar & Grill's history with heavy metal, The Garage in Bergen, Norway has the same kind of vibe, but with many of the Bergen black metal scene founders hanging out there. It's a quaint and friendly spot. Prices are high (this is Norway), but they are fair and better than many other lame bars out there; so, that I do appreciate. It's not too wild or anything, but just a good atmosphere. The bartender there did a badass Bloody Mary, and I loved it, but my credit card didn't!
Rock House (Athens, Greece)
I have spent almost three months in Athens, Greece recording our latest album, Enki, there. The city boasts rich cultural and leisure scenes. There's no shortage of rock and metal bars there, but this one stands out to me. Why? It's a great, off-the-beaten-track location, so heading there is not a nightmare when it comes to traffic jams and overcrowded streets. The bar is very nicely decorated and has a kick-ass DJ playing vinyl LPs. The staff are super friendly and courteous. Besides this, it's a very well stocked bar. Rock House is definitely a must stop in Athens.