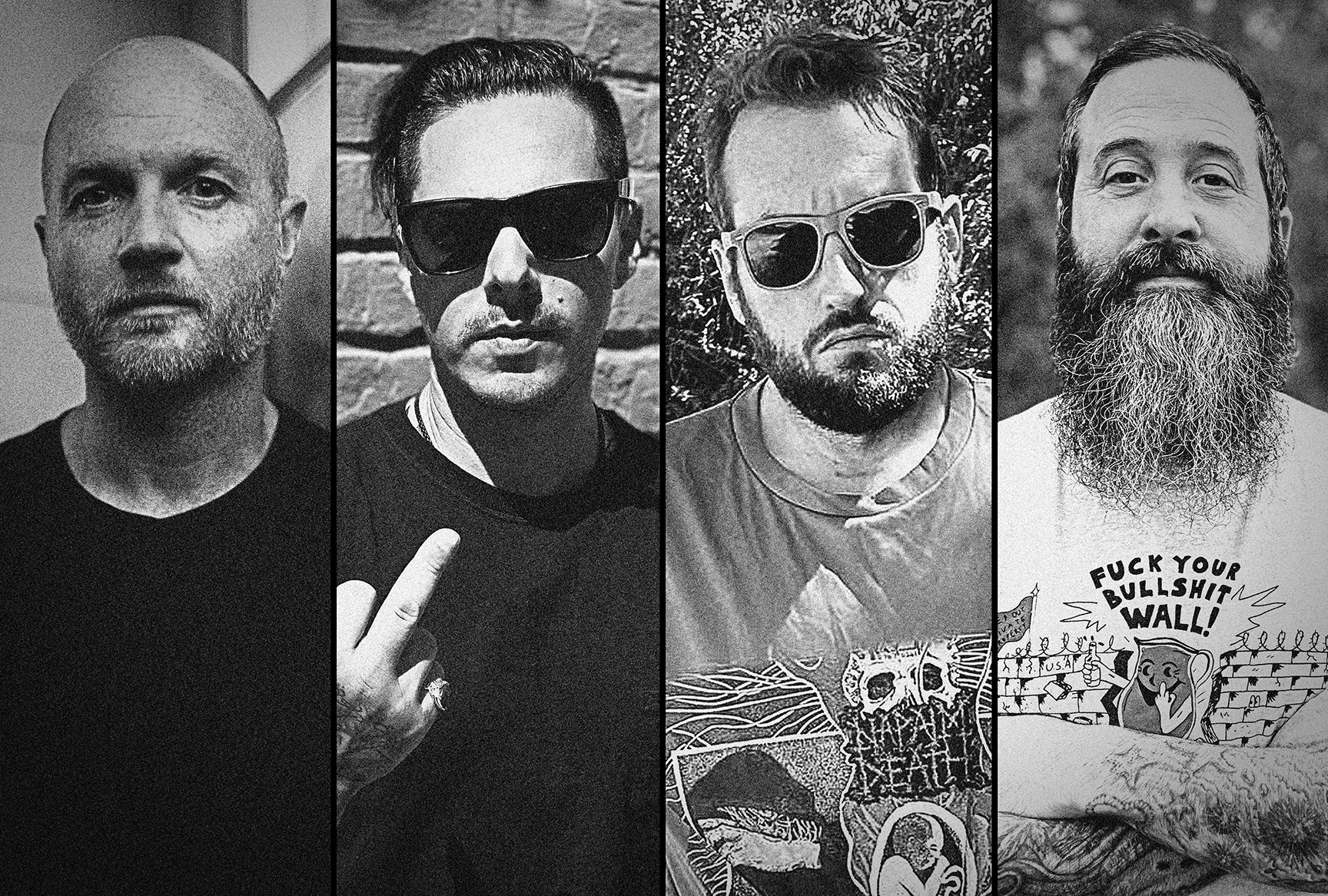 This past November saw the release of Defy Extinction, the first LP from Philadelphia hardcore punks R.A.M.B.O. since 2006.
For the uninitiated, the band had a fruitful run from 1999 to 2007, bringing a potent blend of crust, fast hardcore, and d-beat to shows throughout the world. Throughout that time, R.A.M.B.O. issued two albums, split EPs with Crucial Unit and Caustic Christ, and made various compilation appearances along the way.
For the Defy Extinction sessions, the band brought in Taylor Young (God's Hate, Twitching Tongues) to record guitars and get the overall mix at The Pit, while the drums were recorded by Kyle Black at West Alley Recordings, and the vocals and bass were mostly recorded by Steve Roche at Permanent Hearing Damage.
I spoke with R.A.M.B.O. vocalist Tony Croasdale and guitarist Andy Wheeler about their return in this new interview. As a bonus, I also got my hands on a cool video piece centered around artist Timbul Cahyono and the making of the Defy Extinction album art.
What was your relationship with hardcore/punk like in all the years away from R.A.M.B.O.? You guys did so much during your time together, and you were already so active in the scene before that, so I can imagine you might have felt burnt out by it all at some point.
Tony Croasdale (vocals): R.A.M.B.O. stopped being active because we wanted to focus on other things.Its not so much that we got burnt out, we all got busy with other things. I think for many people in our community as you get older, you begin to participate as a promoter, playing in a band, putting out records, recording, tour managing etc; rather than just regularly attending shows. If you give up on those roles to focus on other stuff outside punk, then you lose your reason to engage in the activities that have come to define what being active in punk is.
I think we all just consider ourselves punk for life and that we are trying to apply what punk taught us to other aspects of life. My daughter is in a DIY in-home childcare at some old punk friends' home. Sometimes we need a fill in, because our primary provider is busy doing legal work for anarchist political prisoners.
I'm a civil servant working in the environmental field. In some ways my life feels way more radical than when I was a bike messenger with no health insurance putting on shows that annoyed our neighbors.
I'm curious about Taylor Young's involvement with the Defy Extinction recording sessions. While he's obviously been prolific both behind the boards and in playing in several bands throughout the years, he's not someone I would have thought of for a new R.A.M.B.O. record.
Andy Wheeler (guitars): Pandemic aside, we were never going to be recording this album in the same state since [drummer] Jared [Shavelson] and I live in Los Angeles and Tony and [bassist] Bull [Gervasi] live in Philadelphia. It was never going to work schedule-wise to actually get everyone together.
We had initially enlisted Kurt Ballou to oversee and mix the album (since he recorded Bring It in 2004) and he had suggested I record guitars with Taylor Young in LA I knew about Nails but was otherwise unaware of Taylor so I went through his catalog and felt confident with what I heard. Kurt also wanted the drums recorded in a bigger room and Taylor made the suggestion that we record drums with Kyle Black at West Alley Recordings.
I had a pretty good idea of what I wanted this album to sound like and Taylor ultimately became an integral part of that. For the most part I explained what I wanted to accomplish and how I wanted things to sound and then leaned on Taylor and his experience to make that happen. Which he did! I don't even own a guitar amp. I gave him a few references of what I liked and then he gave me 3 choices for guitar sounds.
Musically, I was the architect for the album. I demo'd the album and thought about it for a long time and had strong opinions about things! But, one of the things I appreciated the most about Taylor was that he would tell me if something wasn't good enough and would suggest how to make it better. I personally really appreciate that kind of straight forward-ness and it helped maximize what I wanted this record to sound like.
Taylor also helped oversee bass and vocals that were recorded by Steve Roche in Philadelphia. And in the end we decided to mix with Taylor as well. He was already so invested in the project and it felt right.
What do you think you brought to the table to the Defy Extinction writing and recording process that you feel is stronger now than ever before?
Tony: I definitely think my vocal performance is better. A lot of that has to do with being able to spend more time in the studio so I could try different things. For instance, for each of the songs, I recorded two versions: one more shouted and one more growled, and we chose what we thought suited the song better.
I went to the studio once a week for several months. I'd record until my voice was blown and come back the next week refreshed. But that was after demoing them at home (with lots of input from Andy) and doing a few run throughs in the studio that we would send to Andy for feedback. I think the lyrics are less naive and more pragmatic. That's the advantage of life experience outside of the insular anarcho-punk community.
Andy: Professionally, for the past 13 years I've been fortunate to have a creative job in the film business working as a cinematographer shooting movies and commercials. Inevitably, I have been crafting,refining, and growing my creative voice through that and I actually find music and film to be very similar. They are different muscles but the process of creation and expression is similar and I find that to be the biggest difference between this album and the last time we did this.
I didn't see the point in recording a new album for a band that doesn't exist unless it was exactly what I wanted it to be musically. You don't make things in a vacuum but I really was making this for myself. I had the resources to spend as much time as needed to get it to sound just right and I spent a lot of time writing, rewriting, and demoing the album. I wanted to create an album with a beginning, middle, and end that pushed the boundaries of what R.A.M.B.O. could sound like.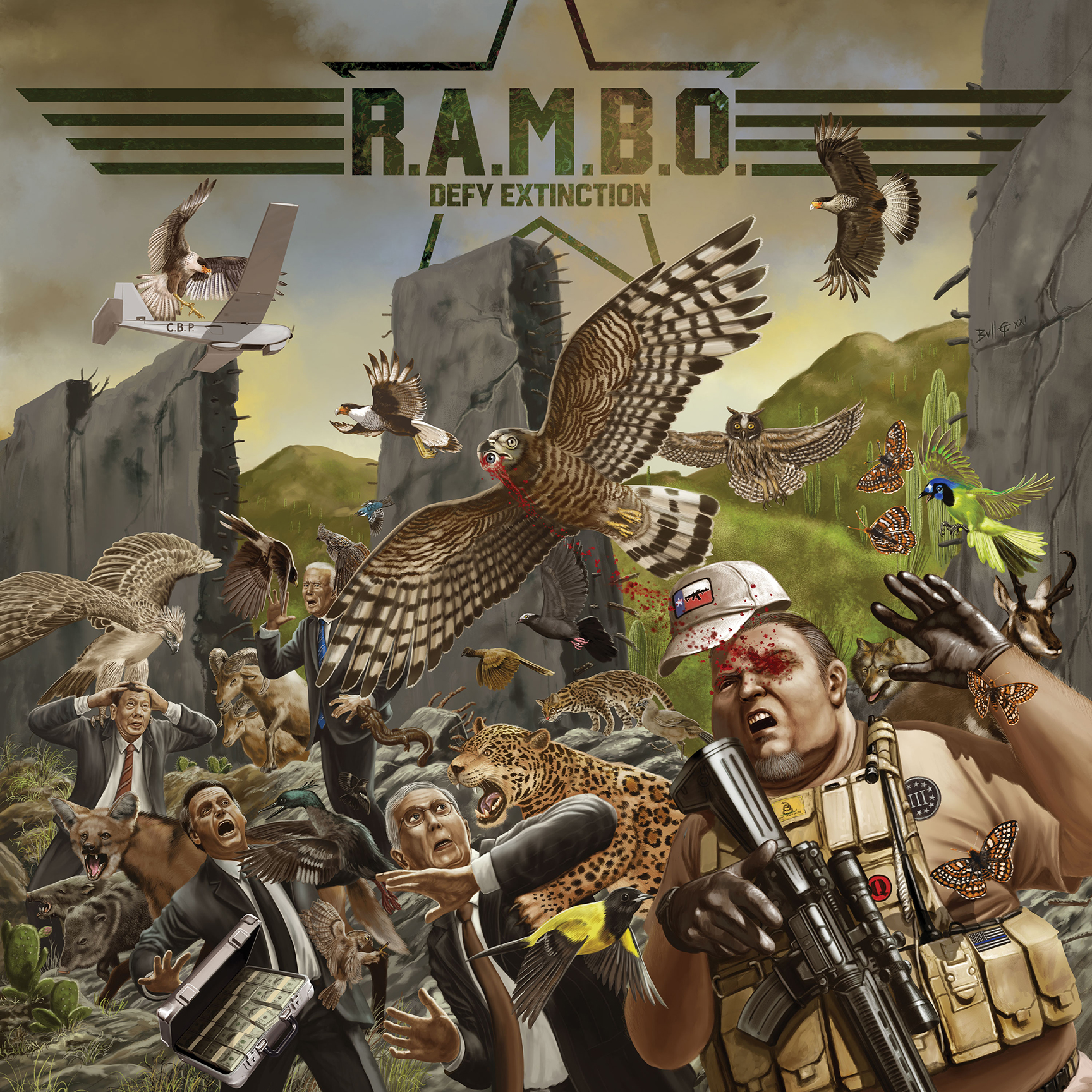 What are some misconceptions people have about R.A.M.B.O.? Maybe you've read something online throughout the years that you think missed the mark and/or intention of what the band did/is doing now?
Tony: Our Facebook and Discogs bios still list us as a vegan straight edge band. There were times when all the members happened to be that, but the majority of the time, the band had members that were neither. It was not something we ever chose to identify with as a platform of the band. Even when all the members happened to be vegan straight edge we always focused on other topics.
I remember a band quoted us as saying we are all vegan straight edge and they were mocking us for labeling ourselves. What's funny was that they took it out of context because, the point was to say that we don't label the band as that, it's a personal choice of the members. That's the main thing.
I think the punk press generally understood what we were about. Things are a little different now because we've been inactive for so long, but back in the day we were very accessible and or we knew the people writing about us.
***
Defy Everything is available now via Relapse Records.
***
Help Support What No Echo Does via Patreon:
***
Tagged: r.a.m.b.o.