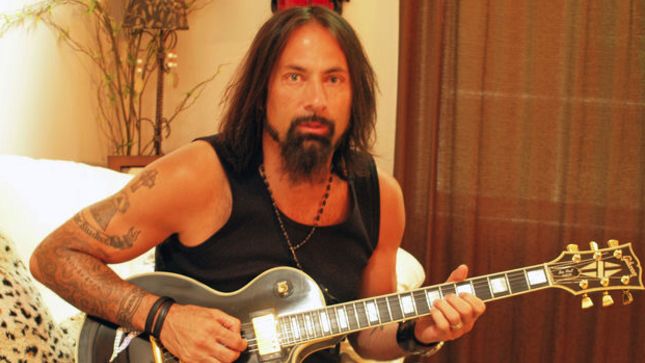 In this new interview, Non Phixion emcee Goretex speaks with one of his childhood musical heroes, Dan Lorenzo, guitarist from the metal band, Hades. Lorenzo—ironically enough—also played in the hard rock outfit, Non-Fiction, and was part of The Cursed, which also featured Bobby Ellsworth of Overkill fame.
-Carlos Ramirez, No Echo
(Goretex) What were some of the first records you owned as a kid?
(Lorenzo) The first albums I owned were Frampton Comes Alive, Electric Light Orchestra's Olé ELO, and Chicago IX: Chicago's Greatest Hits. I was a baseball player who played on traveling teams when I was 10-years-old. My goal was to become a professional baseball player. Then when I was twelve my friend turned me on to KISS. In March of 1978 I started to play guitar. I was 15-years-old at the time. I made my 9th grade high school team as the starting short stop. Five games in I quit the baseball team to concentrate on the guitar because of KISS.
SEE ALSO: Best Thrash Ballads
When you were starting out were you able to play the KISS stuff? In other words, were you pulling off Ace Frehley's solos?
No, my first six months or so I was floundering. I didn't know KISS tuned to Eb. I was too embarrassed to take guitar lessons, but my best friend Paul Smith had started to play a few months before me. He started to teach me what he had learned. Paul ended up being the original vocalist for Hades. Within a year I was better than Paul on the guitar. I think by the time I was able to figure out songs note-for-note, I had soured on KISS. They released Unmasked and I had moved on to playing Aerosmith, Cheap Trick, and AC/DC. By 1981 or 1982, Hades covered a lot of Judas Priest and Iron Maiden. We put out a 45 called Deliver Us from Evil that got us some press in Kerrang! Then we were on Megaforce Records' Born to Metalize and Metal Blade's Metal Massacre 6 comps before that version of Hades broke up.
For those uninitiated, can you tell me about Hades and how the band was formed.
My dad died on March 23, 1982. I was devastated. I have a couple of 3/23 tattoos because that number pops up all the time for me. I was an introvert and shy. After my father died I was devastated, but I came out of my shell. I learned to write solid songs. My Mom kicked me out when I was 21 and I lived in an illegal apartment in Clifton, NJ. It didn't even have a shower until I was there for ten days! I was working at Macy's in Paramus unloading trucks. This guy Sandy introduced me to Scott LePage. Scott came to my apartment and I remembered we jammed the Hades song "Sweet Revenge." It was magic. Scott's playing style was fresh and exciting to me. He used the whammy bar. We then recruited his former singer, Alan Tecchio, and eventually, Jimmy Schulman. Tom Coombs was my drummer all along even though we did not really get along well at the time. My mom paid for the Hades 45 with the original versions of "The Cross" and "Widow's Mite." We got signed to Torrid Records after they heard our demo tape with "The Leaders" and "Nightstalker."
What was the scene like around 1983? Were there a lot of bands in the area?
Yeah, but it was in transition. I used to go see bands in 1980 with my fake driver's license. The drinking age was 18 back then. Clubs were packed with heavy metal cover bands almost every night. Everything changed a few years after that when they raised the drinking age in NJ to 21. Hades the cover band opened for Twisted Sister at The Soap Factory in 1982 after Twisted released their EP. A year later in '83, the cover scene was dead because of the drinking age going up. I was 19 so I was "grandfathered" in. I could legally go to bars, but the scene was over.
How did your demo get on Torrid Records' radar, and were you guys happy with the label/promotion/distribution efforts of the label?
By 1985-1986 Hades started playing with our Resisting Success lineup. I met Todd Gordon from Torrid Records when I was doing an interview on Midnight Metal on WRTN. We hit it off and stayed in touch. Torrid had released the first Exodus album, Bonded by Blood. They were green. There was no promotion. They just gave the tapes to Combat Records and hoped for the best. Because Combat manufactured the albums, Torrid had no idea how many were really printed and sold.
You guys were known back then—at least in my neck of the woods—as sounding exactly the record, almost better at times, in my opinion. Did you guys practice a lot?
Yes, too much in my opinion! Three times a week. Hades was not a spontaneous band. That's why when I started Non-Fiction we would never practice. Only when we were working on new songs.
SEE ALSO: 2016 interview with Henry Veggian (Revenant).
Did it frustrate you at all when at the time when a lot of thrash, or speed metal bands, were getting deals and most weren't good musicians?

I thought most of them were good musicians, no? Better than me at least. I remember being a bit surprised when Overkill's Bobby Gustafson was getting accolades by Chuck Kaye, DJ at [legendary metal club in Brooklyn, NY] L'Amour's. That frustrated me because he would solo out of key. I took Music Theory and Harmony classes in high school and I have a great ear, so I would never play a note out of key, but because I was always so busy writing songs and pseudo being the band's manager and publicist, I never became a great musician. I don't make mistakes when I play, but I know my limitations. Scott and Ed Fuhrman both blow me away technically.
Hades were respected for being good players, all around, with no weak links, I thought.
I agree, but as a guitar player I think I was much better suited for Non-Fiction. That was the real me. By the way, I'm talking about my Non-Phixion..not yours [laughs].
Can you tell me about the mystique of Tom Coombs?
It's funny that in 2017 Tom and I get along great. Tom didn't play on the three Metal Blade CDs we did from 1999—2001, but he did do the reunion show in Germany in 2010 when we opened for Twisted Sister and Queensrÿche at the Bang Your Head Festival. We were both angry young men in the '80s, and we are both happy old men in 2017. We both stayed in shape. I play basketball and Tom does yoga.
You guys played tons of shows. My memory is slightly foggy, but I've seen you at least 8 or 9 times. Who did you play with?
We played with everyone except Metallica. Hades opened for Megadeth, Anthrax, Slayer, Overkill, Testament, Danzig, Manowar, Armored Saint, Cro-Mags, and Metal Church, among others.
Do you think the album, conceptually speaking, went over people's heads?
Resisting Success? Yeah, I meant I would never where a suit or conform when I came up with the title. I still don't know how to put on a tie.
Was it a conscious effort to get heavier? What were you listening to at the time?
No, to me you can't try to write. You just write. I stopped listening to Maiden and fell in love with Exodus' Bonded By Blood and Slayer, but I also got into rap.
SEE ALSO: The Heavy Metal Roots of New York Hardcore
Was "Nightstalker" about Richard Ramirez?
100%, yes it was.
What were you memories of making Resisting Success?
The '86 Mets were playing great. We had too many chefs in the kitchen. Jimmy wanted his bass to sound like the band Yes, and Dave Blake was trying to explain that it made no sense with the guitars. There were no click tracks back then. I was more relaxed recording at Fox with the original Hades. The "new" Hades was more nerve-wracking.
I think the song "The Leaders" is a heavy metal classic, up there with anything. Do you feel people slept on it? In my circle it was the shit.
In NJ people shit themselves over it, the same thing in Germany. It is weird that it didn't take off in the rest of the US, but I do remember many times at L'Amour's where we'd the curtain would rise and we'd play "The Leaders" and the audience went off from the first notes.
How did you feel about bands like Ratt and Mötley Crüe?
I still love the Ratt song "Wanted Man." I actually like Stephen Pearcy's solo band a lot, but I don't like too many other Ratt songs. I've seen Mötley Crüe more than any other band in the world which is kind of weird because I only love about a dozen of their songs. I've interviewed Nikki Sixx and I'm kind of intrigued by him. I never stole anything in my life. I've never been hung over. I never tried cocaine. I am and always was the exact opposite of how I perceived them and that's interesting to me because I also think we have some similarities. I've been happily married twenty years and monogamous for 24. Back in the '80s, I had this hot girlfriend who broke up with me for a bit. She went on a vacation and Nikki Sixx was on her island with Robbin Crosby from Ratt. Nikki pursued her for three days. She came back to me because she said Nikki reminded her so much of me!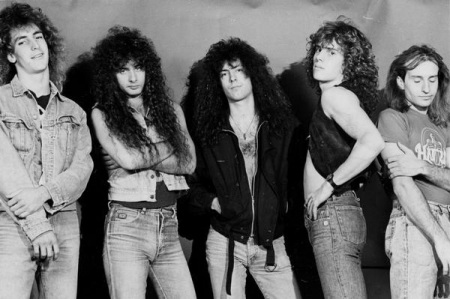 Was there ever a video or any attempts to make videos back then?
Aghh, after our second CD, If At First You Don't Succeed..., Torrid told us we could make a video for "Rebel Without A Brain," or get our tour bus fixed. We stupidly took $10,000 to fix our bus.
Do you think KISS should stop already?
Paul Stanley recently said somewhere the group will go on with no original members [laughs]. Well, it's certainly disingenuous to take my money for "The Final Tour" and then continue playing 10 years later, but who am I to tell them to stop? The thrill of playing live has long passed for me, but if it makes them happy, why stop? I saw a YouTube video of Gene Simmons performing in Cleveland and I thought it sounded great. Myself, Jimmy Schulman, and Ron Lipnicki jammed KISS songs together last month for the first time in a decade. I started playing along with old KISS records again. It's a lot of fun.
SEE ALSO: 2016 interview with Goretex (Non-Phixion).
Do you think O.J. did it?
Of course he killed them! Robert Kardashian had the murder weapon or evidence in his brief case. The police messed up the crime scene, but I read three books on the murders. O.J. did it for sure.
Any closing comments?
Please let your readers know to seek out the CD I did with Bobby Blitz from Overkill as The Cursed called Room Full of Sinners, and also check out my Instagram. Thanks for talking to me, brother!
Tagged: hades, metal, non-fiction, the cursed, thrash