In 2018, my band, Redbait, was included on Underdogs II, a comp organized by Dog Years Records, benefitting RAINN (Rape Abuse and Incest National Network). FIlling the roster were some of the best up-and-comers to be found, and one that stood out was Life Force. Their contribution, "State of Control," made me stop working and click 'repeat' a few times. This is the story of how Life Force checks my boxes.
It's Youth Crew, but it's different.
Life Force is from Texas and Oklahoma, but the noticeable (hardcore) influences are East Coast (Judge, Mouthpiece, Breakdown). However, guitarist Matthew Fletcher (Shai Halud, Zombie Apocalypse) plays in a lower standard tuning while using an added lower 5th to his power chords that give a unique eerie quality.
I have seen Life Force be referred to as "dark Youth Crew" in discussion groups. Also, the wide range of structures are throwbacks to earlier, pre-by-the-numbers youth crew. Think less Battery's formulaic perfection and more Youth of Today's willingness to experiment. Plus, it's got groove outside of the breakdowns.
Today, No Echo is presenting the premiere of "Spark of Dissent," a track from from Life Force's forthcoming debut album, Hope and Defiance:
Noticeably the lyrics break with Youth Crew canaan, as well. After 30+ years of loving YC, I am sick to death of "you broke a promise" and/or white dudes claiming to overcome some adversity. Life Force includes lyrics about straghtedge, while nestling in commentary on workers' rights, poverty, political power, America's mental health crisis, and being actively involved in making positive change outside of hardcore. Subject content for the new record has leveled up, because it must...dialectically.
Following the murder of George Floyd by Minneapolis cop Derek Chauvin, America is seeing a surge of progressive ideas and a new willingness to listen, and lyrics for Hope and Defiance rise to meet that surge. It should be noted that Hope and Defiance was written before Floyd's death and the following demonstrations, illustrating Life Force's progressive position as a step ahead. Life Force's message is not only theirs, it is the Peoples' message, and it is roared in your face.
"Hatred and lies only divide the people, and righteous anger only leads us to evil.
Everyone's yelling but no one stops to listen, too distracted by 'bread and circus' to spare any attention.
So let's open our ears and open our hearts, reserve our hatred for those who would tear us apart."
Personally, they are easy cats to love. Wherever they are, that's "the place to be"; but simultaneously they are genuinely listening and learning. Life Force stopped by my house the day after a fest we played together in St Louis, and Davis (bass) persistently wanted to know about my experiences in union organizing (a subject that often makes younger band folks run for the hills). Flint (vocals) and Fletcher are accessible, cooperative, and always enthusiastic. As a band, they are fundraising; and printing zines; and marching; and taking bold positions; and changing minds.
Their premiere 7 inch, The Impact, that came out on Blind Rage Records was one of my favorite releases of 2019. Shortly after, Life Force signed to the historic New Age Records.
"Life Force is the perfect example of everything I look for in a band when considering who to add to the New Age Records family," says Mike Hartsfield, founder of the label. "Musically, lyrically, politically, and personally Life Force meets all the standards and then some."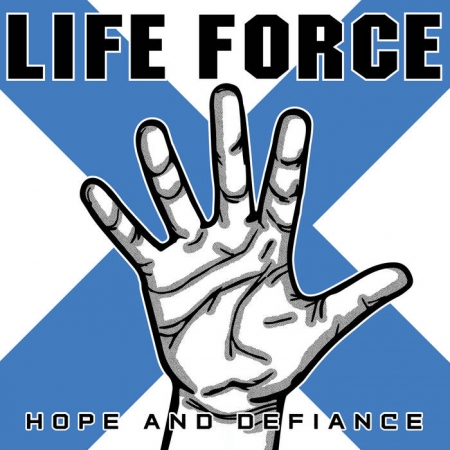 The Hope and Defiance LP is available for pre-order today via New Age Records. and for Pete's sake, do not pass up on the limidish "77" variant. This record has all the makings of a hardcore classic.
***
Donate a few bucks to help with No Echo's operating costs:
***
Tagged: life force