Slowbleed has only been around for close to three years now, but their history together is already one colored by both perseverance and tragedy. But let's cover the musical side of that story first. "[Guitarist] Logan [Givan], [bassist] Ozzy [Parrilla], and myself recorded our Total Vision EP in Logan's room prior to me moving to Australia for an extended period of time," Slowbleed vocalist Jon Stephenson tells me about their earliest days. "The music was left untouched until my return to the States, when we began playing shows in September of 2017. Initially, we played as a four-piece even up through our first West Coast tour with Piece of Mind.
"Once we began writing a legit EP, it became apparent that we would need a second guitar. We were very lucky to find a beautiful match in Miles McCintosh (also of Harness). He and Logan already had a musical relationship stemming from their time receiving music degrees from Cal State Northridge."
I tell Jon that I find Slowbleed's fiery guitar interplay highly impressive, and the singer offers some background on how they came to identify their songwriting style. "The sound of the band came together quite organically. Ozzy, Logan, and I have been friends and lovers of heavy music of all sorts since childhood. Ozzy and I have always identified with classic death and thrash metal, and Logan being a very very talented guitarist has always been 'the dude that can play Death riffs' and is really driving force behind the wildly technical riffs and song writing, and Ozzy and I have played in hardcore bands together in the past and he pushes me creatively always."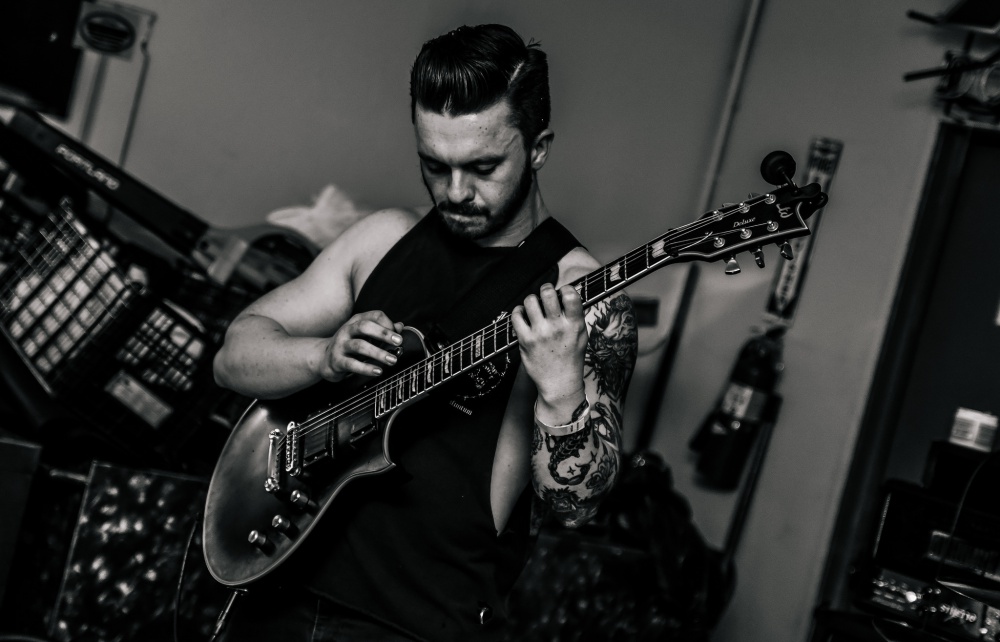 Before our interview, Jon told me about something tragic that happened in his personal life, so he shares his experience here for the site's readers. "This September, my beautiful girlfriend Raegan, and my good friend Kirra, were lost in a vicious boat accident, along with two others on the Colorado River. It has been an unreal experience for me personally, their and has rocked our local community."
I'm sure it's something that will continue to have an effect on Jon with time, but I ask him how that nightmarish experience has changed him so far:
"I have definitely been totally humbled, life is put into perspective in a way you never think possible. Losing a lover and life partner, someone you spend all of your time with physically, emotionally, intellectually, intimately, sexually, etc., is something I could never explain in words, but I'm learning to do so a little more everyday.
"I've also learned so much about how incredible my support system be whether it be it be my friends/family/community or even local hardcore scene are. I have to give a huge thank you to bands like Dead Heat, Downpresser, Mizery, and Slow Decay (and many more) who donated their time and monetary donations to support Raegan and Kirra's families. Particularly Chris of Dead Heat who took over booking/playing in our place on a fundraiser show we had to drop during the events in Arizona."
With 2019 looming, what can we expect from Slowbleed in the new year? "We are currently in the process of recording a new record with Taylor Young at The Pit studio in Van Nuys. I think this EP will define the sound of the band being the first project written and recorded by all 5 of us. It's also been a majorly therapeutic writing process for me lyrically, tackling everything involved in the current events in my life from loss, to my struggles with depression, to absolute strength and perseverance it takes to pull yourself out of the of the black swampy water that is tragedy.
"I do not want to be defined by tragedy, I don't want to be broken or sad and I hope this record offers words of strength for anyone suffering with loss."
"The record is titled Never Been Worse... and should be our early 2019 with some cool surprises."
***
Follow Slowbleed on Twitter. If you're in SoCal, check them out with Dead Heat, Break Away, Red Vision, Get a Grip, and Wise on Nov. 23 in Port Hueneme at Alma Rose.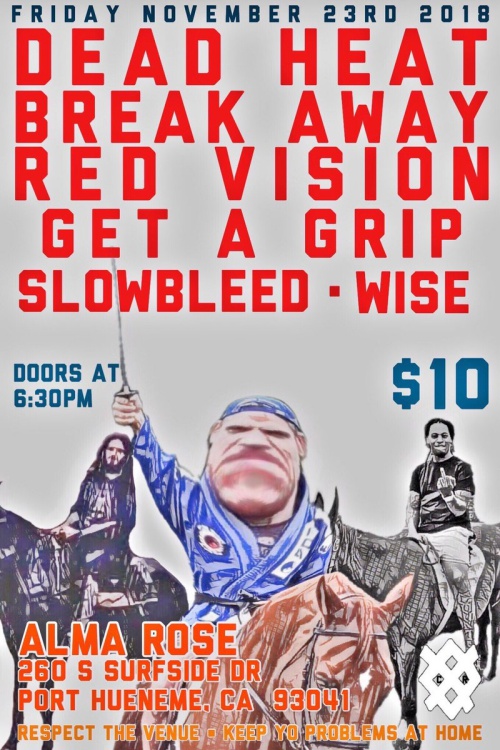 Tagged: slowbleed