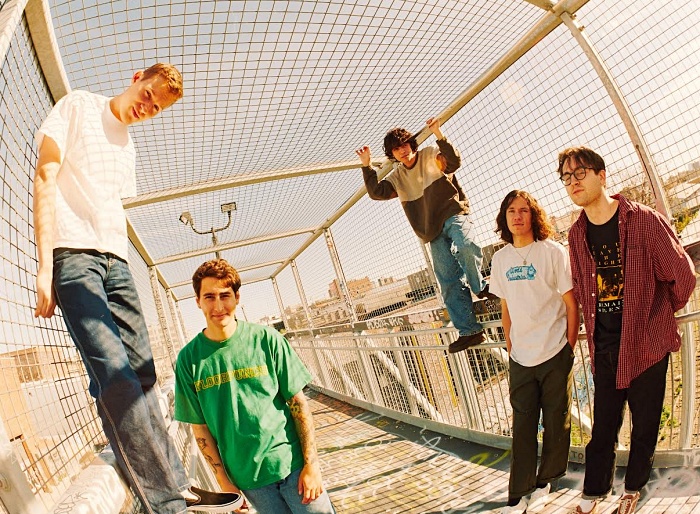 Connecticut's Anxious have earned their moment. With an, uhhh, anxiously awaited debut full-length album slated for January, the recent Run For Cover Records signees are due some celebration. Though I'll put a moratorium on the shitty band name puns, it still bears mentioning the impatient and ever-growing buzz surrounding Little Green House.
To, perhaps, temper the baited breath of the band's expanding fandom, I'll just say it's an all around triumph that makes good on all things Anxious. Still replete with the glorious, downtrodden hooks, and hardcore pacing, they've arrived equipped with a batch of their best songs to date. No small feat, as their 2019 EP, Never Better, has damn near monopolized my turntable since I copped it.
Rounded off by note-perfect guest spots and a couple of daring sonic surprises, Little Green House is no cottage… it's a roomy expanse that'll take time to explore and reveal itself.
Below is my interview with Anxious vocalist Grady Allen who was kind enough to indulge me on my favorite new album. The last time No Echo chatted with him was in a 2018 Record Collector profile. Thanks again, Grady!
Firstly, kudos on the new album. I'm not playing spoiler nor am I blowing smoke when I say Little Green House is leading the charge for 2022's Album of the Year race. How's it feeling for it to finally see the light of day?
Thank you so much for your kind words! That really does mean a lot. It honestly feels super surreal for the record to finally be unveiled. It's a record that took a long time at every step of the process; I had to redo all the vocals after we had finished recording the LP, the mixing/mastering process was super meticulous, and with COVID we just ended up having to sit on it for a very long time.
Being on the other side of it I'm very glad we took so much time to make sure it was perfect, but I'm super-ready for it to be out and in the world.
I can't wait until I can retire this question forever, but how did the Great Shutdown of 2020 play into the album's formation?
The shutdown played a great deal into the album writing equation. Prior to the world falling apart, it was very unclear exactly how and when we were going to write an album. At the time we had a pretty much nonstop tour schedule lined up for about 5 months which would have made writing almost a complete impossibility. But then everything shut down. There was no more touring, playing, anything.
Almost immediately we realized we could utilize this time to get everything written—and that's what we did. We spent about 2-3 months of winter into spring in Jonny's dad's basement writing and recording demos for what would become Little Green House.
It was honestly really nice to have a completely uninterrupted process for writing the record. In that one specific instance, the shutdown wasn't a terrible thing.
The Run For Cover Records signing seems like the perfect match. How'd that come to pass? Any other label acts you wanna big up?
It really does feel like the perfect match. We couldn't be happier on the label. The record somehow made it to their offices shortly after it was finished being mastered. A conversation began immediately and it was pretty much just, "hey, let's do this." We were super excited and the pieces fell into place super quickly.
I'm a super big RFC fan, there's a ton of acts on the roster I really admire. Camp Cope is one of my favorites, I'm really excited to hear their new music.
It's wild to think that Never Better has been out for a couple of years already. The band has remained an exciting, going concern based on the strength of those songs. Again, it's no surprise you've eclipsed that collection. How has the writing process changed since?
It's so wild that that record has already got a couple years on it. A lot has changed since then songwriting wise. I think at the time of writing that record we were fairly fixated on capturing and sound and trying to categorize ourselves singularly as "this one thing." But that attitude has faded almost entirely now.
The process is a lot more collaborative and open. We're just super open to all ideas and spend a lot more time working on drafts before we land on the final product. The process is a lot more fun these days. It just feels very experimental and free and that's been very rewarding. We're not bogged down in genre definitions or fixated on trying to be anything.
There are a couple of killer guest spots on the LP. Album closer, "You When You're Gone," features a stunning guest vocal from Stella Branstool (Hello Mary) and "Let Me" brings Pat Flynn (Fiddlehead, Have Heart) into the fold. Can you tell us a bit about how they came together?
Pat's guest spot is an easier story to tell [laughs]. I sent him the demos of the LP after we had finished recording them. He told me that he was really into the song "Let Me" and had a cool idea for a vocal part. We were obviously down and when it came time to record the record he just stopped by for one day and banged it out. It's always very cool working with Pat. It's always clear he's thinking immensely hard about what he's working on and is putting a ton of thought and care into it. It's very flattering.
As far as Stella on "You When You're Gone," that's an effort made entirely possible by Dante. Since that song was written he would go on and on and on and that a girl had to sing it. We couldn't think of anyone off the top of our heads-but then Dante mentioned that he knew a girl from his high school that he thought would be perfect. Dante sent her a message and the rest was history.
She came down to Connecticut from NYC and knocked it out in just an hour or so. I'm really happy with how it came out. That song is probably the song I am most excited to share with everyone.
Anxious has always played well in a number of different settings. Would you call the hardcore scene home? What's it like to play with so many different acts? That also begs the question… just how big are your record collections [laughs]? I hear myriad things across the album.
I think we would definitely call the hardcore scene home. That's the world we have our footing in the most and the world that we're the most invested in personally. That said, I really do enjoy getting to play in so many different spheres. It's a really cool way to keep things fresh. It's also a cool exercise to put your band in front of different audiences that might or might not be receptive to what you're doing.
It is also fun to play with a mix of bands where we might have more in common with them sound wise. As far as record collections I definitely have the biggest but generally speaking Dante is by far the most musically diverse in the band. He's the most unafraid to expand into uncharted territory musically and that's always super cool.
Seeing as you're crisscrossing the country with Koyo and Seahaven as I write this, I have a few road questions for you. What're a few artists that the entire band can agree on?
Hmm... When I think of artists we all love, the bands that come to mind are blink-182, Carry On, Samiam, and Name Taken. There are probably a lot more but when I think of bands that we all collectively enjoy listening to-those 4 are obvious picks.
The band also has divided opinions on certain bands too. Dante is militant in his love for Animal Collective. Jonny likes it too, but the rest of the band remains unswayed. I'm trying, Dante!
Seeing as I'm a list-lover, got a short list for your favorite records of 2021? Who are some bands we should keep an eye on?
I was about to say, "huh, well, I'm not really sure how many records have come out as it's only been 2021 for a minute," but then I was hit with the strange reality that it's December next month. Jesus. I'm glad to be exiting the pandemic just so time can exist again.
I really enjoyed Fantasy Camp's new release, Long Way Home. I think that record is his best release to date and I'm really hoping I get to see him perform live soon.
There are a couple releases that are about to release that I'm really excited to hear. I could not be any more excited for the new Camp Cope record. I know it's going to be fantastic and I'm excited to listen.
I'm super curious to hear the new Method of Doubt record. The singles they've dropped leading up to it so far have been really cool.
How can people best keep tabs on all things Anxious?
Social media is definitely the best way to keep up with us! We got an Instagram and Twitter and all that good stuff. Should we bring back the Anxious newsletter? Maybe put that on the 2022 agenda.
Again, cheers on a killer release and thanks for your time!
Thank you, man! This was an awesome interview. Thank you for having me.
***
Little Green House will be out January 21 and can be pre-ordered from Run For Cover Records.
***
Help Support What No Echo Does via Patreon:
***
Tagged: anxious