In every social movement there is always a contrarian within the counterculture; a dissident amongst the naysayers and a critical rebel inside the rebellion. Born Against played this role to the hilt during the early '90s hardcore scene, leaving behind a trail of righteous indignation, visceral protest, and bruised egos. It certainly helped matters that their music was on par with anything the originators of this genre ever produced, simultaneously echoing and updating the sonic fury of their forebears and artfully constructing acerbic visual missives, in the guise of show flyers, that went against the grain in a supposedly non-conformist subculture. Some of these flyers drew the ire of people within the scene, based solely on the images and accompanying text, so much so that one needn't have heard a single note in order to be in favor or against the band.
I asked old friend and Born Against co-founder/guitarist Adam Nathanson to give me a little back story on some of the particularly memorable flyers he did as well as his one-page "War Prayers" sheet that appeared in various zines and passed out at shows.
Here are Adam's recollections: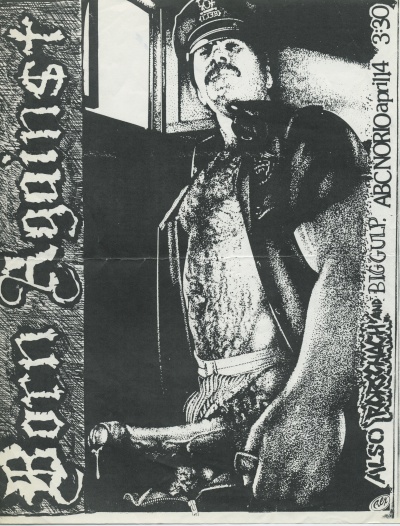 "I lived in a building at 264 Townsend St. in New Brunswick from 1989 to 1990. Some guy moved out or got kicked out of another apartment in the house. A whole series of paperbacks illustrated by REX ended up in the trash can next to my side door along with other debris from the tenant's life. In the '80s and early '90s, any Jersey boys who drove home from hardcore shows in the East Village after dark passed the famous gay bars like the Ramrod on the West Side Highway. Tons of Village People-looking motorcycles dudes were everywhere. That weekly scene converged with the Pettibon Black Flag Police Story t-shirt in my mind and the flyer was born. Al Long of Nausea later made a couple dozen Born Against tour t-shirts with this design for a February 1992 US tour."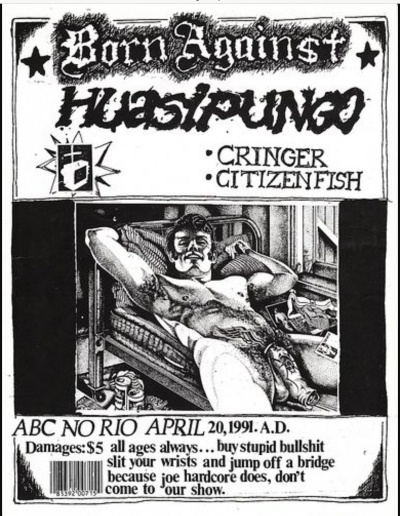 "More shock value punk imagery from the same trash bin as the B & D cop. Reminds me of 'Micha' by Integrity: "You can take a man, free him from no garbage can." Kinda exploitative considering no one in Born Against was gay, but let's not get too serious about something this ridiculous. Letraset rub-on elitist comments at the bottom show where my head was. Ironically, probably the biggest show we played at ABC No Rio."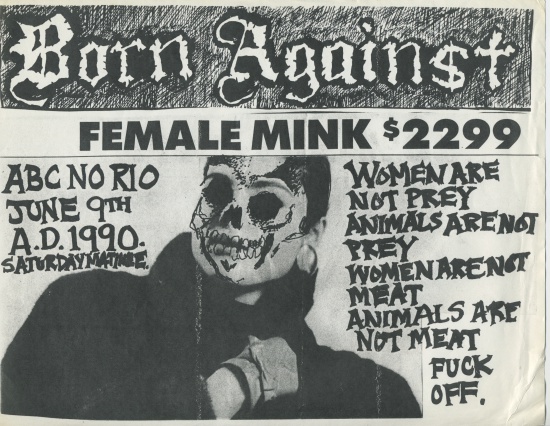 "In the late '80s and 'early 90s, the animal rights movement was strong across the country and especially in NYC. A group called Trans-Species Unlimited held weekly anti-fur protests and pickets in front of department stores on 5th Avenue during the winter. Squat or Rot punks, Youth Crew and regular hardcore kids always represented. Before the demos, Dave Stein, who ran Combined Effort Records and put out the Life's Blood 7", and I would go out in the area as part of the squads of two or three to confront the fur-wearing public. New York magazine ran a cover story about these tactics in January 1990.
I started to apply the approach anywhere I saw someone wearing fur. Concurrent with that, the whole Oprah/Geraldo/Morton Downey Jr. TV skinhead hysteria was reaching fever pitch. One night on a crowded PATH train, wearing my flight jacket with a Nausea SMASH RACISM patch, I berated someone in a fur coat until she blurted out, "At least I'm not a fucking racist (like you)!" Of course I laid into her even worse for thinking that an image of a fist smashing a swastika meant I supported racism. But certainly everyone on the train thought I was a crazy asshole anyway by that point…mission not exactly accomplished. Friends unwittingly found themselves swept up in my unpredictable behavior too. After a middle-aged guido reached inside his trench coat to let me know I needed to step away from his mink-coated woman, my friend Josh swore off the dangerous and humiliating practice of walking the streets with me for quite some time.
Also referenced on the flyer, once in Penn Station, I informed a Jehovah's Witness type church lady in a sable coat that; 'Fur is Murder.' That's when she dropped the black/white bomb on me, in all my self-righteousness. The conflicts mentioned on the flyer later became the inspiration for the song 'Wearing a Lampshade' on the Born Against/Universal Order of Armageddon split 7". I'm still mostly vegan and believe very much in animal liberation."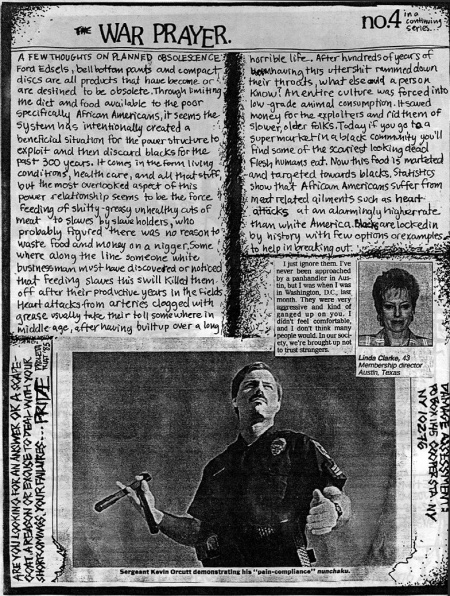 "A passionately presumptuous, lazy, uncited, impromptu American history lesson from the country's most obnoxious 20-year-old. Still, a lot of it's true. Give me credit for predicting the death of music CDs in 1990!"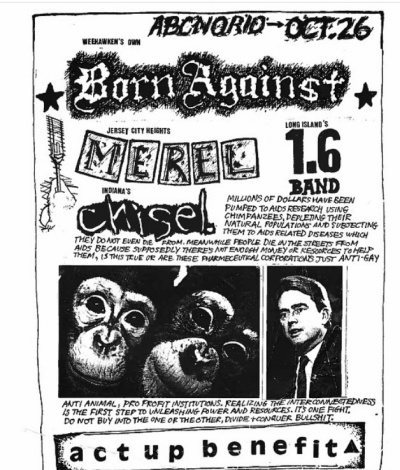 "Todd Weiss from Act Up asked Born Against to play a benefit. We agreed, but said we wanted to go on the record against animal studies to find an AIDS cure even in the epidemic's ground zero moments in NYC before Magic Johnson's survival and the increasing effectiveness of treatment that followed. I felt silence equaled death for animals too. The photo shows Alex Pacheco, formerly of PETA, back when the organization was taken more seriously for doing things like publicizing videos from Animal Liberation Front raids. Merel's incorrectly identified as being from Jersey City Heights, Born Against lived in Weehawken, and Ted Leo was going to Notre Dame in Indiana. I think Kevin from 1.6 Band has always resided in Long Island, though."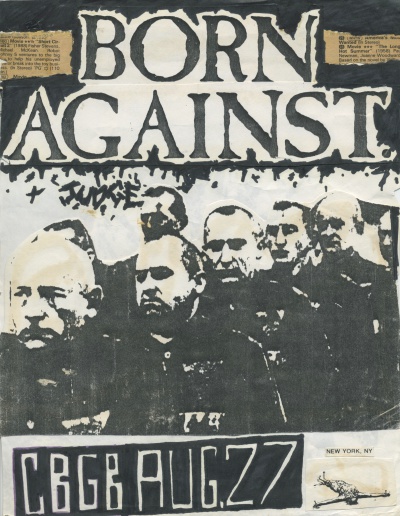 "Born Against's only show at CBs after the matinees really lost their spark in 1989. Low attendance even though Judge and the pre-Quicksand band Moondog (not the Viking-horned street composer) played too. The flyer uses a high contrast Soviet Gulag photo, I think from a Time/Life WWII volume, in the style of Agnostic Front's Victim in Pain that I still love. It's also awfully similar to the back cover of the Life's Blood Defiance 7.'"
"This page in Dear Jesus fanzine cited Conflict lyrics with minor alterations so they'd apply to New York hardcore in 1989 to 1990. The main sources were the song 'The Positive Junk' and the liner notes from The Serenade is Dead single and the track 'Exploitation' from the It's Time to See Who's Who LP. More WWII photos, probably saved in a shoe box of clippings until just the right moment of young man outrage."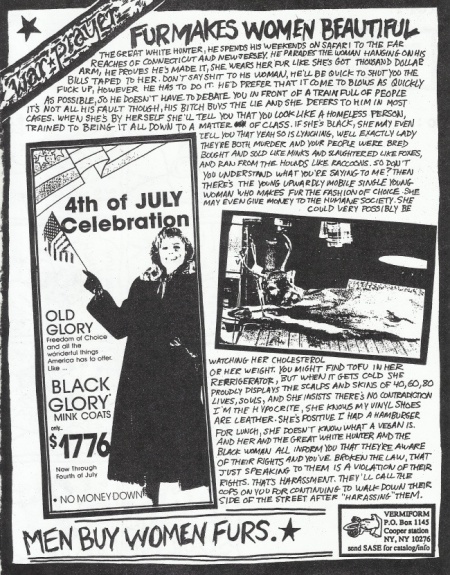 "Fur went on sale in the summer and ads like this appeared in the New York Times, which Born Against singer Sam read religiously. So the paper was open on the kitchen table in the apartment most of the time. For this flyer, and the 'Fur Makes Women Beautiful' one, I extended ideas of Carol J. Adams' 1990 book The Sexual Politics of Meat: A Feminist-Vegetarian Critical Theory to fur. Others thinking about these kinds of connections and influencing me then included Feminists for Animal Rights and the Rattle Your Rage Sister Serpents art show the next year at ABC No Rio. The Born Against Industrial Relations Dept. EP showed a photo of a monkey in lab restraints next to a shot of a bound and gagged woman to make the same point."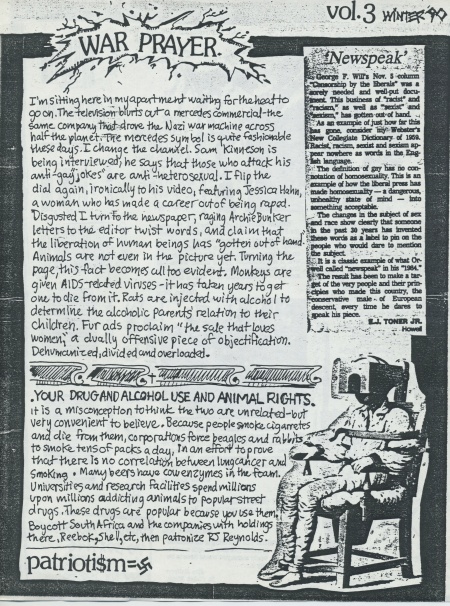 "This broadsheet outdoes the others with its rant and tone. Apparently I ran out of room at the bottom and tried to point out the hypocrisy of boycotting apartheid South Africa while hurting animals by smoking cigarettes in one sentence! Could anyone understand my reasoning when I presented it in such an ADD way? Some of these new non-straight edge reasons to be anti-drugs and anti-smoking morphed into the sentiments behind the Born Against flexi-disc mini-essay and song 'Alive with Pleasure.' Looking at the cutout Letter to the Editor and the first paragraph of my tirade, it's pretty discouraging to compare the politically backward climate of 1990 to today and see how little's changed."
Thank you Adam and BA for the influence, then and now.
-Freddy Alva
Tagged: born against, hardcore, punk