Earlier this year, No Echo profiled Last Gasp, a newer hardcore band based out of Cleveland that released a 4-song demo back in February.
Recently becoming part of the WAR Records family, Last Gasp is gearing up for the cassette release of Second Wave, their debut EP which dropped on Bandcamp over the summer. "I think the songs on Second Wave show the natural progression of the band," vocalist Ryan Hardwick tells No Echo.
"We recorded everything DIY and released the songs much sooner than anticipated due to the aftermath of the Cleveland protests. We put Second Wave on Bandcamp and raised $500 for local groups. Not too shabby for 5 minutes of hardcore."
Today, we're fired up to help premiere Last Gasp's cover of AFI's "A Single Second," a track they've recorded for the forthcoming EP/demo cassette release:
No Echo asked Last Gasp drummer George Lucarelli why they chose "A Single Second" from the AFI catalog to cover: "First and foremost, they are my favorite band and probably one of the biggest musical influences in my life. I've been listening to them since I started buying CDs. From their first album to their last. They've covered so many genres and have been such a unique band. I've always wanted to cover and record one of their songs.
"This particular song came to mind when I was thinking of Ryan's vocal style. Shut Your Mouth and Open Your Eyes is the hardest AFI record and I wanted to see if we could do the track justice. I've seen them play ' A Single Second' live and I remember being shocked they played such an old song and how much fun they were having playing it."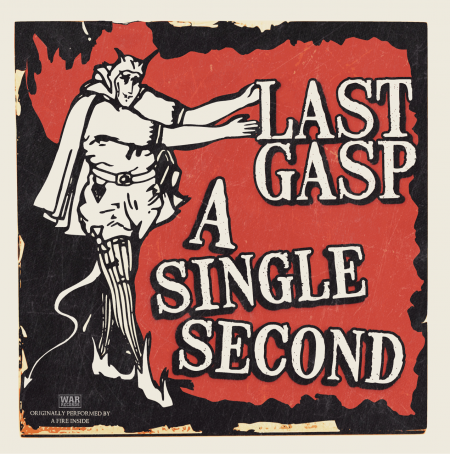 So, how did Last Gasp connect with WAR Records? "It's pretty random but a buddy and fan of the band (shout out Johnny Kentucky) sent our Second Wave demos to Andrew [Kline] at WAR," says Ryan. "He and I were talking about release plans which we honestly didn't have at the time.
"I told Andrew this story but Strife was such a wild influence on me getting into hardcore. I was a punk kid that bought all the comp cds that I could get my hands on because they were cheap. I picked up the Hopeless Records compilation Cinema Beer Nuts, which had the Strife song 'Blistered' on it.
"I loved the aggression and how in your face it was compared to all the punk rock I was consuming. I had to be in like Sixth Grade but that track lead to more exposure of hardcore and changed my whole life dog. [Laughs] So you could imagine how stoked I was to work with Andrew and hear that he was into our stuff."
Ryan and George wanted to take a moment to show some love for their local hardcore community. "The Cleveland scene was thriving up until the pandemic put a stranglehold on live events. There's that word again, we're all so tired of talking about the pandemic but without live events who knows where the state of the scene is at in Cleveland let alone the world.
"A lot of the venues here that would host punk and hardcore gigs are in trouble. Places like Now That's Class, the Foundry, the Grog Shop... I don't know if these places will make it and that's just heart breaking, man. It seems like the musicians we are close with are in the same boat; Writing and waiting for the world to return to normal, if that ever happens."
When asked about some of the bands there we should all check out, the boys hit us with: "Heart Attack Man (the Tiger Army to our AFI), Pawn, Brain Cave, Wallcreeper, Cheap Easies, Rusted Hearts, Cue Ball, Seeress, Grievance Club, Christmas, Ten High, Soul Charge, and the Michigan homies Prison Suicide, and Bitter Truth."
Finally, we ask Ryan what the plan for Last Gasp is for the forseeable future: "We're pedal to the metal, man. Doing everything we can to stay active. We will definitely still be writing and recording until we can play out. The running joke is we're going to have 5 releases before we get to play live, which is wild.
"We're actually filming a live set this weekend with some friends from Cleveland to get some footage out so people can see that we don't suck [laughs]. We're going to push this WAR tape hard as possible while we write for our own 7 inch or full length. We have a split coming out this winter with the band Who Decides from Rochester, New York.
"Honestly, this band has really been the light at the end of the COVID tunnel for me. I don't know what I'd do without it. All the anxiety and stress over this landfill year, it can be crushing. The band and these songs have majorly helped me get through these trying times. I'm grateful for WAR Records, grateful for my band, grateful for hardcore. Bless up, y'all."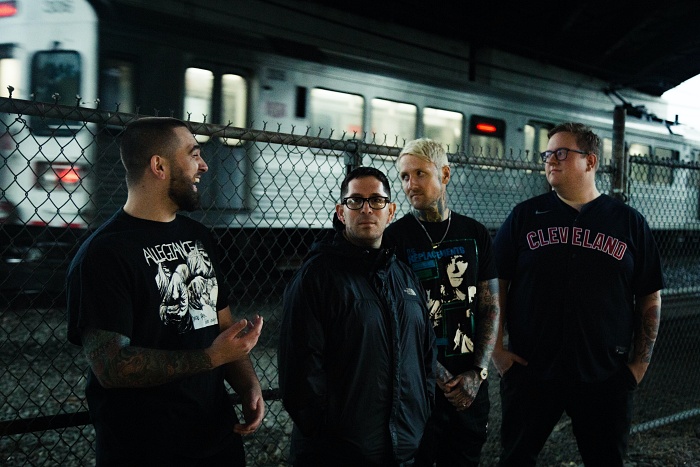 Head to WAR Records to order a copy of the Second Wave/Demo cassette, which also features the AFI cover as a bonus.
Last Gasp on social media: Facebook | Twitter | Instagram
***
Donate a few bucks to help with No Echo's operating costs:
***