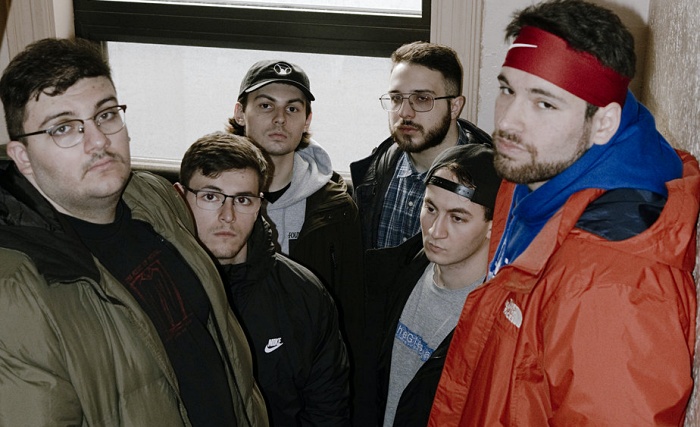 Long Island cut its teeth in hardcore by finding ways to combine the grittiness of austere hardcore with the melodic sensibilities of pop punk. There's a laundry list of LIHC bands that have not only done this well but who have also paved the way for bands all over the world to follow that blueprint. Koyo, with the release of the 5-song EP, Painting Words Into Lines, is poised to continue that pedigree for LIHC. Theirs is a sound that echoes that Long Island blueprint while also offering their own modern and ingenuitive bent.
Interestingly, most of the members of Koyo are in other touring bands. Coming together in this regard was a bit more about stretching their musical ideas, and playing as friends. "Koyo came together originally in an effort to start a few new bands while all our friends were respectively home from tour. The idea was to start more bands with the same core group of friends and see what sticks. Out of that effort Koyo and our other band Soul Provider came to be.
Aside from the fact that all the members of Koyo had been friends for a very long time prior to starting the band, I think there was also just a collective interest in doing a more melodic band and paying homage to music we grew up on," offers vocalist Joey Chiaramonte.
The EP's third track, "Heaven So Heavy," certainly seems to play on that sense of melody and homage. The song opens with a tone reminiscent of the best parts of early millennium emo, a benchmark sound for Long Island. But the song develops a hook-laden and driving sound that gives power to Chiaramonte's lyrical content. There's a ballad-esque quality to "Heave So Heavy" that gives focus to the musicianship and song-writing in Koyo.
The band does well in balancing the emo-driven melodies on "Heaven So Heavy" with the much faster-paced and strikingly hardcore track "Dreaming In a Wasteland." This song combines much of what one looks for in a solid hardcore song. It's fast. It's energetic. It's aggressive. But Koyo also manage to find inroads for their melody to balance the song, and keep it within range of the others on the EP.
The growling in the vocals and the frenetic guitar work do not overshadow the catchiness in the song's chorus. Chiaramonte says, "I felt strongly about having each song tap into a different sound or quality that comes from Long Island music. It wasn't always a 'let's do it like this band' type thing but I think part of what's so cool about LIHC and its history is bands can tackle so many different dynamics with their sound under the same entity, and it's accepted. For sure tried hard to touch on that and create a work filled with contrast and dynamics, while keeping it contained within a clear vision." That vision of balancing different dynamic shines through in "Dreaming in a Wasteland" as a song, and on the EP overall.
The EP rounds out with three other solid songs. "Hanging from Grace" is another standout here, offering a fast-pace and tightly wound guitar work that complements crashing drums and well-placed vocal cadences. The song is great middle ground between the aforementioned tracks, and bridges much of what Koyo seeks to accomplish in their sound. It rings with a Silent Majority vibe in the choruses especially. And that's not unlike the vibe on the entire EP.
This is a batch of songs that pushes the scales on melody and aggression throughout. Koyo don't delve too far in either direction, but there as an elasticity to their sound that elevates the band certainly about most others who are on their first recorded effort.
What's next for Koyo seems about as uncertain as what's next for any of us given the state of things out there. But Chiaramonte has hopes for his band in the near future, offering, "As of right everything is a little shaky due to all the Coronavirus stuff, sadly.
Despite the uncertainty, I can say Koyo wants to play regionally as much as we can. Going to try and play LI as much as we can, head out on weekends as often as it makes sense to. Also have some loose plans for new music that we will be jamming on ASAP. We're hungry to get the band rolling, timing is all just subject to change by the result of the world being temporarily fucked." Let's hope the world gets unfucked so we can enjoy more Koyo.
Tagged: koyo