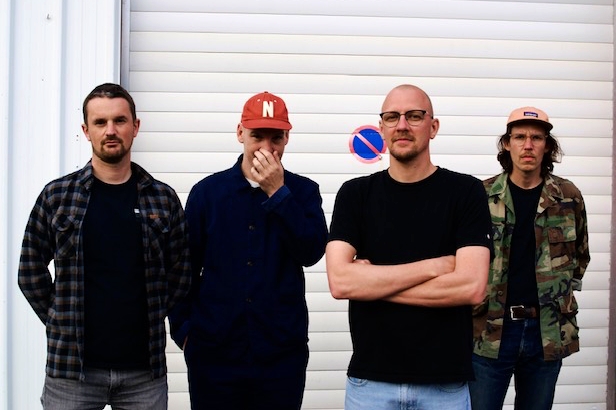 A few days ago, Bjorn Dossche (Rise and Fall, Chain Reaction) posted on his Instagram that he was fronting a new band called Wrong Man. As a fan of his previous work, I clicked on the Spotify link and was impressed with what I heard.
The song, "Running Low," had me hitting the rewind button a few times, bringing to mind a mix of hardcore, noise rock, and points in between, but there's also an undercurrent of melody running throughout it. "I'll definitely agree that it has some melody to it, and we feel like it's a catchy track that really reflects the different aspects of our sound," Bjorn told me via email when I reached out to him about the new project.
"It has some of our harder riffs, tempo changes, dynamics and the energy we're always after. We've seen people compare it to everything from Quicksand to The Jesus Lizard and that's perfectly fine with us."
So, what's the story behind Wrong Man's formation? "It's a pretty simple backstory, actually. Cedric, Ivo, and Thijs have a band called Partisan. During one of the COVID-induced breaks from playing shows, they got inspired to write some new music that was very different from what Partisan does.
"After having written a bunch of tracks, they asked me if I wanted to sing. Cedric sent me a demo recording of what would become 'Ground Floor' (ond of the other songs that will be on our upcoming EP) and I was into the idea immediately."
Something of (hardcore) note here is Wrong Man marks the first time Bjorn and Cedric have played together in a band since their days in Rise and Fall. Also, Ivo was the original drummer of Oathbreaker.
What can we expect from the lyrical side of Wrong Man on the forthcoming EP? "Wrong Man definitely dwells on some darker, introspective themes. Alienation, depression, anxiety, love, loss. I'm inspired by life as I live it and as I see those near and dear to me live it."
The Wrong Man record will be co-relased by Eat Dust Records and Atomic Action! Records. Since the latter is based in the States, I'm very familiar with their output, but I was curious about Eat Dust Records. I asked Bjorn (who is also a contributing writer of this very site) for the details.
"Eat Dust is an awesome, Belgian clothing brand I work for, owned by people that have a deep love for underground music of all kinds. Listening to and discussing music so often brought about the idea to release our own shit. So here we go. More coming!
"As for Atomic Action!, when we finished recording the EP I reached out to Brian [Simmons] to see if he's be into doing it. He did such a great job on the Chain Reaction 12-inch, so I was excited when he said yes."
***
The Wrong Man EP will be out around the end of the year. The band is planning on recording a follow-up EP "fairly soon."Stay tuned to Wrong Man's Instagram page for show and release announcements.
***
Help Support What No Echo Does via Patreon:
***
Tagged: chain reaction, rise and fall, wrong man