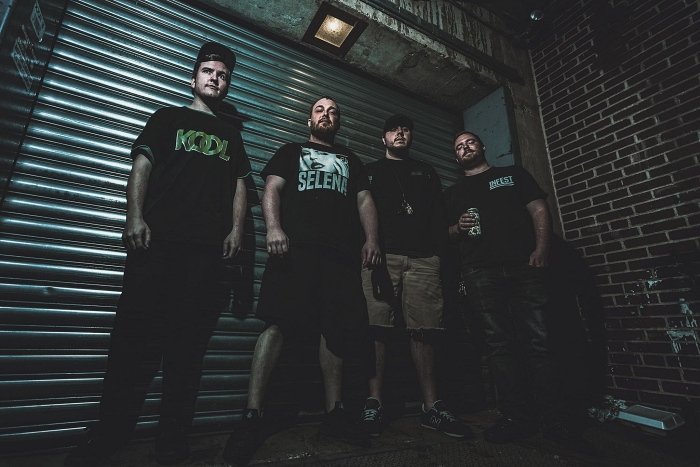 Taking a look at Tom Maher's album art for Habitual Self-Abuse, it's with little surprise that the sounds it's representing brings to mind the golden age of Earache Records.
Yes, the forthcoming fifth album from New Jersey's Ground has a lot in common with the grindcore magic of classic Napalm Death, but there's also a certain East Coast-flavored hardcore to their approach. The new record comes a decade after the quartet's formation.
Throughout that time, they've played shows and festivals with everything from death metal to power violence to hardcore punk bands, which is a testament to their aforementioned playing style.
Habitual Self-Abuse won't be out til this Friday (October 28th), but you know No Echo has connections, so dig in below:
Ground guitarist/vocalist Mike Mayo told No Echo the following about the album:
"In terms of style and direction, Habitual-Self Abuse picks up where our last album left off, however the performances are tighter, and the arrangements are a little more technical. We wanted each song to have their own identity while staying true to our formula, which I think we did pretty well on this album.
"We love grindcore, death metal, hardcore, and power violence, and just want to put all those ingredients in the pot to cook up something we would like to hear. I'm super happy with the ending result, and I hope listeners are too."

Habitual Self-Abuse will be released on October 28th via Hibernation Release on viny, CD, cassette, and digital (pre-order). Next year will see a deluxe vinyl edition of the album.
Ground on social media: Facebook | Instagram | Bandcamp
***
Help Support What No Echo Does via Patreon:
***
Tagged: ground