Frank Justich was the older brother of one of my best friends growing up in the Jackson Heights and Corona neighborhoods of Queens, NYC during the early 1980s. Their home, in those halcyon days of 1982, was the neighborhood clubhouse. Myself, along with his brother Jimmy and other friends our age, would lay claim to territory on one side of the house; Frank and his buddies would be doing the same thing on the other side. While we were a mixed bunch ethnically—White, Spanish, Black, and every sort of intermingling in between—the one thing that separated us, besides the age difference, was at times the insurmountable musical styles that we each pledged allegiance to.
Afrika Bambaataa's "Planet Rock" had come out that year, and it quickly become our anthem. Jimmy and the rest of the crew would hole up in his room blasting that 12" record, alongside dubbed tapes of Mr. Magic's Rap Attack radio show, and Kool DJ Red Alert's master mixes. We would tape their weekly broadcasts religiously. Hip-hop culture was in its nascent breakout stage and we were eager B-boy acolytes. Our preferred gear being Shell-Toe Adidas sneakers with fat laces, creased Lee pants, and name belt buckles. They were all worn while practicing our best breakdancing routines like our idols in the Rock Steady Crew. We also of dreamed of graffiti glory by copiously practicing sketches on paper that would one day, we hoped, make it onto the holy grail: an actual NYC subway car. On the other side of the great divide, Frank and his friends were all about the rock 'n' roll lifestyle: long hair with a studded earring in one ear was the de rigueur look, alongside Levi's jeans or dungarees plus jackets with band patches and motorcycle or work boots. Classic guitar fare like Led Zeppelin, The Allman Brothers Band, and Rush blasted out of Frank's room on a continuous loop. Jimi Hendrix and Duane Allman were their role models, along with the zeal of true believers possessed with the unstoppable power of rock 'n' roll.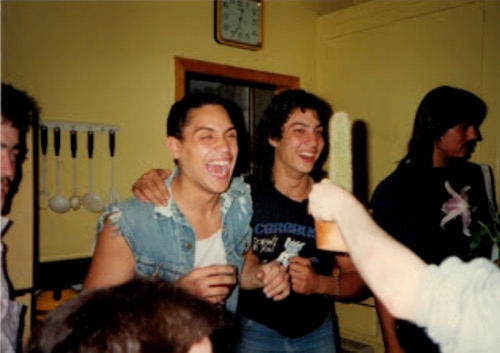 The two factions pretty much kept to themselves except for the weekend beer drinking games that served as the great social lubricant around the kitchen table, which was situated in a neutral, non-combatant-approved area. I distinctly remember walking one day across no man's land, en route to the bathroom, and hearing AC/DC's "Back in Black." I said to myself, "Damn, that's a funky beat!" I wouldn't have admitted that in public, as anything with guitars was considered whack or heresy in our circle, but Frank must have sensed an interest on my part and he discreetly invited me to hang out in his room, which had been converted into a multi-layered shrine to all things rock-related. It was there that I was turned on to Neil Peart's dexterous drumming, Ritchie Blackmore's monster riffs, and Geezer Butler's thunderous bass sounds. Frank was patient and generous with expanding my musical vocabulary, all the while remaining tight-lipped about it, lest my crew find out I was consorting with the other side.
As the years went by, and I moved out of the neighborhood, I would keep Frank's lessons close to heart. Hip-hop and rock music were not mutually exclusive entities. As the former emphasized the beat and the latter was all about the melody or groove; they ultimately emanated from the same source, each taking separate but similar routes to express themselves. The same could be said for Frank and the other boys from that summer of '82 as we went through life's litany of ups and downs. I lost touch with a lot of the guys until, through serendipity, I got an invite in 2009 for his brother Jimmy's 40th birthday bash. This proved to be a gathering of the tribes, as I had a blast reconnecting with the old crew, and seeing Frank again was an added bonus. We hadn't spoken to each other since we were teenagers, and at one point I thanked him for opening my musical horizons. His response was something along the lines of, "Man, that stuff didn't need me to sell it, rock 'n' roll rules and it always will!" As I explained it to him, that initial encouragement led me to a lifelong involvement with guitar-based music, both on the producing and spectator ends of the spectrum. He good-naturedly brushed off my praise and we made some tentative plans to get together at a later date with our respective spouses.
This was sadly not to be, as I heard some tragic news on the morning of January 26, 2010: a sanitation worker had been killed on the job in Astoria, Queens. All those years that I'd spent getting away from the old neighborhood, Frank had gone in the opposite direction. He'd stayed in the borough and joined the Department of Sanitation, picking up the garbage on streets not too far away from where we grew up. I immediately read online and in print, an overwhelming appreciation from people along his route. The number of anecdotes on how Frank always went the extra mile with good humor and a cheerful attitude, while performing back-breaking labor, was endless. There were a couple that struck me: when the sanitation trucks were called back into the garage due to inclement weather, Frank would always be found pleading to his supervisor, "Please let me stay out there, my people need me!"
He would also routinely get holiday and birthday gifts from people along his route, one of the only ones in his detail to get that kind of treatment. Tokens of appreciation like knitted hats were the norm, made with the tacit understanding that Frank was no run-of-the-mill sanitation worker. I would go on to attend a second gathering of the tribes, but this time it was under dire circumstances, as his wake and subsequent funeral was one of the most well-attended this town has ever seen for a city employee. The long list of dignitaries, like the mayor, that eulogized him was truly impressive; the most striking being the wide cross-section of people that turned up to pay their respects and reminisce on days gone by.
As times change and the social fabric of NYC's neighborhoods rearrange themselves, I believe Frank's selfless example in the way he embraced his community, was his last and most important lesson to me. The same qualities that defined him as an adult were present when we were kids: an all-embracing attitude coupled with an innate sense of duty, plus his ever-present smile and jokes to lighten the load.
I don't know if kids today have a sense of their neighborhood as a self-contained universe, or if the concept of distinct musical youth tribes still apply. If they do, I can only hope that they have a kind, older brother figure like Frank. Someone that can show them it's okay to step out of your comfort zone, check out different views, and realize that the place as well as the people you grow up with are forever implanted in one's DNA.
You were right, my big (rock) brother: rock 'n' roll will always rule, and so will you.
In 2011, the city renamed the corner of 35th Avenue and Ditmars Boulevard in Astoria "Frank Justich Way."
Thank you to Jimmy and Karina Justich, and all of my old friends from the neighborhood.
Check out the website dedicated to Frank's memory: FrankJustich.com.