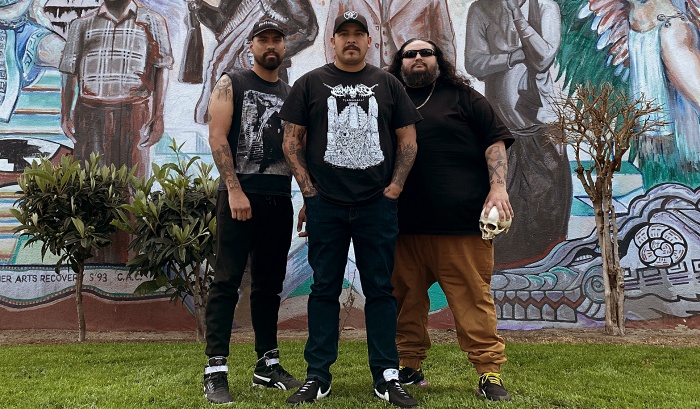 The aural malestrom Xibalba creates can be described as what Bolt Thrower would sound like if the members grew up on a diet of Neglect and Obituary instead of Amebix and Extreme Noise Terror. The Pomona, California-based group just dropped its fourth album, a punishing collection called Años En Infierno.
Produced by Arthur Rizk (Power Trip, Cold World), the record's cover art was created by Dan Seagrave (read No Echo's interview with the influential artist) and perfectly encapsulates the material's apocalyptic sense of dread.
Años En Infierno just hit stores and can be streamed below:
To celebrate the release of the record, Xibalba guitarist Brian Ortiz put together a list of guitarists from the worlds of metal and hardcore that have helped inform his playing throughout the years.
As you'll see below, Brian has impeccable taste in players (and tone).
***
From Xibalba's Brian Ortiz:
Kirk Windstein (Crowbar, Down, Kingdom of Sorrow)
Kirk Windstein is one of my main inspirations for playing the way I do. I always loved how he bent these big notes as well as harmonize the fuck out of them. He has an unmatched style for turning the hardest songs and riffs in these mournful harmonizing sob fests. And the heaviness? Enough said.
Trey Azagthoth (Morbid Angel)
Some of the heaviest and most monolithic riffs have been created by this man. Trey is another riffer that I definitely try my best to rip off. With those giant octave chords, tremolo picking, and scene-building songs, how can I not be inspired?
Trevor Peres (Obituary, Meathook Seed, Catastrophic)
This dude wrote some of my favorite death metal records with the nastiest/dirtiest guitar tone. His approach to songwriting is something I took to heart. Those simple, big-sounding chords stay stuck in your head until long after you hear it: simplicity, groove, and nastiness.
Max Cavalera (Sepultura, Soulfly, Cavalera Conspiracy)
As a young Chicano/Latino growing up in the '90s, I watched a lot of Headbangers Ball. My cousin had a few MTV channels and one of them was MTVLA, aka MTV Latin America (they also had a Headbangers Latino). That was where I saw Sepultura's "Roots Bloody Roots" video for the first time. It was one of the heaviest songs I remember hearing at the time (as well as low tuned) and to this day, I have tried to put my spin on heavy drones with over tribal percussions.
It was one of the first times I remember being stoked that me and my cousin weren't the only Latino rockers in the world and it made me proud.
Scott Crouse (Earth Crisis, Path of Resistance, SECT)
This dude is the reason I use ESP/LTD Viper guitars. Scott was also one of the first hardcore guitarist that made it okay to like metal a lot. As a narrow-minded, tribalistic hardcore punk, I wasn't sure if that was cool or not. His style of playing made me realize that it was cool to take from all kinds of different sources of extreme music.
Honorable Mentions: Toni Iommi, Jimi Hendrix, Tom Morello, and Carlos Santana. They didn't have an effect on my tone or style of play (with the exception of Iommi), but these guitar players were the ones that made me want to pick up a guitar in the first place as a kid.
***
Años En Infierno is available now via Southern Lord at this link.
***
Donate a few bucks to help with No Echo's operating costs:
***
Tagged: xibalba