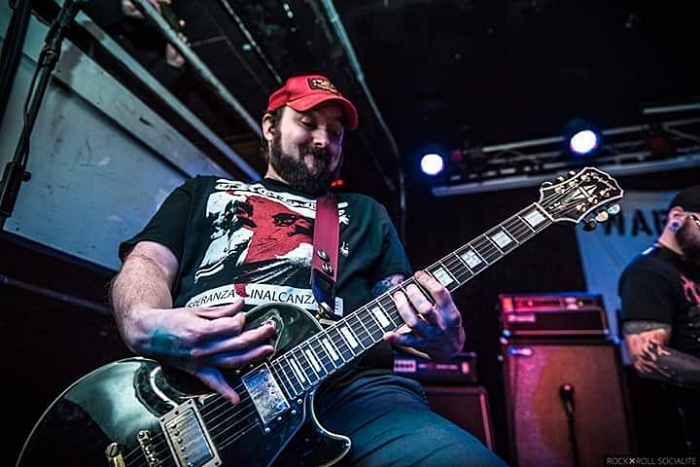 Urban Void is a new band featuring musicians from Germany and the United States taking on a classic-sounding style of hardcore that stomps as much as it rips. The lineup of the transatlantic group consists of guitarist/bassist Jeremy Evans (WarXGames, Wall Breaker, Coke Bust), vocalist Sebastian Stronzik (Mind Trap, The Fog, Highscore, Short Fuse), and drummer Tim Corleone (Chronic Abuse, Short Fuse). How's that for a pedigree?
"I have been a fan of Seb's bands for quite some time," Jeremy tells No Echo about Urban Void's start. The Virginia-based musician continues: "Since he is from Germany, I never got a chance to see any of them until Wall Beaker was in Europe the other year. We got a chance to play with his new band, The Fog, at the Refuse Records anniversary show. They opened their set with two covers of a cult DC band from the early '00s, The Aftermath.
"After their set, I approached Seb singing the songs to him. He was stoked I knew of the band. So we struck up a conversation and a friendship. Fast forward a few months, and I asked him if he wanted to do a project band. He said yes and directed me to hit up his old bandmate, Tim, to play drums. It was all pretty funny how it just worked out."
Once they agreed to work together, they got to the business of musical direction. "When discussing what we wanted to sound like, I said i wanted to write some pretty bare bones caveman style hardcore. It had to sound mean to match Seb's brutal vocals. I would write and record ideas and email them to Seb and Tim who would add their input. I didn't really try to sound like any band or genre of hardcore when writing. I just wanted the riffs to be simple and angry. [Laughs] I think I pulled it off pretty good."
With the demo out now, No Echo asks Jeremy what the next chapter in the Urban Void story is. "I am currently working on writing more songs for us and just going about it the way we wrote the demo. I will work out a rough song sketch and email it to Seb and time. They will listen and add their input and I will rework the riffs as needed. Tim is also a killer guitar player, so he will send me drum ideas that he adds some scratch guitar tracks to so I can see if what i had in mind meshes to what he has in mind.
"So far, it has worked pretty seamlessly. I can't wait to see what the next batch of songs come out sounding like."
Urban Void on social media: Bandcamp
***
Donate a few bucks to help with No Echo's operating costs:
Tagged: urban void