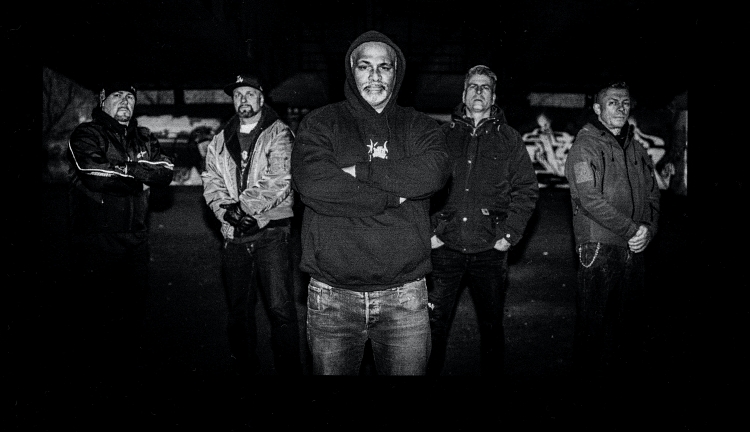 Rykers. The name, albeit altered slightly and a reference to a Marvel institution, is taken from a cold and intimidating isolated island in New York's East River. The name evokes a callous and isolation feeling. The island's history is steeped in criminals culled from the streets of New York.
In 1992, in Kassel, Germany, four youths combined to form a hardcore group, donning the name Ryker's. Their music over, the next three decades, would manifest the same impressions as their namesake.
Chris Luft was the only remaining member, founder, bassist, and songwriter. But this changes with Ours Was a Noble Cause. He reunites with Kid-D, who held down vocals from the beginning until 2014's Hard to the Core. Kid D returns with as much energy and vicious vocal venting as any other year in the band's history.
Rykers has sweat and bled and toured for 30 years and garnered respect and deep street cred resulting in an expansive hardcore family. The band is now a five piece, which happened on 2019's The Beginning. Their sound is strengthened buy the two guitars. (Technically, they dabbled with a second guitarist in the '90s on 1997's A Lesson in Loyalty but then returned to being a four piece.)
On this record, Rykers is comprised of Fusel (Steven Kaufman, since 2014), lead guitar; Chris Luft, founder/bass; Flo (Florian Piper, 2014), drums; Steve (Romhild, 2019), rhythm guitar; Kid-D, vocals, again.
If you want to know influences and inspirations, you can look at Rykers' chosen covers by Hirax, Alone In A Crowd, CFA, and even peers, Right Direction. Add a few Oi! songs such as The Business, Cockney Rejects, and Blitz ("Never Surrender," which they elevate to insane level!) and they even have an EP of covers where the crush versions of songs from Slapshot, YOT, Cro-Mags, Token Entry, and Chain of Strength. Now, throw in Agnostic Front and Madball, and you get an accurate picture quickly.
A 30 year career is no joke. Especially in a scene with little tangible or financial rewards. But the worldwide family Rykers have created is the reward. And the chance to vent the stresses this world helps, too. Still, 30 years seems tiring. But Luft dismisses that notion. "Well, not really tired. That's why we put out a new pissed and angry record. I think this scene/this music somehow keeps us young and connected. And this world and all the stupidity that comes with it somehow keeps us motivated too. At least, (for us) to say something and point out what's going wrong."
Ours Was a Noble Cause has a thick, brash sound, extracted by Fusel. He recorded the album. Luft explains the next steps. "I had a pretty exact vision about how I wanted to sound with this record. So, once we have recorded everything, I took the files to our longtime friend and producer, Andy Classen. He knows us like no one else does and we have great way to communicate. So, when it comes to the sound, he can literally read my mind. He did the mix- and mastering - and I think it came out great and stands out from all the generic-trigger-overproduced bullshit." True. This is a beefy but raw sound with flowing energy.
"Mentally Unlocked" opens with the familiar, ominous voice of Travis Bickle. The Taxi Driver sample paints a cynical picture. The dark tone permeates the album. Luft confirms. "Cynical and sarcastic! I think you got the message. This is how I see the world today." He adds, "By the way I'm still waiting for the rain..." aren't we all…
The biggest news and aspect of the new album is glaring: the return of Kid D! It has been eight years and fans of the group are stoked. Luft notes that it was continuously simmering in the background. "Sure, there were always talks. We were always friends and have kept in touch all the time. Once we've played Kassel a while ago. He joined us on stage for one song and it felt great. So, I can say I somehow 'I saw it coming'."
Luft continues to explain the reunion's impact on the recording. "Most of the songs were already written when he re-joined the band. But, for some reason it felt like I wrote the songs - and especially the lyrics - for him. I could not imagine having somebody else performing these songs."
The timing of the album reflects that the self-recorded album was written and recorded under Europe's pandemic parameters. This brought pressure to an entire world. It doubles with the added stress of balancing regular life with an impending record, Luft vents. "I can't say it was easy, but we somehow keep ourselves busy one way or the other. The 'free time' in 2020, I used to finish some work at home.
"We used 2021 to write and record the new record. Of course, it sucked when shows were pushed ahead and then got pushed again or got cancelled. I feel way more sorry for kids or elderly people who really suffered from this crap."
Still, to have the Rykers machine, back with Kid-D, perpetual motion was inevitable. "Yeah, somehow this pandemic bullshit felt weird. But the reunion, if you want to call it that, gave us some new energy and a good reason to go on. It felt great and comfortable at the same time. Like I said before, we've known each other for years and have been through a lot. We always had each other's back. It was always more like 'us vs. them'."
Ours Was a Noble Cause has been out since early August. Enough time to let fans absorb the record. The feedback has been coming steadily towards Luft. "Yeah man, somebody said something about the strongest and best album of our career or 'Ryker's released their Master of Puppets'. I was more, 'dude, calm down.' But, after you put so much energy into your baby, it gives you a good feeling when it is well received."
Regarding all those postponed and cancelled shows, Rykers incrementally got shows under their belts again. "We did the Alcatraz Festival in 2021, which basically marked the return of Kid-D. And man, this festival was off the hook. After the lockdown we still had in 2022, we were one of the first bands to embark for a tour in April/May with our fellas in Scheisse Minelli. It was great to finally hit the road again. And there are more festivals and shows planned for the upcoming years."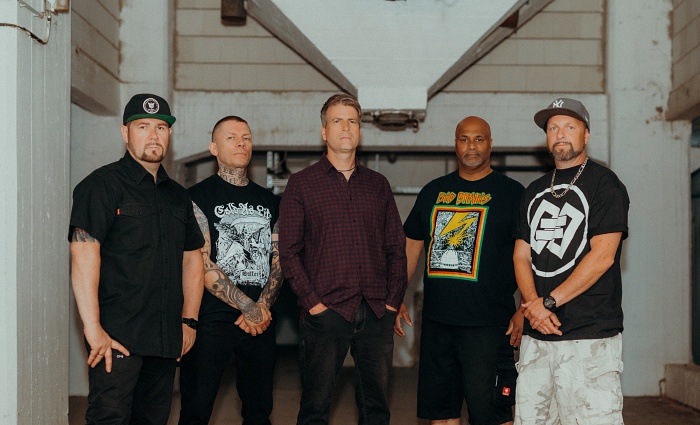 Rykers began their recorded output in 1993 split with Detroit's Pitbull and recently released, on Unity Worldwide Records, last year's split with The Eulogy. The band has released 10 albums prior to Ours Was a Noble Cause; including two albums for Century Media before their 2000 break. Those records have boasted guests like Craig Ahead, Roger Miret, Mike Dijan and artwork from Mike Ski and Ernie Parada.
The giant presence of NYHC influence on this record is no surprise. That tradition continues on "Always Forgive, Never Forget" with the menacing, Rich O'Brien of Darkside NYC. All together, Ours Was a Noble Cause contains nine tracks plus "Riot," a cover of the UK Subs classic.
One of the highlights of Ours Was a Noble Cause is the track, "Bread and Circuses." I can't imagine an era when this has rung so true, especially the prior six years. Luft summarizes the spirit of the track. "I think you got the message already, but yeah, just take a look around. Does someone still really care about what's going on? People literally fighting their former best friends over a stupid opinion (instead of talking things out, instead of using common sense and respect). Populists are on the rise worldwide while people absorbing their 'NEWS' from their favorite social media platforms."
And the music of this song, and the entire album, matches this sentiment.
"The world is surreal – with news, politics, environment, war, pandemics. No one listens or has discussions. How do you feel we will do as society? Or is this just raw human nature exposed. This is what we always were; just with social media to amplify each thought.
"Man, what should I say? Maybe I'm old and bitter, but I just see things going downhill fast. Do people still have real friends they can rely on? Do family values are still having any value?
"I mean we can only try to lead by example and stick to our believes. But will this change anything??? Up to you..."
***
Ours Was a Noble Cause is available now via BDHW Records (Vinyl, CD, bundles) and Bandcamp (digital).
***
Help Support What No Echo Does via Patreon:
***
Tagged: rykers