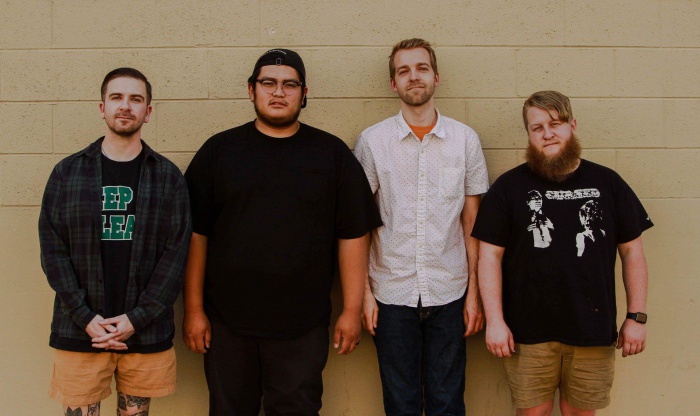 Rejection Pact was first covered on the site last summer when I raved about their 2018 demo. It looks like they've been busting their asses since then, something not lost on Burt Jenkins of Safe Inside Records, who recently signed the hardcore unit to his roster. Keeping with the quick pace of their speed-driven music, Rejection Pact wasted no time, entering Shadow Moses Studio and hammering out Threats of the World, their forthcoming debut EP.
With guest spots from Greg Bennick (Bystander, Trial) and Tyler Short (Inclination), Threats of the World is comprised of 10 songs coming in around 13 minutes, so you know no one is fucking around. How about we check out a track from the record, huh? Hit play on "We Will Never Forgive You" below:
"A common theme on the album is threats whether it be people, unnecessary division, misinformation, and selfishness," Rejection Pact vocalist Devin Boudreaux tells me. "This song, in particular, is about my general frustration of seeing someone you care about involving themselves with a real motherfucker. You talk to your friend, they hear you out, but you know they're going to have to deal with that on their own and see what happens and it's the reality, but also sucks. I mean, we all deal with someone(s) at some point we were told to stay away from because of this or that, and it's like yeah cool, but maybe they've changed? Maybe they're not the same person? Yes, that can be the case, and when it is, hell yeah that's awesome."
"I don't want to live in a world where people cannot grow or learn from past mistakes and all of that, but also, sometimes people don't change, and at their core, they're just a dickhead.That's basically what the song is about. It's me airing my anger over it as well as a fuck you to that person that wants to wear the mask of change but deep down are ready to kick the chair from under you and watch you struggle for their own gain and amusement."
Featuring cover art and a layout design by Chris Mollet (Youth Energy Designs, Dog Years Records), Threats of the World will be out on April 26 via Safe Inside Records.
Rejection Pact links: Spotify | Bandcamp | Instagram | Facebook
***
If you're shopping for vinyl, CD, and cassette hardcore titles, head to No Echo's partner store, Reverb LP, to see what they have available. Every purchase you make helps No Echo with site costs.
Tagged: rejection pact