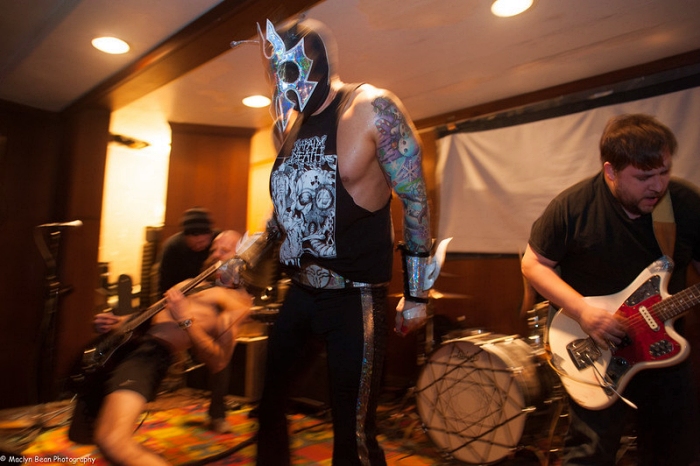 Though it can be confusing, UltraMantis Black is a wrestler and a band. The wrestler made his name in Chikara, an independent wrestling promotion that ran for close to two decades begining in the early '00s.
A lifelong fan of hardcore music, he wrote and recorded an eponymously titled EP in 2014 with the members of Pissed Jeans backing him in the studio. Their live shows go bonkers, naturally.
Now, after a long hiatus from the studio, UltraMantis Black has returned with a crushing EP called Feed the Soil with Revenge. This time out, the band's lineup includes members of Edgewise, Starkweather, and occasionally Pissed Jeans.
I spoke with UltraMantis Black about his band's history, the wrestling/hardcore crossover, and their new EP.
UltraMantis Black began playing together in 2014, so I would love to get your version of the band's origin story to get our readers acquainted if they aren't already.
UltraMantis Black has existed since 2002 in the world of independent professional wrestling. The band came to fruition around 2014 as a natural extension of UMB himself. It was an outlet to convey ideas and disseminate information in a way that couldn't be as thoughtfully done through only a singular platform.
The initial lineup was much different than it is today, and has gone through a number of changes since that time. Most of the players have had, or continue to have, primary musical projects outside of UMB and have graciously loaned their talents through the years. At its heart, every individual who has ever contributed musically to this band has done so because they believe in the message.
On a personal level, had you grown up a wrestling fan? Also, what kind of unique opportunities has the wrestling connection presented the band? You're talking about two of the most passionate fan bases anywhere.
I think everyone who has ever performed in the band has had some type of background with professional wrestling—whether fandom or direct involvement with the sport. There is certainly some crossover between the two audiences and its always cool when you meet people with a similar appreciation for both subcultures.
I dont think pro wrestling itself has ever been a focus or primary influence of UltraMantis the band, however. It just happens to be the place where the identity of UltraMantis the individual was born and evolved.
How would you describe the material on the 2014 album that Relapse released versus Feed the Soil with Revenge?
The early material had a bit of a more pronounced metal bent—grindy, a little more chaotic. The newer material is still metallic but is taken in a different direction. Darker and heavier, maybe a divebomb or two.
I think we have continued to maintain the path of thematic elements lyrically throughout the course of our existence. The band has always been a vehicle for a set of principles—justice for animals, earth defense, and human liberation.
You mentioned to me that you went back to your '90s straight edge vegan roots on this new UltraMantis Black EP. Tell me a bit about that. What bands/records do you see as a reference point to that era, and how have you married that to the UltraMantis Black sound?
In terms of "roots," the musicians in UltraMantis drew influence heavily from bands like Unbroken, Chokehold, early Earth Crisis for the new recordings. Lyrically, UltraMantis is inspired by the likes of LARM, Statement, Drop Dead, Born Against.
I think we're more energized today, though, by the current bands who are just as passionate as us about this style of hardcore, musically and lyrically. We appreciate the past, but the scene and the music and the message can only continue to flourish by moving forward.
What's the plan now that the new record is out? How active is the band going to be on a gigging/touring level?
In the past, Ultramantis' wrestling schedule kept the band's ability to play out and tour somewhat limited. With the new lineup, new music, and new direction, we're committing ourselves to spend more time on the road as a band, playing out as much as we can for the foreseeable future.
***
Feed the Soil with Revenge is available now across all streaming outlets, and you can also purchase it on cassette.
***

Tagged: ultramantis black