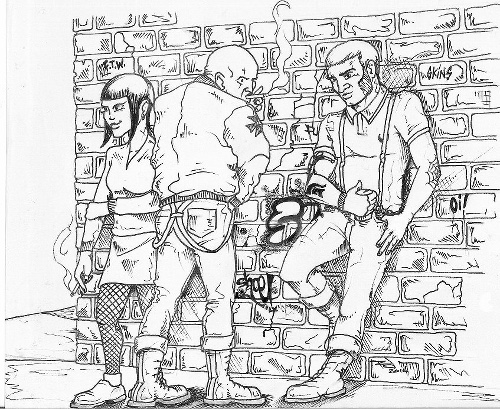 Oi! has always been the more primal, knuckle-dragging cousin from the wrong side of the tracks counterpoint to punk's loftier intellectual goals. It's sometimes hard to explain the appeal of this stripped down, bare bones music to nonbelievers, but Oi! is, at heart, rock 'n' roll reduced to its bare elements. It is these restrictions that allow the genre to rise, at times, to majestic heights or, conversely, sink to its lowest common denominator.
The unfortunate spectacle of outright fascists attaching themselves to the music as a vehicle to push their reactionary agendas gave Oi! a bad rap, turning off large chunks of listeners that would otherwise have given it a chance. It's my experience that Oi! groups that position themselves in one extreme of the political spectrum, be it right- or left-wing, generally suck. Pushing a pro or con political agenda can get redundant really fast, and it's a drag, musically speaking.
I don't have a knee-jerk reaction to bands singing the praises of their national flag or, on the flip side, a desire to burn it, but this usually leads to getting caught up in heated ideology and forgetting to write a good song. Something that classic Oi! bands like Blitz, The 4-Skins, Cock Sparrer et al., never succumbed to.
Oi! never really went away since its glory day in the early '80s. Succeeding generations have carried the banner, and in this piece, I want to spotlight some of my favorite current bands in the movement. Some are brand new, others have been around for a couple of years. Be forewarned: if you are more of the traditionalist bent, some of these bands inject R&B, mod, heavy metal, soul, and pub rock into their sound. Many of the musicians come from a varied punk and hardcore background. Hell, some of them are not even skinheads. What they do have in common is a love of the music and a desire to simultaneously maintain and update the Oi! sound. It's a tricky balancing act that's necessary for Oi! to survive and thrive, and not fade away into the dustbin of youth subcultures.
Battle Ruins
Made up of Boston hardcore scenesters, Battle Ruins put out one of the best Oi! releases of 2014 with their eponymous record for the Rock 'n' Roll Disgrace label. The group blends a traditional, hard-edged sound with early NWOBHM influences. It's as if a heavy metal band on Neat Records circa 1980 decided to write gruff, anthemic bootboys stompers with medieval topics for their lyrics. I can't think of any other bands that have pulled off this metal/hardcore hybrid, filtered through an Oi! prism, in such a successful fashion. The question of whether it's "real Oi!" becomes a moot point once the thunderous drums and galloping guitar riffs coupled with gruff/high-pitched vocals kick in.
Crown Court
Crown Court is a new band from London that recently released a three-song demo, and have a 7" coming out on Rebellion Records. I forwarded one of their songs to an old skin friend of mine that detests any Oi! not made in the '80s, and he paid them the highest compliment: "These guys have it." They sure do, mixing a proto-Oi! vibe of bands like Menace and Slaughter & The Dogs with catchy, well thought out tunes referencing a classic vibe that could have easily been on one of those No Future compilations from the early '80s. The demo hints at greater things to come. I look forward to new material, and to hearing other promising bands from the land of this music's birth.
SEE ALSO: The Sunset Skins, NYHC Crew, by Freddy Alva
Duffy's Cut
A fairly new band, Duffy's Cut hail from Philly. Their sound mixes soul/R&B grooves with a hard mod vibe and Oi! attitude. Purists will probably find fault with this approach, but I think Oi! music can take on different influences from the rock 'n' roll canon and skillfully layer them piecemeal, while building a cohesive sound that does not dilute the essence. A precedent for their synthesis would be the '80s UK band The Redskins, minus the politics. They, too, thought of incorporating the soulful Motown and gritty Stax sound into their Oi!, albeit with strikingly different results. Duffy's Cut is an inventive outfit that's pushing Oi's boundaries, following its own idiosyncratic vision, naysayers be dammed.
Victory
Seems like the best new American Oi! bands are coming from the Midwest these days, and Minneapolis outfit Victory are no exception. Maybe there's something about the middle of the country's wide open spaces and D.I.Y. attitude that lends itself to Oi!'s prototypical sound, where sing-along choruses, lyrics stressing self-sufficiency, and pride in one's way of being carry the day. Victory embodies that. Pick up their singles on the Oi! the Boat record label to hear heartfelt tunes from the nation's heartland.
Join the Rejects
There is a long history of Oi! bands singing in Spanish, and Valencia's Join the Rejects continue that tradition. Their name, coming from a Cockney Rejects song, hints at the sound: loud, snotty tunes with massive backup gang vocals and a defiant attitude. You don't need to understand the language in order to join them in rejecting all that's safe and sterile in current day, pre-fabricated rock music. A certain band from London's East End with Cockney accents, in the late '70s, is still a powerful and lasting source of inspiration all across the Oi! world in 2014.
Suede Razors
Veterans of several San Francisco Oi! and punk outfits got together in 2013 to form Suede Razors. Their mission was to create something new in Oi! that reflects their varied influences. Suede Razors are not afraid to inject bonafide pop hooks into their blend of '70s pub rock and glam bootboy jams crossed with a dirty rock 'n' roll swagger, à la Rose Tattoo and Slade. They've put out three righteous 45s so far. I like that they're sticking to the two songs on a 7" format for now. This approach is better suited, as sometimes full-lengths in this genre tend to drag a bit. It's a lot better to have short, sharp tunes that make a lasting impression, and these 45s would fit in nicely at the jukebox of your favorite watering hole.
Reckless Aggression
Reckless Aggression's demo came out in 2010, and these Australians have long since broken up, but damn if this isn't a pure aggro, no holds barred, violent mix of Combat 84 and Negative Approach. Some of the songs veer into fast hardcore tempos, which is totally apropos as Oi! was a huge influence on Negative Approach's aggressive sonic fury, which in turn inspired countless like-minded combos. Reckless Aggression gets bonus points for their smashing cover of The 4-Skins' "Wonderful World," and having a singer named "Meatdog."
SEE ALSO: 5 Great Heavy Metal Songs With the Word "Metal" in Their Titles
45 Adapters
NYC Oi! diehards, and veterans of tons of other bands, the men of 45 Adapters started the group in 2009, and have gone from strength to strength with each subsequent release; taking a cue from the mod revival bands, R&B, soul, and the British Invasion bands of the '60s. Lyrically, 45 Adapters stray away from stereotypical skinhead topics, focusing instead on important matters like dressing and dancing well, vinyl appreciation, and rooting for your favorite baseball team. It's a refreshing take on this music, or as they aptly describe themselves: "A truck full of Cock Sparrer records crashing into a truck full of Otis Redding records, Maximum Oi! 'n' B!"
Hard Evidence
Sometimes you don't have to reinvent the wheel once it comes down to writing a solid Oi! stomper. Hard Evidence, a new band from St. Louis, Missouri, exemplify this seminal sound. Their Last One Standing LP from 2014 is full of chunky guitar riffs, raspy yet tuneful vocals, and anthemic choruses that go on for days. They're a killer band from the Midwest that seems to have been raised on a steady diet of Cock Sparrer and The Business records, eventually coming up with their contribution to today's Oi! and American street punk's new wave soundtrack.
SEE ALSO: Top 5 Melodic Rock Bassists of All Time
Sydney Ducks
Sydney Ducks is another stellar U.S. band, which is funny because I always preferred British Oi! bands over American ones, but there seems to be no shortage of great homegrown bands these days. This San Franciscan combo combines a raw, '70s pub rock vibe with solid songwriting chops; writing actual songs, not just recycled riffs. They've done a couple of great 45s since 2011. I hope they continue this pattern, because, as I've stated earlier, the 7" format lends itself handily to maximum impact with minimal fuss.
The New Chords
Here's an outstanding new-ish band made up of members of old French Oi! acts Snix and the great Veros. The New Chords go for a hard mod/Oi! hybrid, with a recorded sound straight out of the Chiswick Records catalog circa 1978. They're a bit infrequent with releases, having only done a proper double-7" split with The Templars a couple of years ago. The rest of their material is hard to find online, except for, of all places, their still-active MySpace profile. Let's see if they get a little more proactive in spreading their music, as this is a brilliant update of a classic, tried and true sound.
Justice Blocc
Justice Blocc are bootboys from Colorado that recently released a hard three-song 7" EP. A couple of the songs deal with the standard skinhead fare of violence and fighting, with appropriately tough-sounding tunes to back it up; but it's the last song, "Time," that really sparks my interest. Said tune is an introspective, melodic, and rough around the edges ditty that reminds of the great UK band Leatherface. I hope they continue with more material in this vein, but I'll be just as happy to hear more aggressive stompers from this promising new band.
***
Check out cool record labels like Oi! the Boat Records, Pirate's Press, Longshot Music, and Rebellion Records, as they're all hard at work putting out Oi!'s new wave of close shave.
Thanks to Rich Derespina and Josue Bacardi for the righteous skinhead drawings, and Mr. Lee for the boss recommendations.