Through the course of this series, I have stuck to the same set of questions I ask everyone. I always add some personal questions, but the core set is my favorite.
I imagine that it's after a show just hanging out with the interviewee or maybe at a bar or restaurant having drinks, going over the ins and outs of the bass guitar.
The stories when someone just wanted to hang with their friends and go on a small regional tour when they were kids that eventually lead them to a career playing the bass—just because they never gave up. They always kept playing with people, touring, and recording.
That sort of tenacity led Joe Goldman to figure out the bass guitar as a young man to being nominated for a Grammy Award next month with his band, Code Orange. Thank you, Joe, for taking the time to answer my questions, and as always, a huge thanks to Carlos.
Introduce yourself to everyone.
My name is Joe Goldman and I play bass in Code Orange.
How did you first get into playing the bass guitar?
I picked up a bass for the first time when I was 12, I wanted to play heavy metal music like my idols Jimi Hendrix, Van Halen, Mötley Crüe, etc. 4 strings seemed a lot simpler than 6.
Does your family support your music being such a big part of your life?
For sure, my parents would always drive me to shows, let my bands practice at their house, they were always super supportive of me doing music.
How do you feel about playing with a guitar pick versus playing with your fingers?
I play with a pick, I'd imagine you'd look like a dummy playing with one in any other genre besides hardcore/metal/punk.
Upstrokes, downstrokes, or alternate picking? What are you doing more of during the songs?
The guitar players in my band beg me to play mostly downstrokes, I try and usually fail.
When you and the band are practicing/writing do you usually keep your first ideas or do you take them home and work on them?
Everything with Code Orange is under constant construction, nothing stays as is. For better or worse, there are always improvements to be made. The songs/albums/art is usually being worked on tirelessly moments before it needs to be turned in.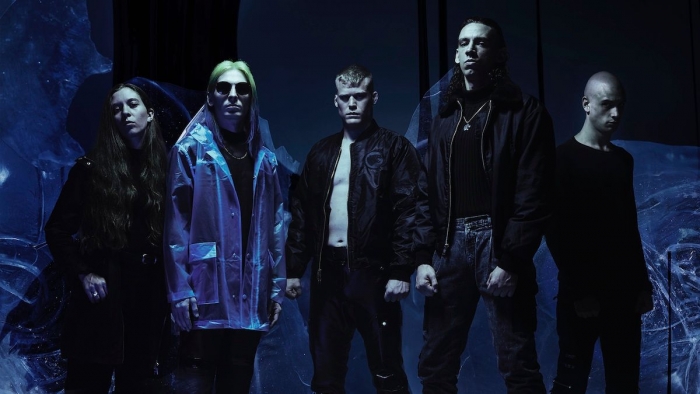 In Supertouch I rarely play the D and G strings. I move everything down on the E and A strings with lots of octaves. For me, I can maintain "the low tones" better. Is there a spot on the neck of the bass that you hang out on the most?
Depends on what era of Code songs were talking about....

I Am King: I feel like the bass served as mostly a percussive instrument on this album, it stayed on the low frets and was used to beef up drums. This is mostly due to the riffing style of the guitars on these albums which were less notey and more based in dissonance and rhythmic switch-ups.
This was also very early in Code Orange's process of experimenting with electronics and sonically the bass functioned as an instrument of volume, used to beef up mosh parts, hits, distinguish cuts, etc.
Underneath: On this album, the bass is all over the place. Basically, every song is different in terms of where it's played on the instrument and the playing itself is incredibly complex both notes wise and rhythmically.
This is again based on the progression of the guitar riffs on the album (which in my very biased opinion are much more unique and individual) and the instrumental composition of the actual band radically changing.
Underneath has so much depth in terms of synths and digital instruments that provide tons of low end, this frees up the bass to serve as a much more melodic tool in the music.
Forever: This one serves as the bridge to these two albums and styles of playing.
Who are some bass players/players who have helped influence your style?
I don't know if all these people influenced my style directly but here's a very incomplete list of players that blow my mind when I hear/see them play and make me rethink how bass playing works:
Stanley Clarke
Harley Flanagan (Cro-Mags)
Hoya Roc (Madball)
Chad Troncale (Red Death)
Jaco Pastorius
Jean-Michel Labadie (Gojira)
Jeff Walker (Carcass)
Paul Thompson
Jon Lhaubouet (Vein.fm)
Chris Beattie (Hatebreed)
Joseph "Lucky" Scott
Are there any drummers who change the way you play the bass?
I was never a guy that was huge on sitting in my room and practicing for hours and hours. I learned bass by playing with other people, and mostly by hanging around and playing with my brother and bandmate, Jami Morgan.
Jami has a style and a groove that largely shaped the sound of Code Orange and I've never seen anyone successfully replicate it...but you know they'll keep trying.
What is your favorite amp, pedal, bass guitar set up?
Recording kind of changes all this but for live stuff, I play Orange Amps exclusively.
On the advice of my friend Kurt Ballou, I started using a Line 6 Helix for effects stuff, people clown me for this but that shit sounds good.
My basses are all custom made by my friend Jason Cook at Backstage Guitars. We take the blueprint for a fender p bass and completely redesign and rethink how it works. Dude is a really talented guitar builder, hit him up.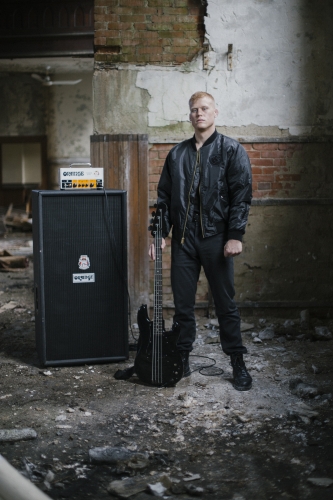 How has COVID-19 affected you, and Code Orange? You guys have done your best to still perform for people, and I'm wondering if it's mentally fucked you guys up like the majority of live bands. Some bands have done online shows really well, but others say they are waiting it out.
Our last album came out the day COVID shutdowns began in America. We worked tirelessly for years on this thing and were absolutely crushed when we realized touring off it wasn't an option.
In terms of a band, this was probably the worst scenario possible but as a unit, we decided that sitting this out and waiting was absolutely impossible so we all immersed ourselves in learning everything from lighting, to stagecraft, to video production, to projection mapping, to streaming tech, etc. in order to put on the best performances possible.
We instantly pivoted to doing live stream shows and this last year has been spent working around the clock to produce full production streaming shows to entertain and create new forms of art for anyone interested in seeing it.
Is there anything new you guys have coming up that you can tell us about?
Keep your eyes peeled, we're always working on something new.
Finally, do you have any words of wisdom for someone picking up the bass guitar for the first time?
If you bought a 5-string bass, return it; 4 strings are all you need, brother.
***
No Echo has launched a Patreon with 3 tiers offering all kinds of hardcore-related goodies to help support the site:
***
Tagged: bassist spotlight, code orange