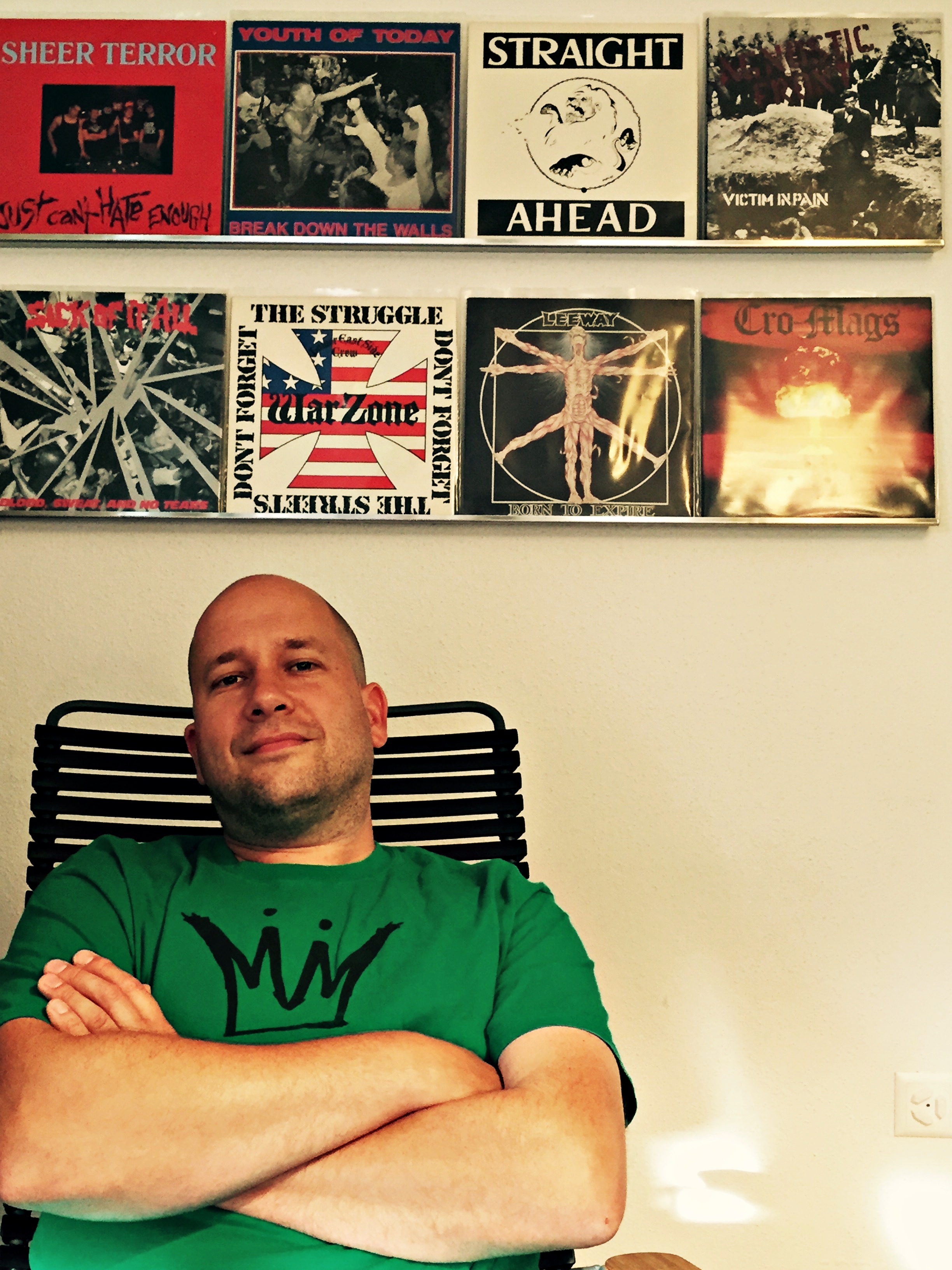 Roman Meier is a 41-year-old father and husband living in Winterthur, Switzerland. He owns a tiling business, but his passion outside of his family lies in music. It doesn't matter if it's hardcore, metal, or rap music, Roman is down for it all.
Also a passionate vinyl enthusiast, Roman is the latest friend of the site to join the Record Collector club.
How long have you been collecting records?
It started in 1986, with my first record on vinyl Beastie Boys' License to Ill. I was into BMX at young age, and one day an older BMX buddy was listening to this record on tape at the racing track. Boom, this was it! I came back home and talked my mom into buying me this record next day at the local record store. It's still one of my favorite records and it totally shaped my taste in music and opened doors for me to hip-hop, thrash metal, crossover, and hardcore. From then on I spent most of my time and money at the local record store discovering new underground music.
Where/how do you usually find your records these days?
Lots of direct orders from the USA. It's very expensive with shipping and customs but I don't complain. I need them anyway! Definitely buying and selling stuff on Discogs. I don't like auctions/eBay, so I think that's it. Record stores are still fun but I normally don't have the time for digging in the crates.
What is the most you paid for a single record, where/how did you obtain it, and what was it?
Hmm, I have like 5 or 6 records (I think all 7"s) which hit the $500 mark. I keep my hands off of records selling for more. Last year I pulled the trigger when a Sick of it All Gilman 7" appeared on Discogs, and this year on a Negative Approach 7" second press in near mint condition, also on Discogs.
Of everything in your current collection, what is your most prized record and why?
I think it's those records I got at young age, so many good memories and the really rare ones I got for cheap! To hard to choose/tell. This leads tot the desert island records question. I think they would be License to Ill, Reign In Blood, and Age of Quarrel.
Is there anything that frustrates you about the current record collecting scene?
Not really. Live and let live. Ok, I was really pissed when I missed the Gorilla Biscuits Conne 7", both CoreTex and Revelation. Then I found out CoreTex sold more than one per customer. I think that's straight up bullshit! Thanks again to Dave Brown for trading me for one. The record collecting scene is great. No hard feelings.
Which albums are still on your want list that you've had a tough time tracking down through the years?
All those early NYHC 7"s. Antidote 7" on top! It's not realistic since I like my records in nice shape, and I'm not going to pay $1000+ bucks for a record anyway. So I have to accept it and go on…
***
Follow Roman on Instagram.
Tagged: record collector