On this coming Record Store Day, Strife will drop Live at The Troubadour, a CD/DVD the captures the Los Angeles hardcore outfit tearing through songs from their first three albums, back in 2005. The show was recorded to 24-track audio, and the action was captured by a five-camera crew.
To celebrate the forthcoming CD/DVD release, I spoke with Strife guitarist Andrew Kline about the recording, their recent trip to Colombia, and the band's future plans. As an extra bonus, I got my hands on a live version of "Lift," a track from the group's seminal debut album, One Truth.
Give me some back story on how this DVD came together.
We recorded and filmed this live record back in 2005. At that point, we were playing very sporadically, and nowhere near as much as we play now. That actually may have been one of two shows that we played that year.
Anyway, I had the idea to film the show for a live DVD. My good friend's brother had directed and produced a few live DVD for some punk bands over the years, and we thought it would be a really fun project. We had a crew with five cameras as well as a crane coming off the balcony of the Troubadour, and we mic'd everything up to capture the live recording to 24 track audio the best we could… Then we just went for it. I don't think anyone coming to the show knew it was going to be filmed until they got there, and once we took the stage the crowd went absolutely crazy!
I didn't really have a plan for the DVD at the time, we just had the opportunity to make it and we did it. We started filming a short documentary piece that was going to be packaged with the live DVD, and that's when the project kind of hit a standstill. My friend that was producing the DVD moved out of state to work on the show Ghost Hunters, and we all put the project on the back burner. We've been asked about this release so many times over the years, and I am really glad that it is finally seeing the light of day.
Outside of the performance, what memories stick out for you?

I think the memories that stick out the most are just all of the old friends and faces that came out to make the show what it was. In a way Strife was kind of the glue that held different groups of friends together, and they all came out in full force that night to show their support, stage dive, and sing along!
Since the band is so frenetic during your performances, how tough was it to make sure the songs were tight enough for the live recording?
That was definitely something that we were conscious of. We wanted to capture that energy of the band without compromising the sound. Recording everything to 24 track was helpful, and we went back and mixed the record with Mike and Tommy from the band Spineshank and then ultimately had Arthur Rizk (Power Trip, Cavalera Conspiracy) master the recording.
It's funny, I was just talking to our guitar player, Todd, about that over the weekend, and he told me that our drummer, Sid, was really nervous because he wanted to make the recording the best that he could! I definitely feel like everyone was playing at the top of their game.
What are some songs Strife must perform, or else the crowd will take you out?
Out of the older songs, I feel like we definitely have to play "Waiting," "Lift," "Will to Die," "Through and Through," and "Blistered." It's also a great feeling to see the crowd going off to some of our newer material like "Carry the Torch" and "Torn Apart" as well.
LISTEN TO STRIFE COVER A VOID CLASSIC
You just came back from playing in Colombia, since my father is from there, and I haven't been back in years, what would you describe the country like right now?
Colombia was amazing! Hardcore is definitely alive and well in South America, and our show in Bogota was one of the best shows that we have played in years! Everyone in Colombia was very friendly and it is a very beautiful country! Hopefully we can go back and spend more time exploring and seeing the sites.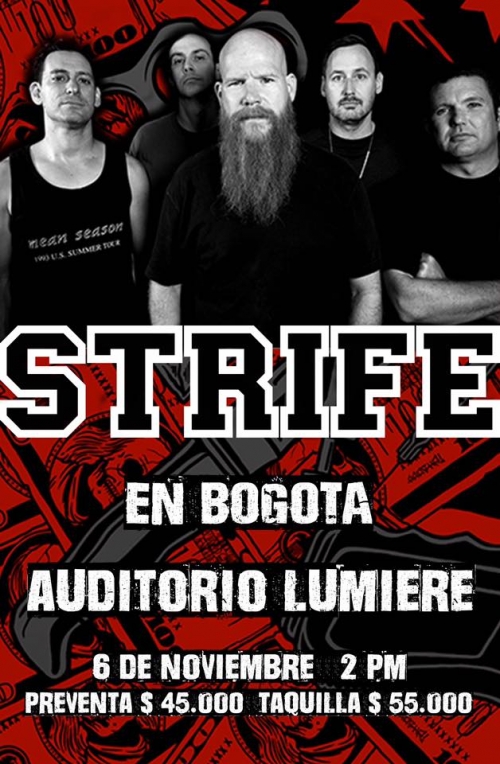 What is the hardcore scene like in Colombia right now?
A lot of places in the world are saturated with touring bands, and I feel like Colombia is still a country that doesn't take touring bands for granted. Everyone there was very appreciative and sincere, and they all seemed truly happy to see Strife in their country after all these years.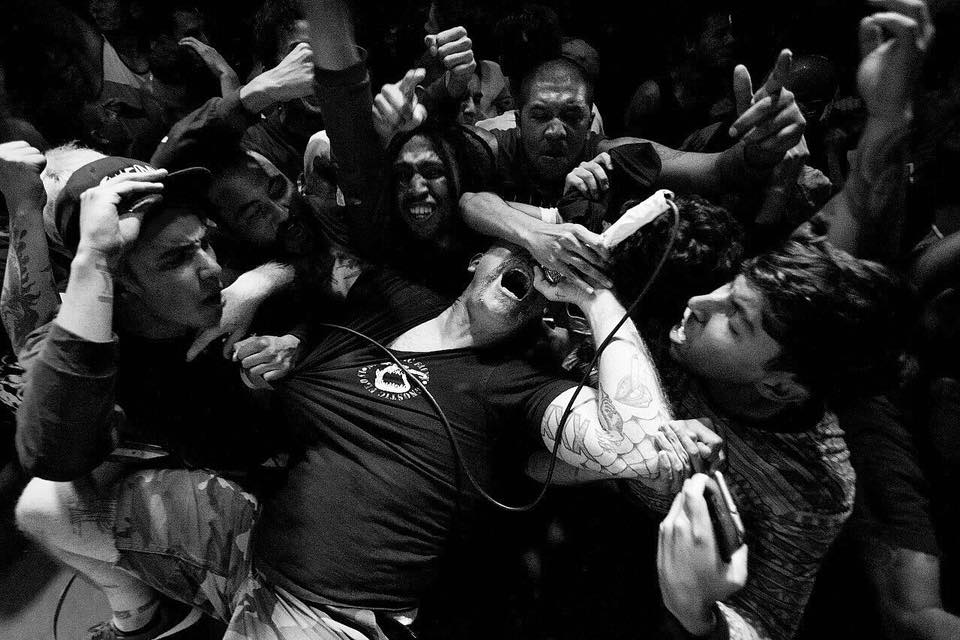 What's on deck for Strife in 2018? Any big plans?
We are going to keep doing what we do… Rick just had a baby, so we may be a bit limited in our touring next year, but we will play it by ear and try to do as much as we can. It's really a goal of mine to play in as many places as we can that we have not played before, so hopefully we will hit a few countries that we have not yet played!
I have started writing some new material as well, so potentially we will hit the studio in 2018 and record a new record.
***
Strife's Live at The Troubadour will be released through Strife guitarist Andrew's own WAR Records for Record Store Day, Black Friday, Nov. 24. The Record Store Day-exclusive version comes in a run of 500 copies on red LP+DVD, and the label will issue a CD+DVD version as well.
Pre-order your copy of the CD/DVD here, iTunes here, and Bandcamp here.
Tagged: strife