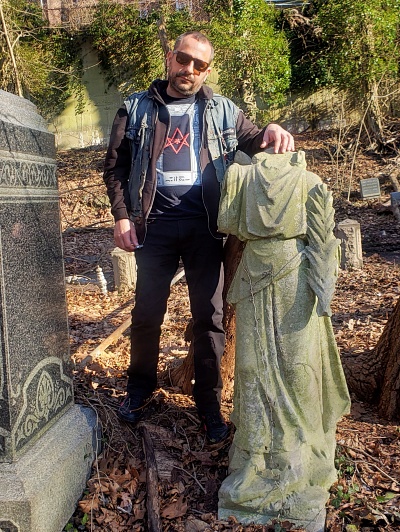 Pasquale Reca also known as Lino is a record collector from Brooklyn, NY. We go way back to the '90s when our bands did a split 10 inch record together. Lino has fronted some classic NYC metal bands including Cattle Press, Ceremonium (he played bass), Redrum, Hemlock, The Dying Light, Villains and is currently the guitarist/vocalist for clunky doom rockers, Python.
In addition to the music, he is also published illustrator, painter and Thelemite (A student of Aleister Crowley's philosophy/writings).
How did you get into collecting records?
I started collecting records in 1977 when my cousin Alphonse started switching to 8-track tapes for convenience, so he gave me a bunch of his records, such as Black Sabbath, Master of Reality, Destroyer, Boston, Burn, Come Taste the Band, and lastly, Give Us a Wink.
What was the first record you bought with your own money?
KISS Alive! at a shopping center in Caesars Bay, Brooklyn called Korvettes, along with the KISS dolls. This was around '78-'79.
What is your collecting philosophy? What do you collect and why?
I just focus on I what I'm interested in, namely psychedelic, zam rock, hard rock, prog, heavy metal, soundtracks, and folk are my primary interests, mainly private press stuff, obviously.
I'm really into clunky amateur stuff because it speaks honesty above all and not clinical life metal bullshit. I keep to getting original pressings and I'm not a uptight nerd when it comes to condition of records. That's comic book bullshit.
Where do you find your records for the most part?
Second hand shops, flea markets, record conventions, and the internet, of course.
We all have one record that we sold that we completely regret, what is yours?
2 records, actually. And both were mistakes because I thought I still had a double of each.
First one was Rest in Pieces My Rage, and honestly, I wouldn't listen to it today, but its a nostalgic thing from my youth going to gigs at CB's. The second one was Profanatica Weeping in Heaven 7 inch. Same mistake but a friend gave it to me who was in the band so that was not my intention to get rid of it.
What do think about the values of rare punk records skyrocketing?
The buyer's market is full of born-too-lates with revisionist history. The internet made it way worse. So, I think its crazy that European folks come here to the US and spend tons of money on a 7 inch and then it makes everyone interested in listening to the music because they like it have a way harder time obtaining it.
Also, that particular genre is definitely a seller's market more than ever now.
Do you think the bubble will burst?
Doubtful it will, but honestly, I don't care about it much.
What's the most you ever shelled out for a record?
200 dollars. I have no problem spending money on something I know I will play a lot and I'm in the final frontier these days. Very few things I need or interest me.
Name a record or records you can't live without?
'70s-era Judas Priest, Sabbath, Scorpions, KISS, Thin Lizzy. The basic stuff just keeps driving me to drink mucho and sing as loud as possible.
What are the top records on your want list currently?
Not much really but some stuff is Old Yron s/t, Sorcery Till Death Do We Part, and Image s/t MLP.
Is there anything that really bothers you about the record collecting scene?
Everything bothers me in this subculture; the people, the lack of social etiquette at record conventions, and of course, the square/nerd/uptight people selling or trading I'm dealing with. Not everyone but most.
What do you foresee for the future of vinyl and collecting?
It's going to get worse for sure. Dealing with people [at least for me] is getting more annoying these days. Especially in the convention settings.
Do you plan on growing old with your records or do you have an exit strategy?
Yes, for sure, but some stuff will be sold or traded for something I'll play much more at home or when I DJ.
What's a record or genre in your collection that might surprise the readers?
Alice Coltrane records and folk records, for sure. Nothing like drinking tea or coffee in the morning with the perfect soundtrack.
***
Help Support What No Echo Does via Patreon:
***
Tagged: record collector