The thing about underground music, opposed to mainstream or commercial music, is that the majority of vets refuse sit on their laurels or past accomplishments. There are not bands touring to casinos rehashing the two or three hits they had compacted by 40 more minutes of filler. Usually in punk and hardcore, bands break up after recording a superb album.
Will Shepler has laurels in the highest echelons of hardcore. The man played drums on — and defined the rhythms of — three all-time classics of NYHC: Agnostic Front, One Voice; Madball, Set It Off; Madball, Demostrating My Style. Aw, Hell, let's do the complete list: AF's two stellar live LP's, Live at CBGB's (1988) and Last Warning (1993) plus Liberty & Justice for… and Madball's first two EP's, Ball of Destruction and Droppin' Many Suckers. But Shepler was itching for something new. He contacted Craig Setari of Sick of It All to form a power trio. The two had been the rhythm section of those two aforementioned AF live LPs and One Voice. Setari had also been in Youth of Today, NYC Mayhem, Straight Ahead, Rest in Pieces, and then, of course, has been busy recording and touring the world relentlessly with SOIA since 1993.
When the two needed a guitarist, they turned to Scott Roberts. Roberts is no stranger to killer bands, having played his formative years in Cleveland's thrash champs, The Spudmonsters, who churned up crossover chaos. Then, in the 2000s, he found himself playing in John Joseph led (and underrated) Bloodclot (Burn Babylon Burn!, 2008) and Biohazard (Means to an End, 2005).
Through email, Roberts explained the gestation of that period and the growth of The Take. Obviously with Setari's SOIA life he could not commit to a band willing to do more. The Take recruited fellow NYC homie from garage Oi! icons, 45 Adapters, Carlos Congote, for bass duties. The Take released their self-released debut on June 28th among some choice live shows.
Roberts goes back to the genesis. "Will and Craig Setari got together and discussed starting a new band. A hardcore power trio. Will called me and asked if I'd want to do it. Of course, I said yes. I started writing songs right away and Will and I started rehearsing together. Craig never actually played with us because he was constantly on tour with Sick of It All and no, he didn't write anything. I was sending him my song ideas to get his opinion in the beginning. Eventually, Craig suggested that we should find another bass player. That's when I called Carlos."
Roberts embraced the role and has written all the music on this album. Save for the sole cover, "Revolution Now" originally by the NYC legends, The Press. Roberts felt confident in the song ideas and structures, the band was set to record. Which, was a process. Ah, the burden of a working-class band. Free time ain't coming in copious amounts. Roberts, working as engineer and producer, notes how the process was completed "Over quite a few months. Will recorded most of the drum tracks in two days. Carlos was spread out over several months. Whenever he had the time, I'd record him. The same goes for me.
"I work crazy hours. So, it was whenever I could find the time to get into the studio. At least one of the songs wasn't completely written either when Will recorded his parts. I recorded the vocals months later after the lyrics came to me. We also decided to cover 'Revolution Now' months later. So, we went back in to record that and another cover song that will probably be on our next record. So, yeah it took a long time to finish."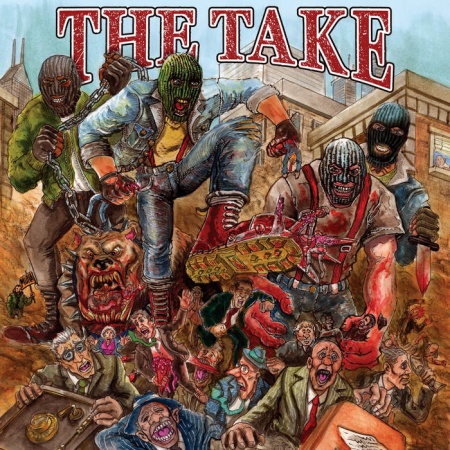 The result was worth the arduous planning and execution. And the band's obvious patience. The Take knew they had a quality record and was willing to wait for it to be the best it could be. Given the resume of the trio, the resulting sound is a step from anything any member had recorded prior. While similar traits are inherent within, nothing quite sounds similar. This maybe the most straight-up old school Oi! thing anyone had done. But even the doesn't quite fit as some pounding rock and roll certainly lays the foundation of a few songs here; especially, "Place the Blame" or "Pray for a Miracle".
Roberts responds to how intentional the sound was. "I wouldn't say it was a desire, it just kind of happened. The band was supposed to be a hardcore band. I actually wrote a couple really fast hardcore songs in the beginning. Then, I asked Craig Setari what style of music he wanted to play and he replied, 'whatever we feel'. I thought to myself, why didn't I ever think of that? Don't think about it, just let it happen." Roberts — along with Alan Roberts of Life of Agony had ventured into a more rock vibe in the early 2000s (along with Shepler and Shuler of Biohazard and Bloodclot) in Among Thieves. Freedom to write has never been an issue with Roberts. But the feel of his new stuff could not help but embrace the sound of the streets, Oi!
He continues, "That's when I started writing the more Oi! songs. Will liked what I was writing and was very encouraging. So, I kept going with it. After I wrote 'Elitist,' I thought that this is something that could be a little different. I could actually sing on instead of just screaming my head off. I really don't think it's just Oi! though. To me it's a mix of punk, Oi!, hardcore, and plain old rock 'n' roll. I think punk is probably the easiest category to put it in." The original generators of the English Oi! sound are acknowledged. "Mostly the classic Oi! Last Resort, Business, 4 skins, Cock Sparrer, etc."
There is a big resurgence lately (5-10 years) for Oi! similar to '90s after quite a lull. And while The Take will be playing some of these bands, and contributing to the current barrage of great bands, Roberts himself is a little too busy to maintain an ear to all the sounds. He admits, "I'm really not up on all the new bands, honestly. I've just been really focused on getting this band off the ground.
"Starting a new band is a lot of work. Between that and my real job, I don't have much time for anything. I do love the last few Broken Heroes records. The Last Resort have been putting out some great records recently, too. and a band we're going to be doing a short east coast tour with in a few weeks, The Old Firm Casuals have been doing some great stuff as well."
The shows which The Take have played, Roberts reports enthusiasm and support. 2019 St Patrick's Day was with Murphys Law and No Redeeming Social Value. May 10th was with The Press and Mephiskapheles. And Connecticut's first Northeast Fest back in April. "It's gone really well so far. People seem to be really excited about the band. It's hard to play to people that maybe know only one song. So, I'm really looking forward to playing now that people have heard the whole record. I can't wait to see people sing along!" The word was also helped spread by a great interview on Brooklyn Blast Furnace which is still available on the podcast's feed.
One show upcoming was the mighty Bruisers' reunion in Boston on November 8 at The Royale with The Hellbound Hitmen. Unfortunately, The Take had to drop off that show. *(The Bruisers will be doing a second show, November 9th, at Fete in Providence, RI with Hardsell and Broken Heroes). Roberts laments but had to take (ha!) the bigger tour. "We were really looking forward to it, too. We're big fans and Will is very good friends with Al (Barr). We got offered a couple weeks long tour in Europe with Agnostic Front that overlaps. So, unfortunately, we had to make the hard decision to cancel the Bruisers show. The AF tour is a really good opportunity for us. We really couldn't pass it up for one show no matter how awesome that show would have been. Hopefully, we'll get another opportunity to play with them someday."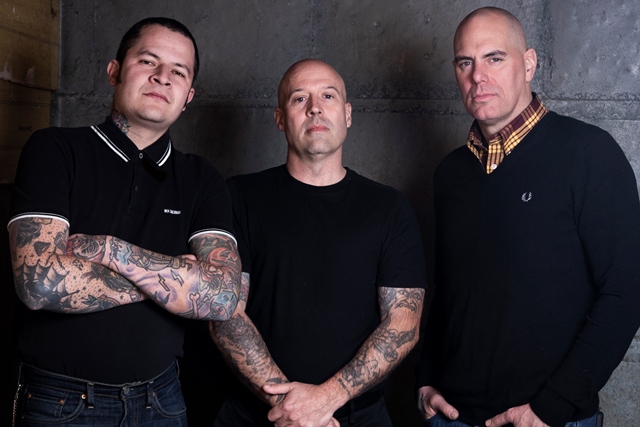 The song that fans and new audiences were bound to know was the song, "Elitist", as a video dropped before the LP. It was shot by Antidote frontman/Stone Films director (All Ages XXX: Boston Hardcore, The NYHC Chronicles). The band is shown in their comfort zones; the street, a stage, and a pub. Lots of NYHC and skinhead faces appear and add to the family vibe of the track. Roberts talks of working with Stone.
"Drew is the best. Besides being our longtime friend, this is what the guy does. He's a pro that can make videos in his sleep! The 'Elitist' shoot was one of the best experiences I've ever had. We got there at 10am and started filming the bar scene. Everyone started drinking right away and by the time we played the show, everyone was bombed! It was also nice for me to let Drew take the reins. I was able to just do my thing and didn't have to worry about the production end. I can't thank Drew enough."
After a video and an album sitting on top of the Core Tex sales' chart, The Take are ready to move forward. The Take's future has that AF European Tour. It will also include the 2019 Beer Beach Chaos (run by Ramon Girones of The Upset) with Templars, Vis Vires, Resistance 77, Red Alert, La Inquisicion and more. July 27th at the Niblick Henbane reunion with 45 Adapters; opening for Cock Sparrer in October in Germany; July 28th with Murderer's Row, Punk & Disorderly 2020; Labor Day in Chicago for Midwest Live & Loud Fest. All of these gigs are while still punching a clock though. Roberts acknowledges, "Definitely. We have to work because honestly, it's tough to make a living playing music. That's not why we're in it though. We're doing it because we love it and we'll continue to do it as long as we love it.
"I really feel like I've found the music I should be making and this is the band I should be doing. I've finally found my own thing. It feels right and I'm all in."
And the token question had to be asked. As an NYC band, comprised of NYC vets, Roberts offers his opinion on NYC in 2019. "It's quite a bit different and I really don't care for the direction it's going in. Besides the hipster thing, everything is becoming big chain corporate business and the small businesses are being pushed out. Unfortunately, it seems like the whole country is going that way. Quality goes down and big business goes up. It's a shame."
***
The Take album is available digitally and in Europe via Demons Run Amok, and if you're in North America, you can grab the LP/CD through Upstate Records.
Tagged: biohazard, spudmonsters, the take