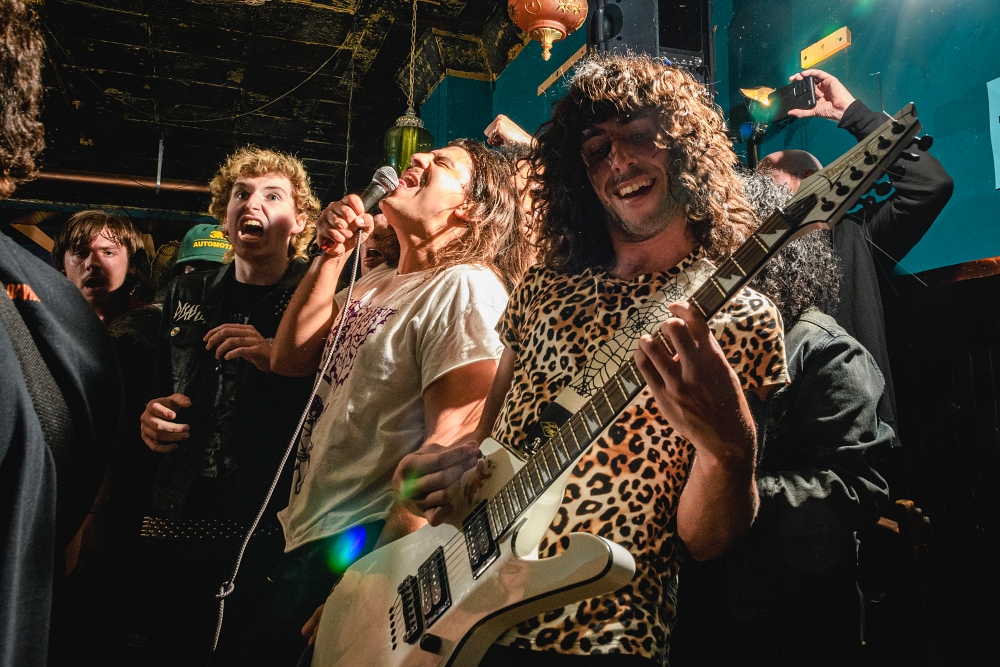 A friend asked me what my favorite show was so far this year. I thought back on what had to be at least four dozen shows before replying. It was SPY at the Middle East, I told them. I was lucky, catching the crew in Cambridge, Massachusetts in a room full of friends and family.
I was a fan already but didn't expect their set to haunt my daydreams for weeks. So following the show, I reached out to speak with them. I had to know more.
The Cambridge set was wild, with a constant barrage of bodies being thrown from the stage with the utmost abandon. I threw elbows and fought to remain upright against the stage. A world-class, violent, and dangerous pit experience. Just the way we like them.
Also playing that night was Kidnapped, MS Paint, and Peace Test, truly an unfuckwithable banger:
SPY is Peter on vocals, Drew and Cody on guitars, Thomas on bass, and Cole on drums. The darling quintet hailing from the notorious and celebrated Bay Area, a spot known for producing kingship bands like genre-associates Gulch and World Peace. What's in the water, San Jose?
The group is best suited to fans of hardcore punk, a genre they used to self-identify when asked. There is no question this descriptor is accurate with werring guitars supporting vicious, detached, straight-forward vocals. Cole on drums has me feeling like I'm marching into war, and ready for it.
SPY recently finished up their very first European tour, a much deserved honor. I watched closely and with incredible jealousy as they moved from city to city. The energy looked wild in each and every packed, dark room they graced.
SPY formed in January of 2020 when Peter wrote the four songs that became their first release, Service Weapon. With songs to share, he then contacted friends, asking if they'd like to come together as a band.
The following year we were blessed by Habitual Offender, a six-song, 10-minute-and-four-seconds masterpiece. It's on this EP that you'll find "Exceptional American," a song I listen to on repeat.
SPY members stay busy, I'm told, "We all play in other bands". They went on to list Fentanyl, Superworld, Brahm, Scully, and the previously mentioned World Peace.. to name a casual few.
To be noted, the crew's Massachusetts connection having just put out a split with Worcester-based Maniac. "Their side of the split rules, go check it out" Peter tells me of the project, released this year by Triple B Records.
SPY regularly post to their Gram with pertinent updates and show announcements. Give them a follow to be sure to catch them when they're local. Missing a gig would be foolish, if not unforgivable.
***
Help Support What No Echo Does via Patreon:
***
Tagged: spy