Last night (Jan. 22), I had the pleasure of attending a show here in Los Angeles featuring some hardcore bands I've been riding for in the last few years. The action went down at The Echo and featured Chicago upstarts Life's Question, recent Revelation Records signees Drain, SoCal crossover thrashers Take Offense, and all the way from England, the evening's headliners, Higher Power.
Before I break the performances down, I want to take a moment to thank photographer Gabe Becerra for capturing the action for No Echo on very late notice. Here's his Instagram page.
I've covered Life's Question on No Echo before, but I had yet to see them in action before. I was very impressed with the way the band laid into the pocket, bringing the groove-driven aspects of their sound to the front.
As I've said before, Life's Question have a '90s NYHC spirit running through their material, and what excites me most about the band is how memorable their songwriting is. There are hooks embedded all over the place, grabbing your attention with a refreshing balance of mosh and melody. You can tell the Chicago-based outfit pay special attention to their arrangements, rather than just picking through guitar riffs to bait us with. I'm psyched to see how Life's Question develop their approach even further in the future.
One of the most hyped bands in the hardcore community right now is Drain, and last night reminded me why. The Santa Cruz group definitely got the crowd hyped with their thrash metal-minded hardcore riffing and vocalist Sammy Ciaramitaro looked like he was having the time of life up on stage.
Speaking of thrash, Drain guitarist Cody has a mean picking hand, delivering each part with pure precision. You could tell Sammy felt the same way, especially when he mimicked some of Cody's tastier riffs by air-guitaring along to the action. Who said this stuff all had to be so serious?
Drain recently inked a deal with Revelation Records, and they've already recorded their debut album for the hallowed label. If the boys can get on some metal-leaning tours, I know a lot of that crowd will absolutely get into Drain. There's so much to love about what they're doing, and Sammy's the perfect frontman for the job.
Next up to bat was Take Offense. The Chula Vista-based crossover thrash quintet are out in support of their latest album, 2019's Keep An Eye Out. If you aren't familiar with the band, think Suicical Tendencies when they still had the superb talents of guitarist/songwriter Mike Clark in the fold. Meaning, Take Offense understand that no matter how sick a riff is, it's not as impactful without a dynamic song structure around it.
I kept my focus on guitarist Greg Cerwonka, who like Cody from Drain, peforms each of his parts with deadly focus. His guitar solo prowess was also on full display throughout Take Offense's set. Though I grew up in the '80s when there was an entire side of the music business centered around shred guitarists, my appetite for show-offy solos has waned with age, but Greg's style is tasteful the whole way through, even during its most flashier moments.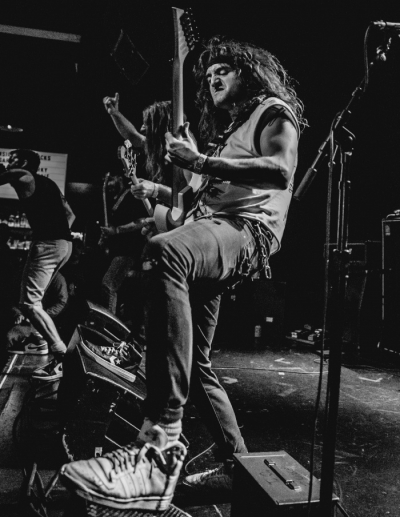 Higher Power hit the stage with a bright energy that bounced off them from start to finish. I've seen the dudes from Leeds play live in the past, but their assured presence last night showed me that the touring and festival appearances the band has put under its collective belt in the 3 years or so since have only reinforced their attack.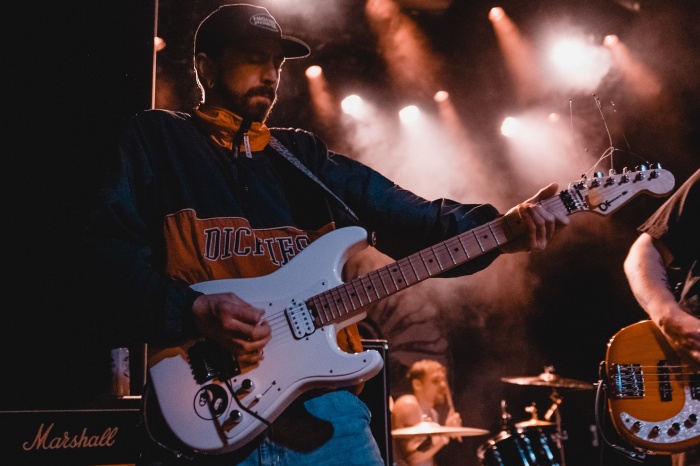 The Brits are in the States to help promote their forthcoming album for Roadrunner Records, 27 Miles Underwater. The label sent me an advance of the record last week, and like I later told vocalist Jimmy Wizard after their set, the band's new stylistic direction caught me a bit off guard at first. Where their earlier work brought to mind the groove and grit of bands like Leeway and Orange 9mm, the new effort still holds true to many of those elements, but more alt.rock flavors have been introduced.
But as many great albums tend to do, 27 Miles Underwater grew on me in a big way with each subsequent listen. It wouldn't be crazy for Higher Power's label and management team to aim for radio play this time out.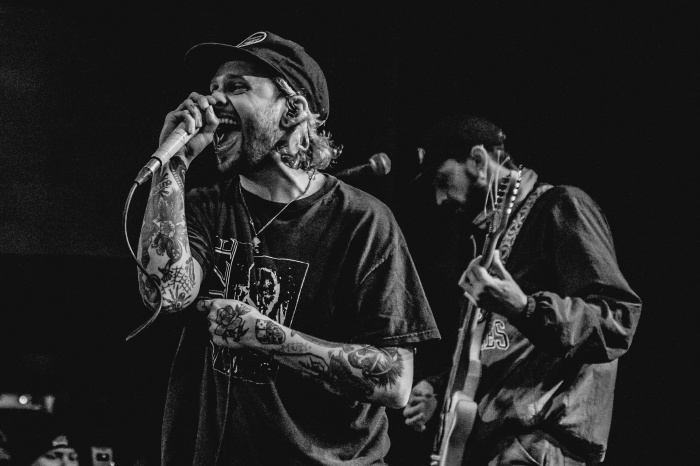 I'm glad I got to live with the new album a bit before catching Higher Power because I was eagerly awaiting to hear newer songs like "Seemless" and "Lost in Static" in the set, and the combo did a killer job of bringing them to life in front of the LA crowd last night. But as expected, the set list also featured the best bangers from Higher Power's superb 2017 debut full-length, Soul Structure. Whenever they broke into one of those songs, the floor accordingly responded with all sorts of mosh activity.
Check out Higher Power's tour dates below. 27 Miles Underwater is out tomorrow and can be ordered here.
Higher Power tour dates:
1/23 Anaheim, CA @ Chain Reaction
1/24 Sacramento, CA @ The Colony
1/25 Portland, OR @ Post 134
1/26 Seattle, WA @ Vera Project
1/28 San Jose, CA @ The Ritz
1/29 San Diego, CA @ Che Cafe
1/30 Tucson, AZ @ The Dive Bar
1/31 El Paso, TX @ Rockhouse
2/1 Dallas, TX @ Ridglea Theater
2/3 New Orleans, LA @ Gasa Gasa
2/4 Atlanta, GA @ The Bakery
2/5 Nashville, TN @ Drkmttr Collective
2/6 Louisville, KY @ TBA
2/7 Baltimore, MD @ Ottobar
2/8 Brooklyn, NY @ Union Pool w/ Life's Question, Hangman
2/9 Philadelphia, PA @ Creep Records w/ Life's Question, Hangman
Tagged: drain, higher power, lifes question, take offense