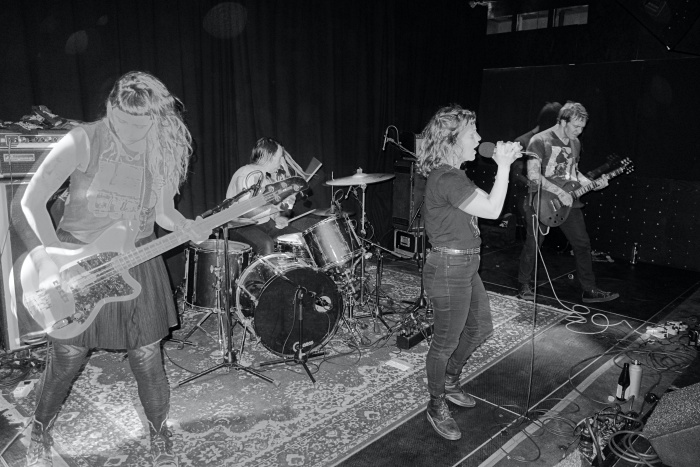 Bay Area-based band Silent Era formed back in 2014, bringing forth a sonic attack that brings to mind a twisted blend of '80s hardcore, weirdo new wave, and, wait for it, New Wave of British Heavy Metal. The latter element comes through in the "Fast" Eddie Clarke-like guitar work, but for the most part, Silent Era is punk with a capital P.
Featuring former members of such bands as Brilliant Colors, Deskoncidos, the Slits, and Neon Piss, Silent Era already have an EP and LP in their discography, and the quartet is gearing up for the release of Rotate the Mirror, their sophomore full-length record.
No Echo is honored to present the premiere of "Heart Lay Down," a frenzied yet melodic burst of punk greatness that should whet you appetite for the rest of Rotate the Mirror:
By the way, the name Silent Era was inspired by the fact that in her previous groups, vocalist Michelle was always holding a guitar or bass, so the "silent" era came to an end with her current outfit. In a scene where band names often are chosen due to the mere fact that they "sound cool," I thought Silent Era's origin story was way sicker.
Rotate the Mirror will be out on September 15 via Nervous Intent Records. Pre-order your copy on vinyl and/or digital through Bandcamp.
Nervous Intent Records on social media: Facebook | Bandcamp
***
Donate a few bucks to help with No Echo's operating costs:
***
Tagged: silent era