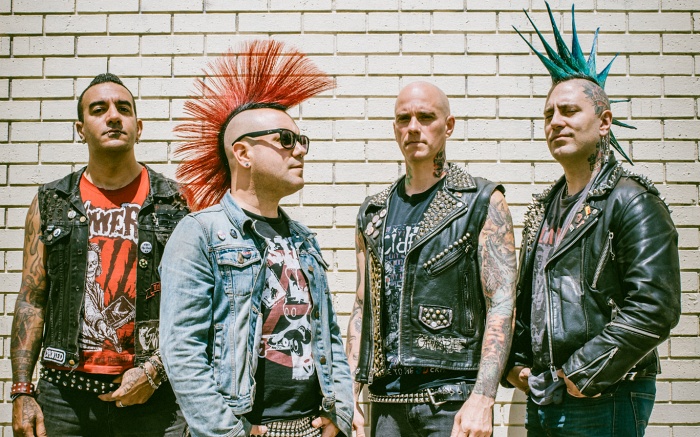 The Casualties are currently in their fourth (!) decade together, which isn't anything to sneeze at, especially in the here today, gone tomorrow nature of punk rock.
Influenced by the likes of GBH and the Exploited, the quartet burst out of the NYC street punk scene with a fury, spreading their speedy and anthemic take on the style throughout the globe. Make no mistake, the Casualties are one of the most beloved punk bands of their generation.
Like the rest of the music community, the road dogs have had to put their touring plans on indefinite hold in 2020, but the Casualties are keeping busy.
With the world in the toilet, what better a time for the group to bust out a music video for "So Much Hate," a track from their most recent album, Written in Blood. "The lyrics are unfortunately much more relevant now, than from when we first wrote it," Casualties vocalist David Rodriguez tells No Echo.
We're excited to help premiere the "So Much Hate" video below:
David continues with his thoughts on the video: "For moving images to really portray what we want to express, we knew we needed to show both recent footage and images from the past. We also wanted help from our listeners. It was of the utmost importance that we showed different walks of life and even some of our friends that are now parents. Our friend, Jarrett Barnes, edited and helped put these ideas together and into action. Jarrett has the ability to hear what you want and really bring it to the screen.
"This video tries to look at the question of why is there so much hate in this world? Are we born this way? No, hate is taught and passed down from generation to generation.
"Hate feeds off fear and before we know it, we are in the exact situation that we find ourselves in now! But, the silver lining is that we can change this and we can educate ourselves and help educate each other. There is no better time to start, than right now!"
2018's Written in Blood and 2019's Until Death: Studio Session are both available now via Cleopatra Records.
The Casualties on social media: Facebook | Instagram
***
Donate a few bucks to help with No Echo's operating costs:
***
Tagged: the casualties