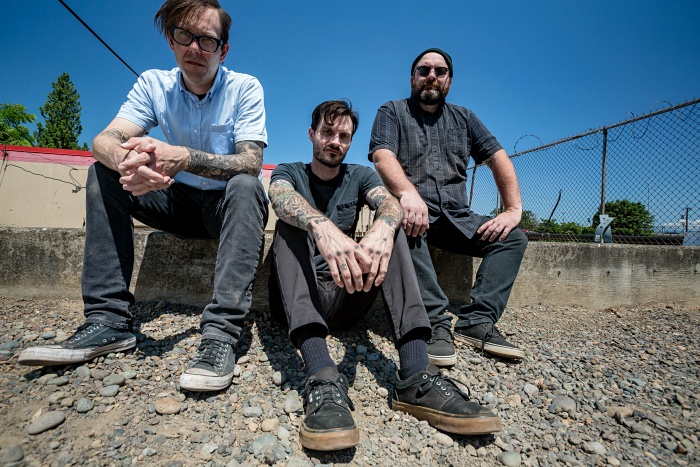 With a relentless punk 'n' roll sound that falls somewhere in between Pissed Jeans, Motörhead, and Hot Snakes, Bothers make the kind of music that is way too distracting to listen to while you work on your computer. I found that out recently when I first checked the band out after the band's drummer, John Massel, hit me up with a link to their new self-titled record. "We've all been in previous bands that have either played, or toured together," John told me via email. "At some point we all ended up in Portland, and I'm still not sure who's to blame for this."
Oh, those "previous bands" John mentioned includes Prison Suicide, North Lincoln, and Young Livers. I asked John how much of a clear idea they had going into the songwriting on the stylistic direction they wanted to follow with Bothers:
"Usually someone has a bad idea. One or two of us will kill time with grade school insults about that idea until practice is over. Bad ideas have a way of creeping back in for us. We then have to go through our normal process by reversing it, changing the key, and cutting in half. We'll record it and I'll play it for my neighbor, Carol. Carol hates everything."
Seen below, the cover art for the Bothers LP was done by Mark McCoy, a musician and artist who has also worked with City Hunter, Regional Justice Center, and Deny the Cross, a one-off project band I sang in a few years back. I was curious to find out how Mark collaborated with the Bothers dudes. "We've all been fans of Mark's musical out put in the past, and the artwork he's been doing recently has all been really great.
"We were very interested in having him do the artwork for either a t-shirt or a record cover so John sent him an email with an attachment of the song for the LP, and we just went back and forth with him until we found just the right thing. He was super easy to work with, and just all around a great guy. We hope we didn't annoy him too much."
What's the plan for Bothers now that the record is out? "Play as many shows as we can without killing ourselves, and we'd like to get back in to record some new songs. Do you have any money?" Wiseass.
***
The Bothers album is available now via Dirt Cult Records on vinyl and digital.
Bothers on social media: Facebook | Instagram | Bandcamp
Tagged: bothers