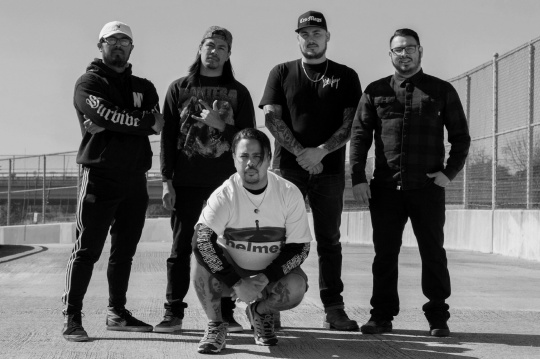 WAR Records is a label I trust since it's owned and operated by Strife guitarist Andrew Kline, a guy who knows a thing or two about metallic hardcore. That's why Shadow of Doubt got my attention about a month ago when Kline posted about them on his label's Facebook page. On June 2nd, WAR Records will be releasing No Mercy, Shadow of Doubt's new EP. "I was the original drummer for a band called Bitter End," Shadow of Doubt vocalist Ely Castillo tells No Echo and reveals how his band hooked up with Kline's label. "Bitter End did some shows with Strife in LA a few years back, and I've been a huge fan of Strife since I got into hardcore. We became real good friends with him, and I knew he was starting up a label, so I talked to him about doing something in the future and here we are now."
So, what does Shadow of Doubt sound like? Well, featuring former members of Bitter End and Hardside, one would expect heavy-hitting hardcore, and I'm pleased to report that the band doesn't let anyone down in that regard. The quintet call San Antonio home, but listening to No Mercy, you wouldn't be out of line to think they were born and bred in NYC. The songs of the forthcoming EP have the metallic bite of late '80s thrash and the groove and attitude of NYHC, with a definite Merauder vibe to the whole thing.
No Echo is offering up an early taste of No Mercy with "Fade," a badass track from the EP:
"'Fade' is about my relationship, or lack there of with my drug addict father," Shadow of Doubt guitarist Patrick Flanigan tells No Echo. "Sometimes you learn through life that even blood ties can be broken if the relationship is toxic." On the musical tip, Flanigan proves he's got great taste: "The main riff was inspired by a Leeway song. I loved how they were always heavy and melodic at the same time and I wanted to write something in that vein."
Another aspect of No Mercy that appealed to me is its eye-catching cover art and Castillo let's me know it's a family affair type of thing. "My nephew is an artist here in San Antonio and sings for a band called Bloodhound. We wanted this end of the world (as cliché as it sounds), different universe type of art and put some stuff together, brainstormed some ideas, and came up with something pretty rad!"
I ask Castillo what he and the band is planning on beyond No Mercy: "We want to see how the EP does first and see how the reaction will be, write some more material, play more shows, and do some touring."
Shadow of Doubt's No Mercy EP will arrive in stores on June 2nd and is available for pre-order directly from WAR Records. The 10 Song CD features 4 new songs, "Deceive" featuring Jose Gonzales from Mizery, and their 2014 demo.
Tagged: hardcore, shadow of doubt