With a pedigree that includes members of both BL'AST!, Nerve Agents, Good Riddance, and The Distillers, Seized Up had a lot to live up to. Any doubt is put to rest when you listen to the California outift's new EP, Marching Down the Spiral.
Bringing forth a hardcore punk sound that is as ripping as it is catchy, Seized Up formed in Santa Cruz in 2019. "Seized Up rose out of the ashes of Fast Asleep when they broke up," says Clifford Dinsmore, who is also still the vocalist in BL'AST!.
The singer continues: "At their last show, [bassist] Chuck [Platt] and [guitarist] Danny [B.] said they were forming a new project and asked me to sing... I was totally into it. Andy [Granelli] was recruited on drums and the mutant baby that is Seized Up was born."
2020 saw the release of Brace Yourself, Seized Up's debut album, but not wasting any downtime, the group's 3-song follow-up is fun ride:
"I would describe Seized Up as classic/post hardcore," Clifford tells me about their stylistic approach. "It's blatantly influenced by all the bands we listened to in the '80s, but with our own post-hardcore twist to give it a unique feeling."
How about the lyrics on Marching Down the Spiral?
"Well, living in the current time period, there's definitely no shortage of musical or lyrical inspiration. Read the writing on the wall and it doesn't take much to realize that the world is going to shit in a major way. We try to vent our rage, while maintaining a slight increment of hope."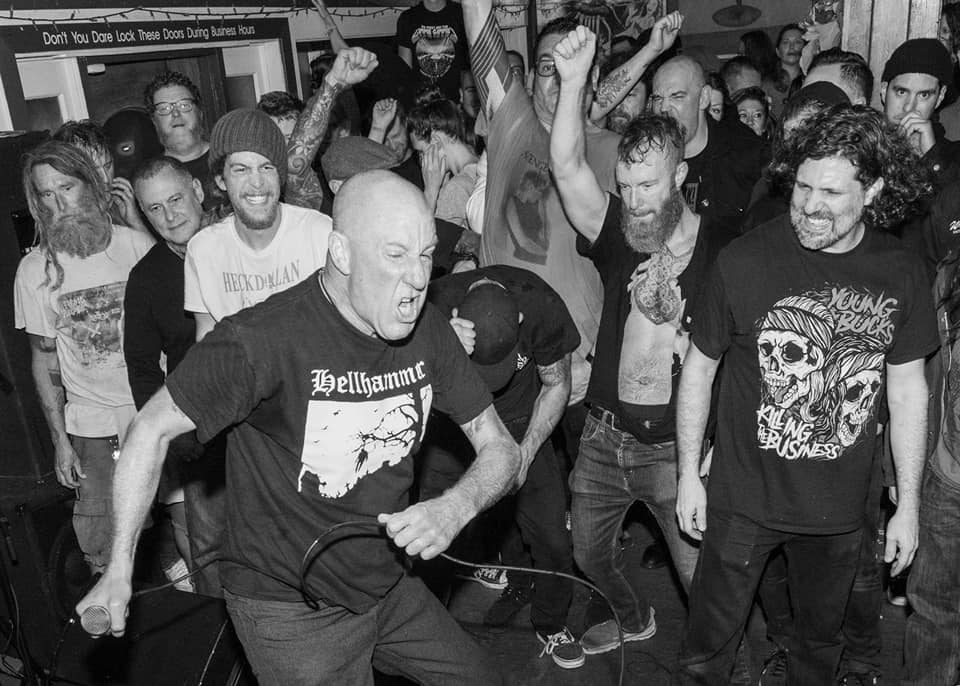 I ask Clifford if Seized Up has had a chance to connect with any of the up and coming hardcore bands coming from the California scene right now. "Well, unfortunately we haven't had the chance to form any kind of kinship with any bands because we haven't been allowed to play live. We played San Francisco with the Shit Coffins and that was super bad ass, but Seized Up has only played 3 shows.
"It has been a strange experience to put out a kick ass record and not be able to play the songs live for all the people that really want to hear them."
Marching Down the Spiral is available now via Cursed Blessings Records.
Seized Up on social media: Facebook | Instagram
***
Help Support What No Echo Does via Patreon:
***
Tagged: bl'ast, good riddance, nerve agents, seized up, the distillers