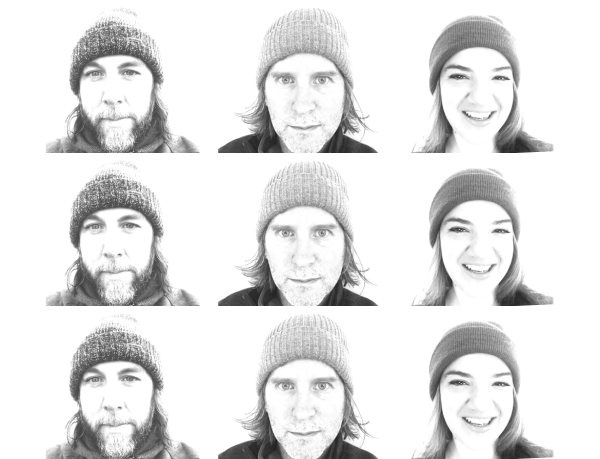 Walk Out is a new trio comprised of bassist Vincent Corrigan (Inside, Blood Red), vocalist Tia Meilinger (Fellow Project, Bridge & Tunnel) and guitarist Thomas Comerford (Inside, Blood Red).
"I moved to Ireland in 2004," the Long Island, New York native Corrigan tells No Echo via email. "My dad was from Roscommon, I have an Irish passport and I felt I needed a big change so just decided to do it one day after a visit to Galway, and it was the best decision ever.
"I fell in love, got married, have a 10-year old-daughter Lily now. I found a career in food and selling fish. I don't think i would ever move back, to be honest."
Originally, Walk Out planned on donating all proceeds from the download sales of their track "A Hot Night" to the ACLU, but there was a recent change of plans. "We actually decided to change from the ACLU to donating to the Southern Poverty Law Center.
"A bit more research in who the ACLU has controversially represented in the past changed my mind on this, specifically how they were involved in representing some of the alt-right groups in Charlottesville (before what happened). Though I do acknowledge the great work they do I find I am disagreeing with some of their choices in who they work with."
No Echo asks Vincent how Walk Out came to be. "Every time I would come home and visit family on Long Island, Tom Comerford and I always talked about doing something but for the first few years that technology was still too complex or expensive but that is all changed now.
"Tom and I always wrote really well together in Inside and Blood Red, never really having to give any notes or instruction. So many of those songs just happened. It's just organic the way we create. We sometimes found that lacked in some new projects we have tried since, though Tom's band with [vocalist] Mike [Mallamo], Star Harbor, is great.
"I learned so much from Tom when we swapped guitar and bass for Blood Red and that has continued with Walk Out. I went back and listened to the Inside record and drew from that quite a bit."
Vincent continues: "So we set out once covid and lockdown happened with that extra free time and figured out how to structure the recording process, using Logic and Dropbox. We quickly had 4 songs and toyed at first with singing ourselves. When that wasn't working out Tia was suggested to us by our friend Joe Ciatto.
"I listened to her stuff from Fellow Project and I was already a big fan of Bridge & Tunnel. It was a no-brainer really and Tia was really into it right away when I reached out which was awesome... even though she is busy running an awesome company with Vaya Bags.
Lastly, how would Vincent describe Walk Out's sound?
"I think it sounds like nothing we have done before. I kind of listen sometimes with a bit of a smile. Like, did we just do that?
Walk Out on Bandcamp.
***
No Echo has launched a Patreon with 3 tiers offering all kinds of hardcore-related goodies to help support the site:
***