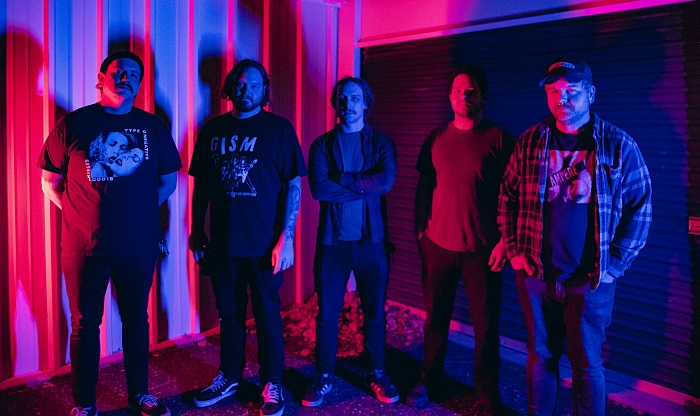 When you name your band after a Rorschach album, you get my attention. But that's just the entry point because if the music is weak, I'm out quicker than a Dave Witte blast beat. In the case of Remain Sedate, the Kansas City band lives up to the quality test to my ears.
Released just last week, Remain Sedate's Unwell is a record that melds chaos and metallic hardcore in a truly powerful way. "We first had the idea to start the band while [guitarist] Dakota [Hollenbeck] and I were playing in a metallic hardcore band called Altered Beast," guitarist Max VanTilburg tells me about Remain Sedate's formation.
"The idea was to do something that combined Midwestern noise rock with chaotic hardcore. Our lineup was really unstable for the first year or so but we managed to put out the Crisis Actor EP. Not long after that, [vocalist] Will [Boyer], [drummer] Mat [Shanahan], and [bassist] Cary [Thrasher] all joined, and we essentially had a new band.
"So, we changed the name to Remain Sedate and got started on the LP, which we recorded last November with Zack Alvey at B24 Studios here in KC. Now we're just working on new material and planning to hit the road sometime next year."
"Noisy hardcore in the vein of Botch, KEN Mode, Germbox/Quitters Club, and Breach," is how Max describes Remain Sedate's stylistic approach, and it's a spot-on call on his part.
This is what he has to say about the songwriting on the new record:
"The lyrics for 'Unwell' were mostly inspired by the existential frustration of watching humanity practically devolve and eat itself alive. It's definitely not new to American living, but seeing it front and center with my own eyes as I've grown older, it's a reality we can't ignore. And it's a reality that comes with its own frustrations, anxieties, and stress."
As always, I love asking musicians about their local music community: "The scene in Kansas City at the moment is super strong, we have a lot of great bands like Nerver, Spine, False Brother, Bummer, and Poster Boy."
Remain Sedate on social media: Facebook | Instagram | Bandcamp
***
Help Support What No Echo Does via Patreon:
***
Tagged: remain sedate