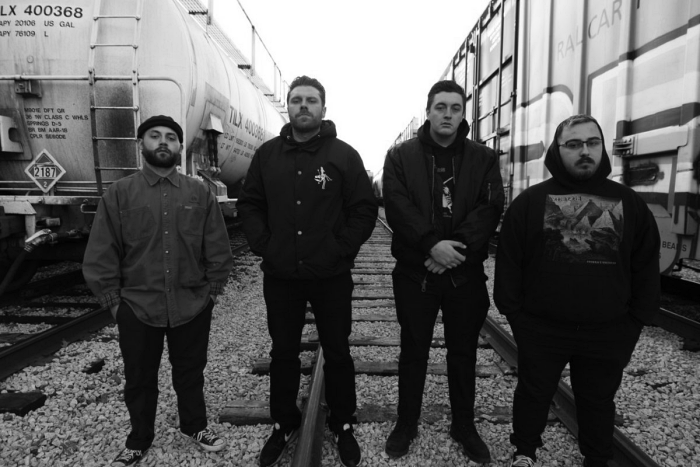 There's been a crop of death metal bands in Boston popping up and it's spurred my desire to dive deeper than the surface level of the death metal iceberg. Everyone knows about Fuming Mouth in Boston so I wanted to dive even deeper and from there it wasn't long until I found the band that opened the floodgates for my current nonstop death metal listening: Torn in Half.
I first stumbled upon this band through a flyer for a stacked show in Revere back in August which featured many local favorites and their name happened to stand out to me so I gave them a listen. I've seen them twice since then and both times they were arguably the tightest band on the bill.
Torn in Half began in 2020 and featured members from local New England bands Distressor and Hivemind who both played a brand of hardcore that was tinged in death metal desolation. The quartet quickly released a 4 song EP titled Basic Instructions Before Leaving Earth and despite never playing a show the release is one of the tightest and most brutal death metal releases I've heard in the last few years.
The band's sound mixes in some of my personal favorite facets of death metal, serrated buzzsaw guitar sounds reminiscent of the Left Hand Path-era of Entombed, tons of blast beats, a bleak air of hopelessness and hefty vocals mixing high pitched screams, squeals and other torturous sounds expelled from this side of hell. The first few seconds of "Animalistic Tendencies'' is probably the best intro the band could give themselves with the opening syrupy guitar riffs that soon kick into overdrive and still feel like the band is dragging you through the muck of a desolate battlefield… just how death metal should sound. It's an ear-raising introduction for the band and from that early takeoff the ride doesn't stop.
Torn in Half's members pasts in hardcore bands leaks in with the ample amount of moshworthy opportunities found on the EP's following tracks: "The False God," featuring vocals from Justin Whipple of local death metal band Blood Tithe, as well as "Lord of Suffering" my personal favorite track. This rise in cataclysmic breakdowns and bleaker landscapes in death metal music makes for a sound that bridges the gap between the hardcore and metal scenes.
These kinds of bands express true feelings of depression and isolation that have been amplified by the pandemic and they don't waste time singing about riding dragons and other corny business.
I was able to chat with guitarist Andy, vocalist Nick and drummer James which gave me insight into the bands formation and how their direction was something that came together randomly from jamming together. "Ever since I was young I've always loved death metal but I was always hanging out with hardcore dudes and bands. Nowadays, though, I find my taste morphing to the point where the last decade or so it's been pushing more death metal, grind and stuff. Super intricate underground shit," says Andy, bringing up the divide between death metal and hardcore which had for years existed but has begun to be fazed out.
Drummer James explained that the band's sound developed out of the bleak surroundings in their recording space, "When we first started playing together we were playing in this really shitty shed out in the middle of the woods and it all just created this depressing sound you hear on the record."
James also spoke on his influences with writing songs stating, "Honestly, my top fucking bands going into this project had to be Cannibal Corpse and Morbid Angel. Those two bands were the keys to my drumming." Listening to the band's brutality and evisceration of all human life breathes an air that is very similar to the Southern Florida bands that ruled the death metal scene during the early to mid-'90s. "I also love a lot of slower, sludge metal stuff too though like Crowbar and Eyehategod because I love a nice groove but I also wanna challenge myself with the drums. I don't wanna be like Sleep, though, and make the same drum beat for an hour… that album's epic as shit [Dopesmoker] but that's overdoing it for me."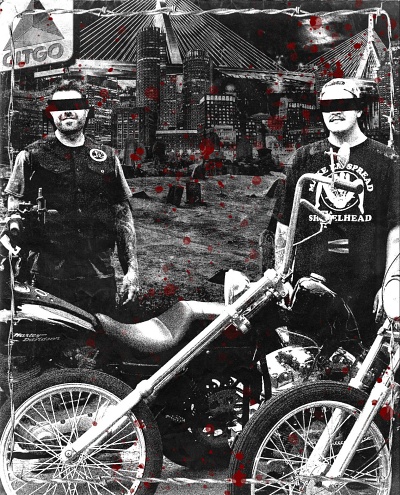 Vocalist Nick Burke's lyrics and haunting growls over the band's mix of sludge and breakneck tempos is what sets the mood the most for Torn In Half's identity.
Commenting on his lyrical influences Nick remarks, "I was working in a graveyard at the time I wrote a lot of these lyrics. Just seeing a lot of dead bodies and digging holes to bury them in, really puts you in a certain mood. Then I'd go home and watch Forensic Files and just put all that into writing." The graveyard theme has followed into Torn in Half's artwork as their debut EP's cover is of a ghostly looking graveyard and even has followed into the designs on their t-shirts.
The closing track in particular, "Unholy Suffering," brings these gruesome feelings, visions of dead bodies and overall dread that surrounded vocalist Nick probably the most blatantly with lyrics such as "Chained up in a well/Insects become comfortable with their new feast/ Reduced to a liquid meat filled mess." This lyrical subject matter may not be appealing to your religious grandmother but they're sure to appease the sick individuals who enjoy this kind of music like myself. "If you've been listening to our band that much you must be suffering" jokes Andy and I can't help but agree.
Expanding on his own guitar playing Andy listed some very intriguing influences, "I'm really into the band Fulci, this Italian death metal band, they're a pretty big influence on my guitar playing right now. At the Gates' album Slaughter of the Soul is still a sick album in my opinion as well. I used to listen to that all the time after I bought it from Newbury Comics as a kid. Early On Broken Wings was also pretty big on my guitar playing, it's funny you mentioned them. Their music is completely out of the box. Also Black Dahlia Murder's Unhallowed."
The brief mention of legendary local act On Broken Wings quickly ignited a conversation which sang their praises. "I remember going to see them with Black My Heart in the early 2000s and as soon as they got onstage someone would lose their teeth, kids would be fighting and the show would get shut down. There was a string of 4 or 5 On Broken Wings shows I went to in a row that got shut down and it was awesome. You'd hear half an OBW song then they'd have to take a guy out on a stretcher and then the rest of the set would be just as chaotic."
Torn in Half's most recent single, "Incineration of Existence," was released in January and featured on the Funerary Exhumation compilation featuring fellow death metal acts Maul, Path to War, and Hanging Fortress. The song extended the band's song lengths just a bit further and hinted at them already progressing their sound in the 8 or 9 months that had passed.
"I feel like shit got much tighter within that time that passed and it's all just coming together a lot cleaner and more focused now. We're looking to go into the studio and put out like two or three new songs here and there, maybe a 4-song EP," Andy comments.
Asking the band about the rise of death metal bands and how they view themselves within such an upsurge Andy commented "It's really grown from what it used to be to the point where, as you mentioned, On Broken Wings is shouting out Fuming Mouth at their shows and stuff like that. It was at a point years ago where hardcore kids and death metal kids couldn't be in the same room together."
There's a certain brutality that Torn In Half brings which makes them stand tall against the large pack of death metal bands that have been cropping up in our local scene. Listening to the blinding changes in tempos, from blast beats straight into breakdown territory, shows signs of influences outside of the old school of death metal, even hardcore influences flair up withn their breakdowns.
This mashed up and mangled style, creating a sound which can only be described as a thousand chainsaws being rolled down a mountain, allows them to fit in with shows that are mixes of death metal and hardcore. "The lineups for our shows have been wild, it's a really good mix of death metal bands and hardcore bands. We have one show Friday with Tombstoner and Wretched Inferno that's like a straight metal show but then we're also playing with COA and Back of tha Neck on Black Friday."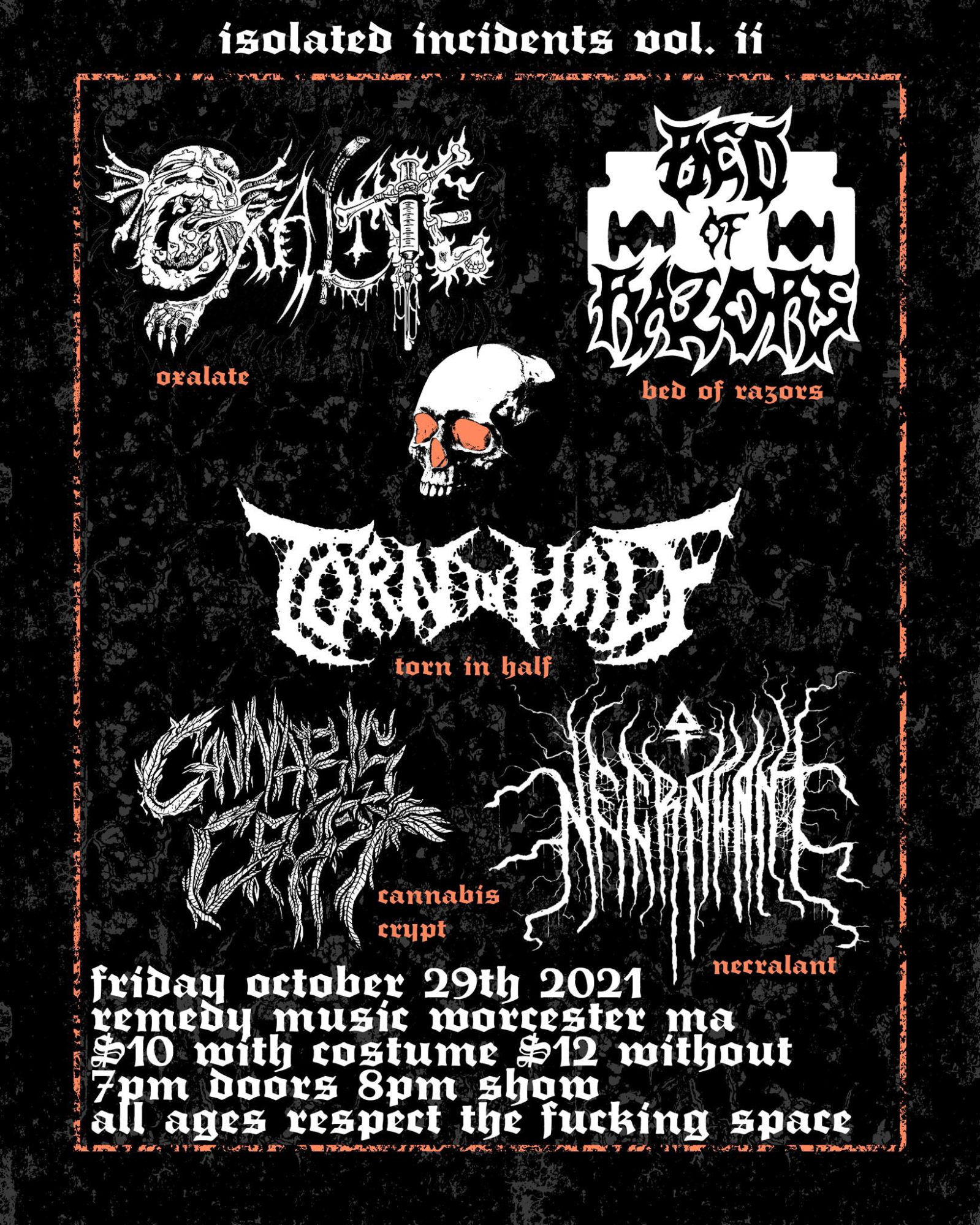 "We played with a black metal band one time too," adds Nick, referring to the band Necralant who opened their recent Halloween show with them, Cannabis Crypt, Oxalate and Bed Of Razors. It's really refreshing to see more bands of each genre that are this enthusiastic to play shows with such diverse lineups because it opens young people up to more diverse music than with the same sounding 4 bands at a show.
Looking toward the future, Torn in Half state that they are looking at a good run of shows in the next few weeks and afterwards they would like to do the recordings they previously touched upon. Andy explains "We're planning a little mini-tour with Ritual Blade like a little 4/20 run of shows around New England and stuff. We also wanna do a split with Grasp because they're such a great hardcore band and I think back to that Gatecreeper and Iron Reagan split from a few years ago. Two heavy ass bands with different sounds together, I think that'd be sick."
For now, with the coming winter, I feel it's the perfect time to get into Torn in Half's cold, blood-curdling brand of death metal. Be sure to check their music and merch out on Bandcamp and all streaming platforms. If you're in the Boston area check in the next few weeks be sure to check out their upcoming shows.
Upcoming Torn In Half Shows:
December 3rd - Allston, MA @ O'Brien's Pub w/ Vaulted, Black Palm, Matriphagy, & Ancient Death
***
Help Support What No Echo Does via Patreon:
***
Tagged: torn in half