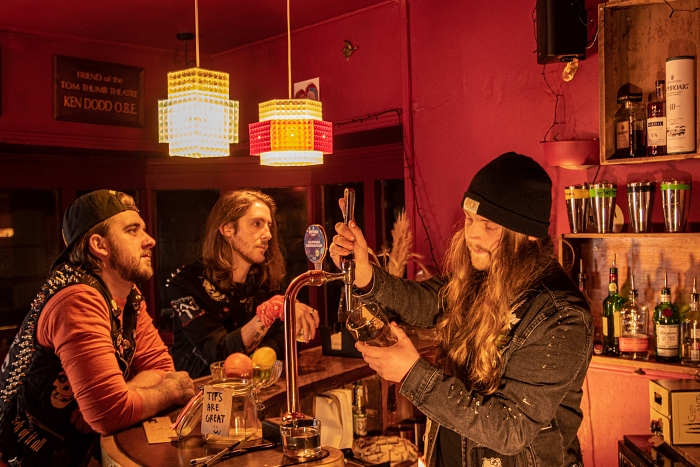 Meet Rats Nest, a UK melodic punk band from the "deprived seaside town of Margate" (their description, not mine).
Like so many before them, the trio was inspired to come together and write songs born out of their frustration and fears about living in the modern world and its injustices. "We've seen the terrors on our doorstep," says Rats Nest guitarist/vocalist Adam Pullman. "We are all committed to try to make something of ourselves in spite of the world."
Rats Nest first appeared in 2018 via a self-titled EP, and their latest release "A Family Portrait in Black and Gray," an infectious single they've also made a music video for. "The track is a short novella comparing the challenges of family trauma to Oscar Wilde's iconic gothic tale, The Picture of Dorian Gray," Adam tells us.
"The song gets its ferocious sound by employing a machine gun beat at a bullet-shot speed, crescendoing into an anthemic outcry. 'A Family Portrait in Black and Gray' will open many of Rats Nest's live sets from here on out, as it perfectly describes the band's sound:
No Echo asks Adam about the punk community in Rats Nest's region. "The local scene of the South-East coast is progressively building a strong DIY Creative community that is being spearheaded by some great talent such as Pink Suits and Girls Like Us.
"Heading a little further out towards London way, bands such as Clobber and Real Life Goblin are breathing some much needed fresh air into the DIY scene and pushing it ahead of its limits."
The immediate future looks busy for Adam and his bandmates. "We've just gotten off the back end of a UK run with Hellcat Records punks Grade 2, as well as support from the aforementioned hardcore powerhouse Clobber. We have a number of singles at the ready for release this year with the energy and momentum that will continue to keep the blood pumping."
***
Rats Nest on social media: Instagram
***