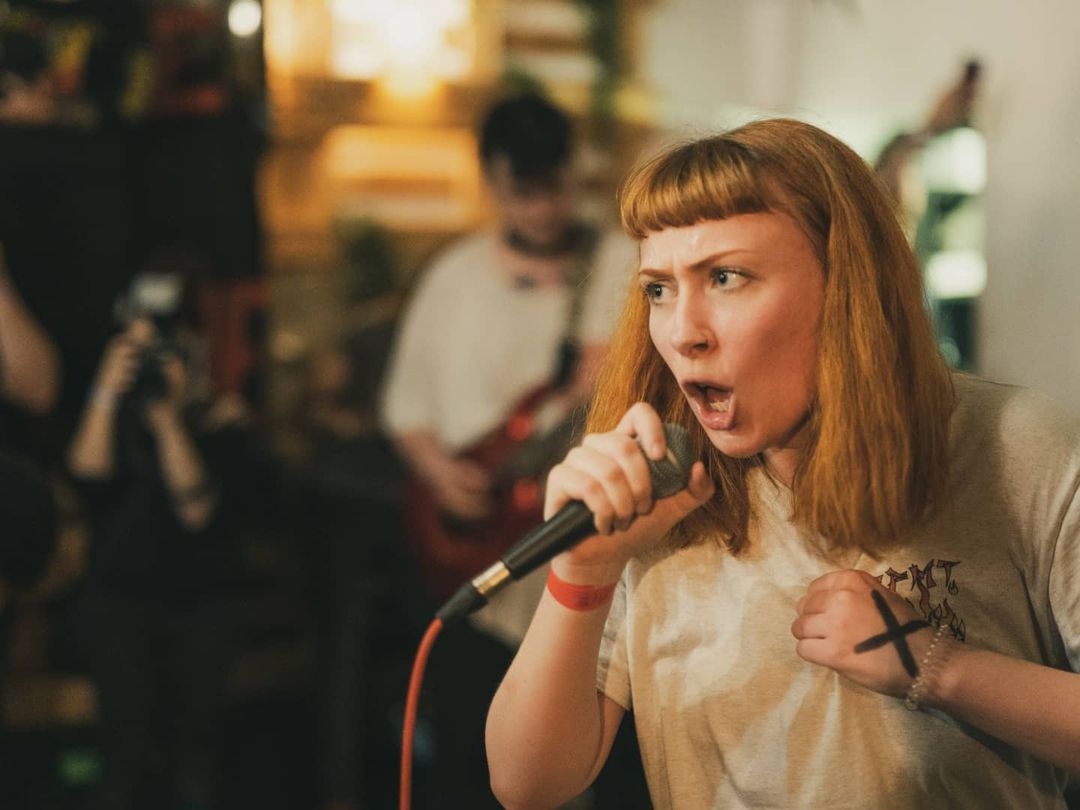 Formed in 2019, Iron Deficiency is a band based out of Lyon, France combining their love for Youth Crew-styled hardcore and the heavier sounds of Everybody Gets Hurt, Irate, and Billy Club Sandwich.
More recently, the straight edge outfit welcomed in a second guitarist into the fold, and things have been moving forward at a quick pace. One of the moves that will surely raise Iron Deficiency's profile is their new partnership with Patient Zero Records, a US label that has also been behind releases by Burning Strong, Lead Dream, and Bitter Truth.
With a new label deal secured, Iron Deficiency will releasing their debut full-length album later this year, but in the meantime, the French quintet has released a 2-song promo to whet the appetite. X up if you're so inclined:
"This song has a tremolo riff with a strong death vibe, so we wanted to write some lyrics with a medical/gory atmosphere," Iron Deficiency guitarist Guillaume told No Echo about "Locked In" in an email. "Our vocalist, Mathilde, told us once about how she suddenly got this feeling of feeling detached from yourself your mind and your body separating, kind of like being stuck in your skull. We were looking at some references, and came across the Locked-in Syndrome, in particular in the book of Zola called Thérèse Raquin."
"This syndrome is a condition in which a patient is aware but cannot move or communicate verbally due to complete paralysis of nearly all voluntary muscles in the body. It's a neurologic thing, but we wanted to compare this to a psychological state, a sort of depersonalization disorder, or a mix of anxiety, extreme apathy and self-loathing."
Guillaume also offered some thoughts on the next track of the promo: "'On the Edge' deals with the addictive drift of the straight edge merchandising and the relationship to the image that results from it, and that sometimes only comes down to posting on social media, to the detriment of going to shows and actually being active in the scene. It is an addictive, consuming and non-emancipating drift, in total opposition with the values which are, in our opinion, carried by the straight edge movement.
"It's like a tribute to the 'in yo face' straight edge songs, dim-witted and exaggerated lyrics to demonstrate the absurdity of the situation."
The guitarist continued: "There are some references to actual things. Just an example, when we say '6 thousand for a fuckin' piece of wax' we refer to the most expensive vinyl sold on Discogs. The unlistenable Chung King Can Suck It by Judge. One copy was sold for $6,000 in 2015. And we just checked, another two copies sold for $8000 last year. Even Mike Judge said he was bewildered by this shit. It's unthinkable and above all unbearable.
"How can you spend all this money in a hardcore punk straight edge vinyl, this is in total opposition to all the values carried by this subculture. Has the edge gone bourgeois?"
***
Promo 2022 is available on cassette via Patient Zero Records at this link. Stay tuned for the Iron Deficiency album coming later in 2022.
***
Help Support What No Echo Does via Patreon:
***
Tagged: iron defeciency