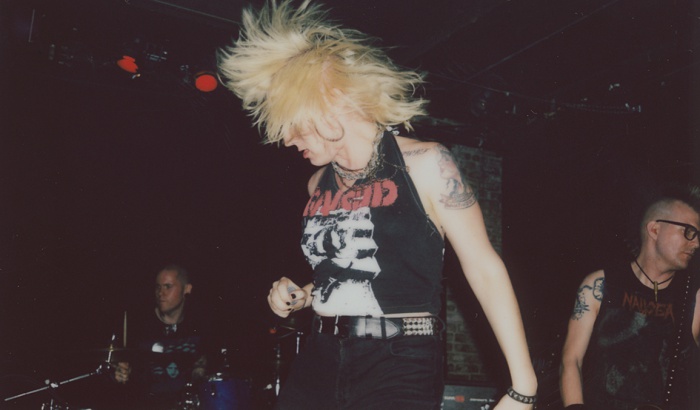 The members of East Coast punk outfit Pandemix initially came together through a shared passion for bands like Crass, Subhumans, and Poison Girls. Formed in Boston back in 2016, the group dropped their debut 12" Scale Models of Atrocities, via Boss Tuneage, and played gigs throughout the entire time. The last fact is all the more impressive when you learn that the members of Pandemix don't all live in the same state anymore.
With 2018 seeing the release of a 7" on Dirt Cult called Rank & File, Pandemix is returning to record store shelves with In Condemnation, a 10-track LP that finds the combo expanding on their politically-charged and ferocious hardcore punk. Listen to a new song from the forthcoming album called "A Pox" below for a taste:
"'A Pox' is one of the handful of songs on this record that Matthew wrote the music for to a looped Ramones drumbeat track," says Shannon, the vocal powerhouse of Pandemix. "Since I live in Pittsburgh and the rest of the band is in Boston, they write without me and send me practice recordings that I write lyrics and melodies to. It's a very non-social way of being in a band, for me, and I think that isolated approach to the creative process maybe results in some stranger lyrics.
"This song puts a finer point on a theme that we've started to explore in the past — namely the idea that all the things that are wrong with society are wrong with us as individuals. My lyric writing process is basically to ask myself questions about my fears; in this case the fear is that maybe humans just fundamentally cannot be good to each other. Will Killingsworth was incredibly patient and stifled laughter (not for the first time) while I tried out a lot of different vocal styles on the bridge before the final chorus, including a Marilyn Manson-style whisper at drummer Ryan Berry's insistence."
In Condemnation will be out on Feb. 22 via Dirt Cult (US pre-order) and Boss Tuneage (Europe pre-order).
Tagged: pandemix