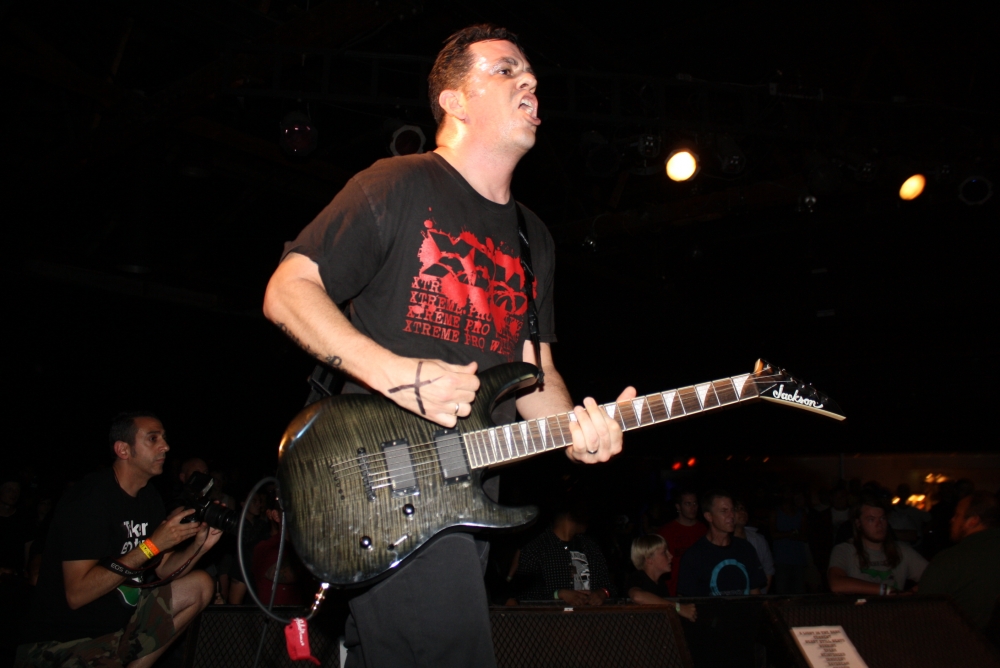 Back in early 2017, I profiled New Age Records founder Mike Hartsfield in an in-depth interview about his life and music-related career. A musician who has also played in such bands as Outspoken, Freewill, and Dear Furious, Mike has been part of the California hardcore scene going all the way back to the '80s. With releases in its discography from groups like Mouthpiece, Strife, and Unbroken, New Age's influence on the modern hardcore movement cannot be overstated.
Since New Age Records will be celebrating its 30th anniversary at its own festival in Orange County, CA later this month (Aug. 25), I thought it would be an ideal time to ask Mike some trivia-styled questions about the label and its releases.
Why did you call the label New Age Records?
I remember racking my brain trying to come up with something. I remember looking at a demo I had received from a band from Europe called Dark Age, I just immediately thought of "New Age." That's got a positive spin, sounds fresh, cool, I'll take it. A few years later, I found out about the "New Age Movement" and well, it was too late to change anything at that point.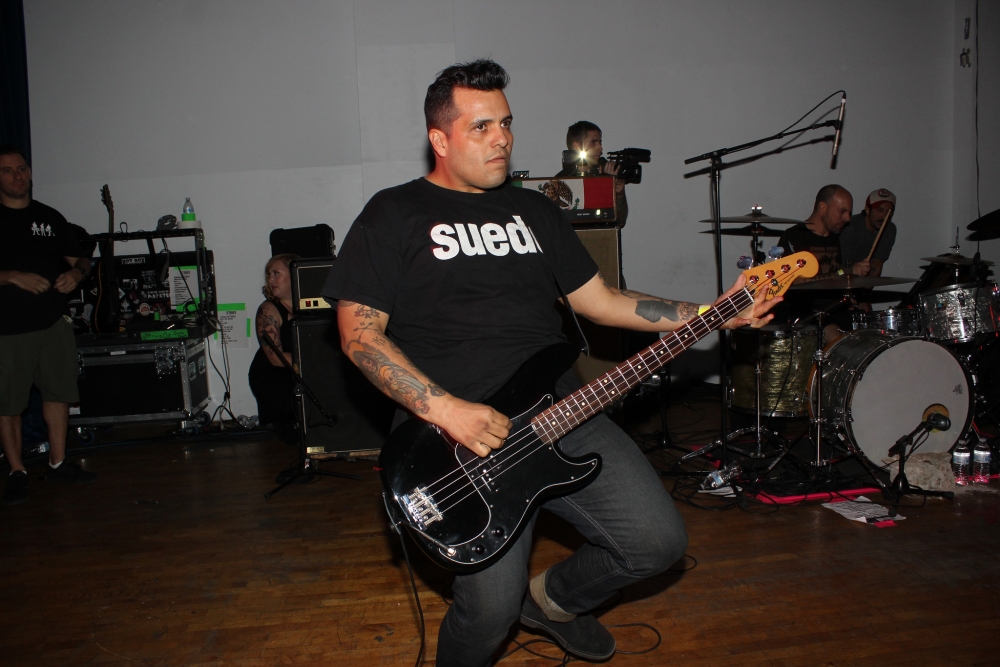 Who created the "jumping man" logo?
It was designed by a woman named Angie that did a fanzine called Positive Influence.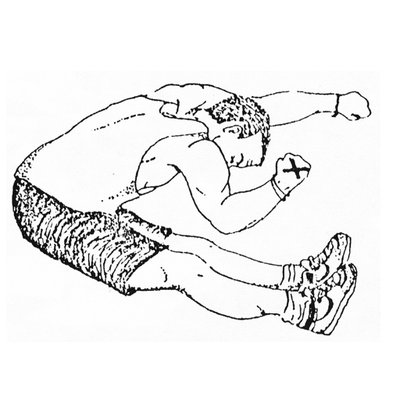 How much (approx.) did it cost you to press up your first release?
No clue off the top of my head. I remember getting the 1000 black vinyl of NA01 Walk Proud Be Yourself records. They had a large hole in the center of the record (instead of a small hole which I had wanted, but probably never specified). The pressing plant agreed to take them back and repress them. I grabbed one with the big hole before sending them back. It's in "the vault."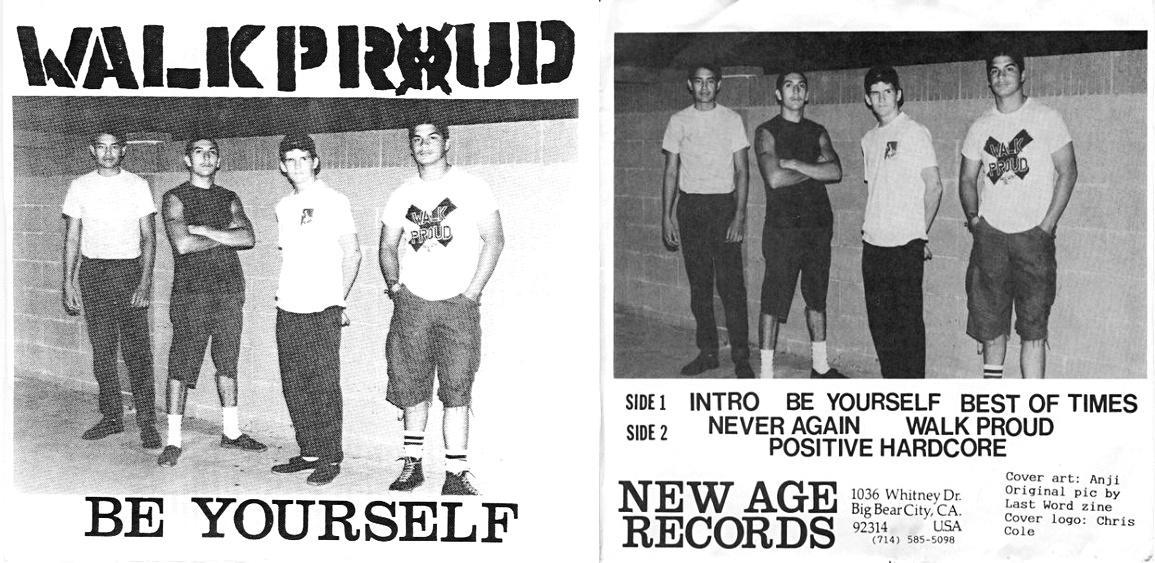 Do you remember the name and general location of your first mail order customer?
[Laughs] No, but I did save all the early mail. I have it somewhere. If you want to help me dig through and check the post marks, I'll pay for pizza.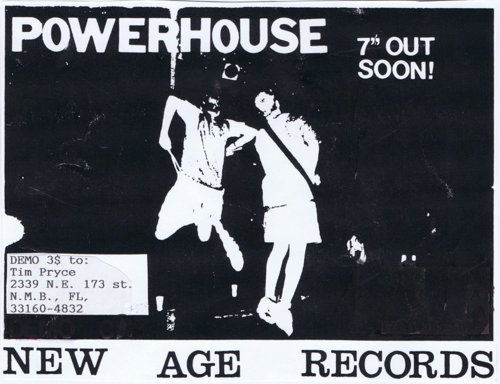 Who helped you put together records and do mail order in the early days?
My mom helped me put inserts in records for years and years. We would sit and watch Golden Girls and work. I still see her handwriting on old boxes. My brother, Denny, came to my rescue a few times. It wasn't until '93-ish when I actually hired someone to help with mail order. [Laughs] Nowadays, it's my wife and I processing mail, while watching the Golden Girls.
What day jobs did you have during the label's early days?
Pizza delivery (multiple places), construction (I worked on a crew that cleaned up burned down houses and rebuilt them), and screen printing. I also worked for Revelation Records in the early '90s.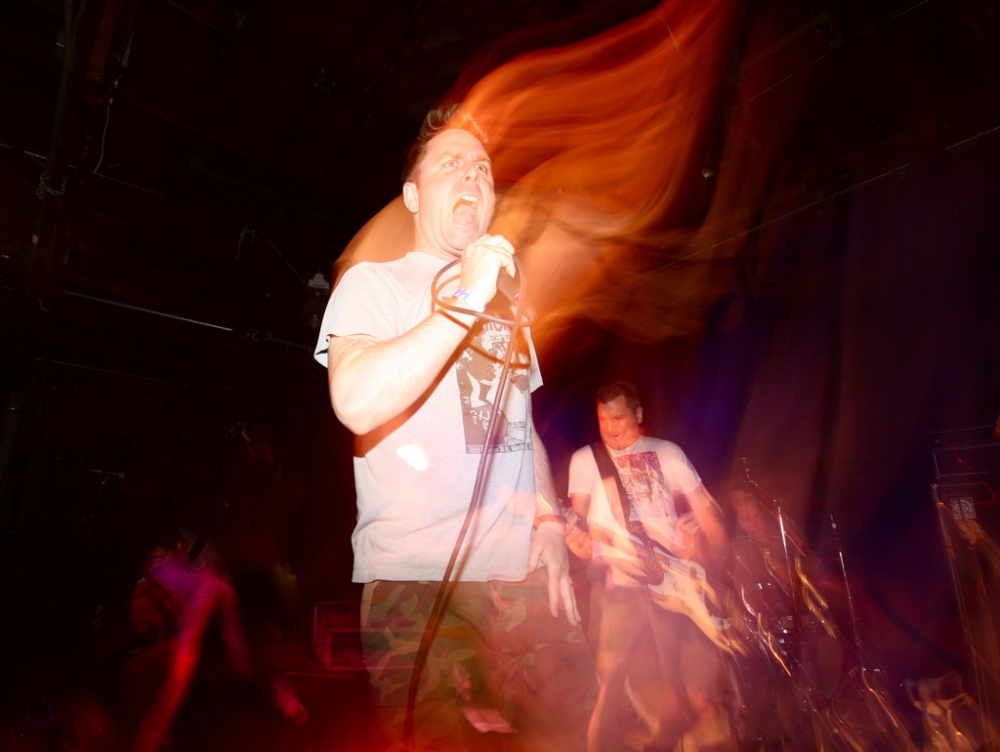 Who are some bands that have turned you down that you wish hadn't?
Oh man, there are so many. Some bands I remembering nudging were Carry On and Terror. I really loved Device from DC and Our Gang from NY, but I am not sure if I ever made an offer to them. Oh, and Active Response, of course.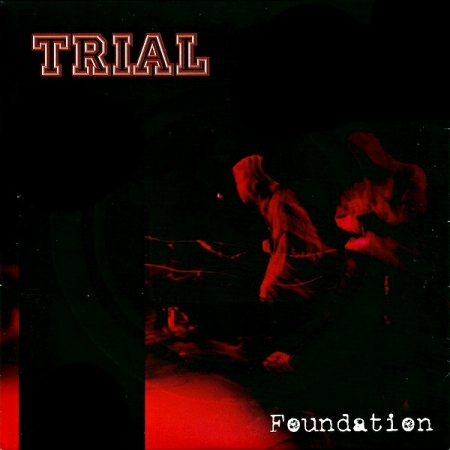 Who are some bands that have turned you down that you're glad did?
There was a local band called Divide and Conquer that reached out me in mid-'00s. I went to one of their shows and it was packed. Afterwards, we all chatted out back and they asked me, "Oh, so what bands has the label put out"… I mentioned Unbroken, Lifetime, etc. and they had no reaction, as if they had never heard of those bands. Granted, they were really young kids listening to lots of Atreyu. I realized that these kids ran in a different circle and even though they could probably sell a lot of records, I knew it wasn't a great fit for New Age. I never actually offered them a deal, though. I'm not sure what happened to them.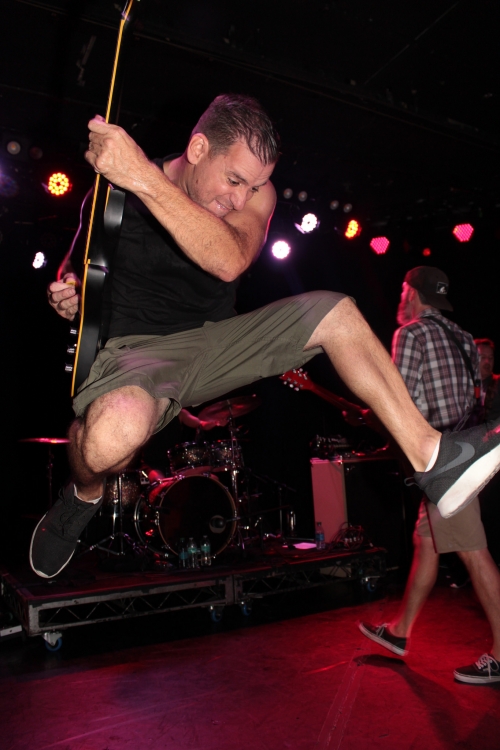 What New Age release did you lose the most money on but don't mind because it was a fun project?
It was all fun. There are bands I wish had stayed around longer to support the releases because our focus was usually getting bands at their start and working together for as long as possible. It was hard to get a band that had releases already out; it happened, but not as often. One release that I lost money on was the Fort Knox EP (yes, that Fort Knox) which I paid to record in the early to mid-'90s and never got a master of. Maybe they're still mixing it [laughs].
Which New Age release has the best cover art?
It's probably easier to answer who had the worst [laughs]. There's so much from those early years we just grabbed out of the Time Life book series. But I really liked the Strife My Fire Burns On 7" (2nd pressing). For the first pressing, I had sent the artwork to the printer with specific instructions but it came out way different than expected. We couldn't get it fixed so we released it as-is. But years later, when we re-released the record, the band sent in new artwork. It was a photo of the original record jacket, on fire. I thought that was really smart. And the Redemption 87 s/t cover is one of my favorites. It's just a great live photo.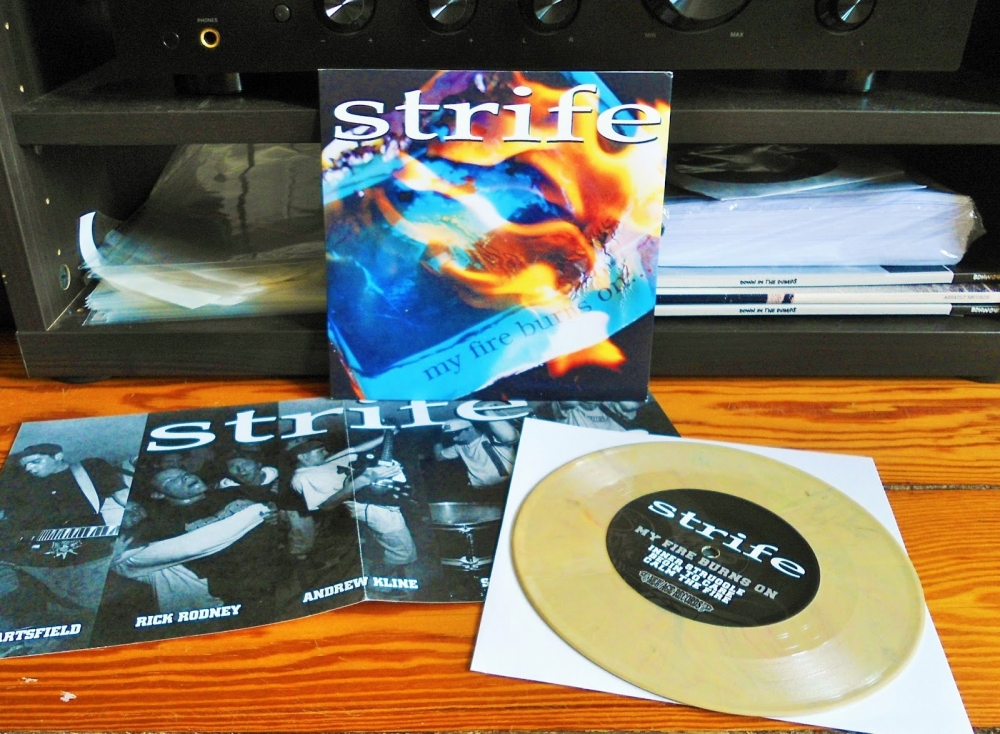 Which New Age release do you think you've played the most throughout the years?
That would be Countdown to Life's Govern Yourself Accordingly. Part of it was recorded at a studio in Santa Ana by Paul Miner. The rest of it was recorded at my house. It's a solid record with some of the best tones I've ever heard.
What is the best seller in the New Age catalog?
Unbroken's Life. Love. Regret. did really well. Interesting story about that record: the band only asked for $1000 for recording, which in '93/'94 was very conservative. When I got a copy of the final mix on cassette, they returned $150.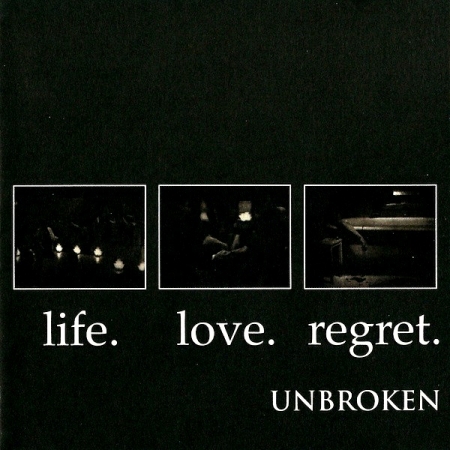 From what you're heard, which New Age release is the most coveted among record collectors?
Probably a tie between Unbroken's Life. Love. Regret. on blue and Turning Point It's Always Darkest Before the Dawn on clear.
Which New Age release do you think is the most underrated?
Countdown to Life's Govern Yourself Accordingly. If you asked me "of all the bands on New Age, which band would you have liked to play in," that answer would be Countdown to Life as well.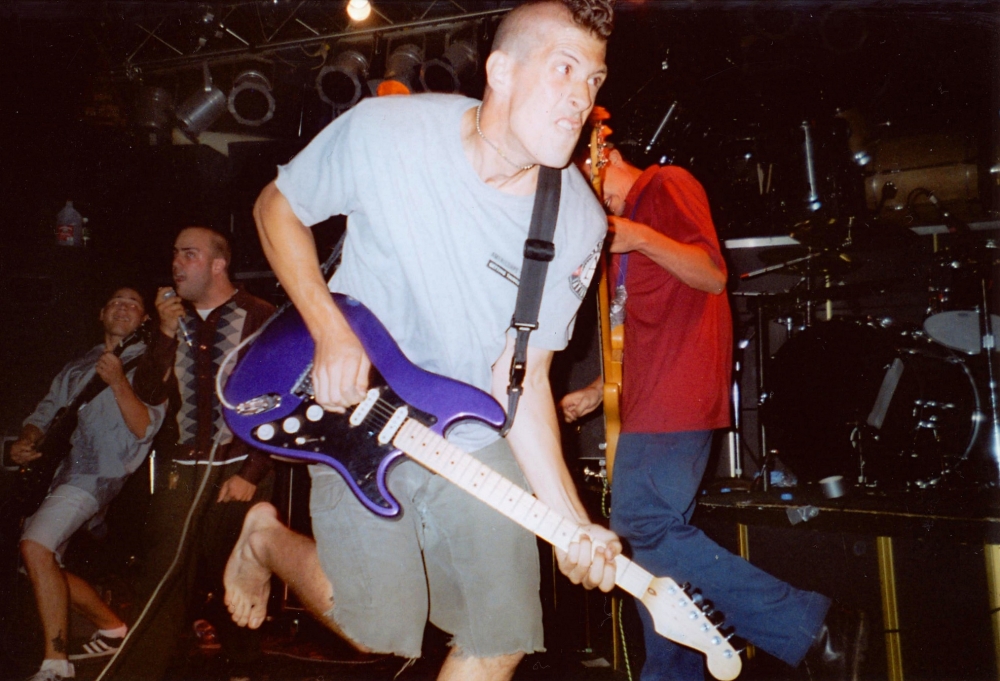 What is the biggest misconception people have about New Age Records?
When people say "Oh hey, can we come by your warehouse?" I've got some shelves up in a spare bedroom and some boxes in the garage, that's as much of a warehouse we have.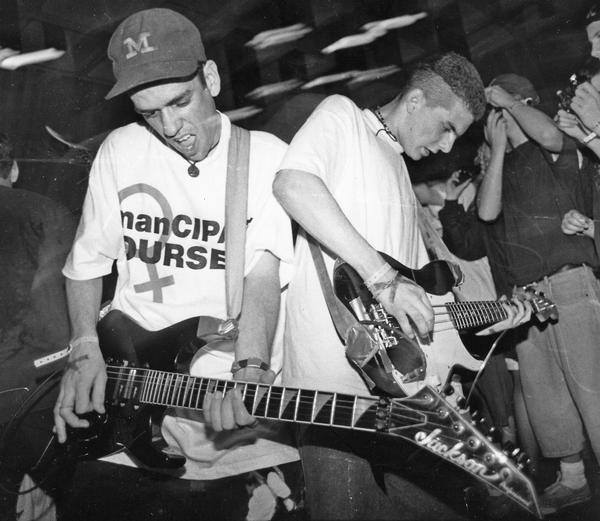 ***
New Age Records 30th Anniversary show will be going down in Garden Grove, CA on Aug. 25. Tickets are still available at this link. Head to the label's online store to check out recent releases by such bands as Restraining Order, Drug Control, and Cutting Through.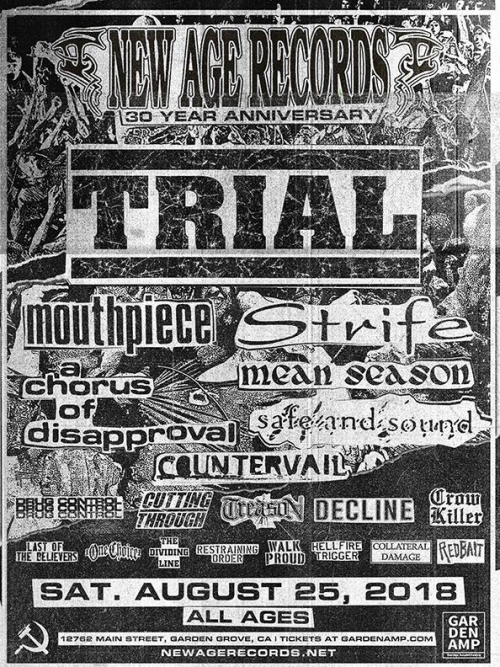 Tagged: lifetime, mean season, mouthpiece, new age records, strife, unbroken