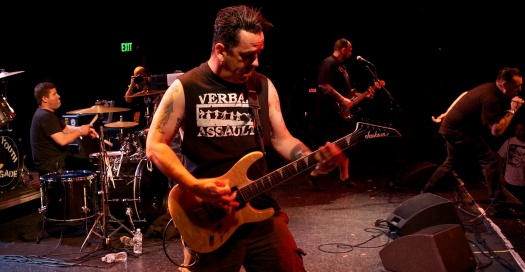 Outside of Jordan Cooper (Revelation Records), it's tough to think of a record label owner who has been supporting the hardcore scene longer than Mike Hartsfield has. Ever since 1988, the California native's own New Age Records has released some of the most celebrated releases within the hardcore realm. Unbroken, Lifetime, Strife, and Turning Point are just a few of the bands that have issued records bearing the New Age Records logo.
In addition to his label, Hartsfield has also contributed to his beloved scene via his work as a musician in such groups as Outspoken, Freewill, and Done Dying. These days, Hartsfield is still keeping busy with New Age Records, signing up and comers like Drug Control and Abuse of Power, and he's also playing music again in a band called Dear Furious (more on that later).
I recently chatted with Hartsfield about his label's history and all of the band's he's played in throughout the years.
Where were you born and raised?
I was born and raised in a town called Canyon Country in California. It's now part of Santa Clarita (Santa Clarita Valley). It's about 20 minutes north of Los Angeles.
What were your parents like?
My parents were amazing. They were always supportive of my adventures, no matter how crazy.
SEE ALSO: 2017 interview with Ras Joseph Israel I (Bad Brains).
Thinking back, what was Southern California like for you when you were a kid?
Growing up, it was all about BMX and skateboarding. Once I found music and shows, that was all I could think about. Southern California was pretty awesome in the '70s and '80s. I lived in the same house from 0 to 17-years-old, so I had a really stable foundation. Being just a short drive from LA, and before the traffic we have now, it was pretty great. I've heard my hometown has changed a lot since I left there, I plan on heading back sometime soon and seeing what's up.
Tagged: a18, dear furious, done dying, freewill, hardcore, new age records, outspoken, punk