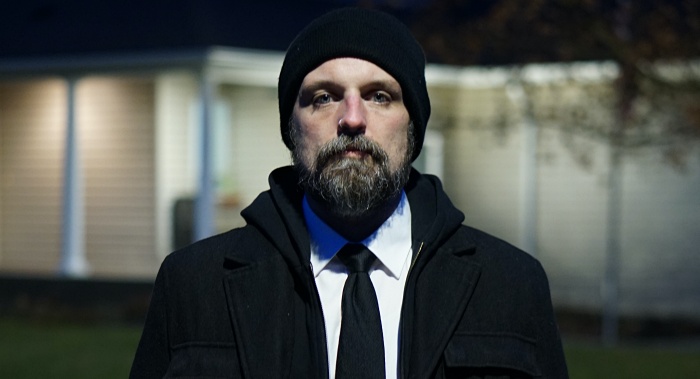 Sterileprayer is the solo alias for Scott Rozell, a musician who has previously played in such bands as Moral Crux, and Green Jelly. Also a talented producer, Sterileprayer finds Scott working within a sonic palette of noise and industrial music, oftentimes delivering nightmarish soundscapes along the way.
This week, Sterileprayer's debut album, Accepting the New Normal, will arrive in stores. The record features guest appearances from Eugene S. Robinson (Oxbow, Whipping Boy), Jay Gambit (Crowhurst), and Blake Harrison (Pig Destroyer, Hatebeak), among others:
To celebrate the record's release, No Echo asked Scott to give us a list of 5 albums that helped influence the project.
***
From Scott Rozell, aka Sterileprayer:
If there are 5 absolute stand-out albums that I could say influenced me on the musical spectrum in general, and/or the sound that Sterileprayer has output with the new record, it would have to be the following. Thank you in advance for reading, and allowing me share these with you. I hope you find something new in here that you can get into and spend some time with.
Agoraphobic Nosebleed, Honky Reduction (1998)
Okay, so I was a senior in high school when this record came out. About 3 minutes into the record, I remember my sister walking by my bedroom at the house and stopped and seemed kind of weirded out. I remember looking at her with my jaw dropped, and all I said was; "FUUUUUCK." This record altered literally everything I knew about adding electronic elements into music.
Before this, all my exposure to any sort of electronic/synth-related music had been on the darker side with industrial genres, but when it came to extreme metal, nothing had hit me as hard than this record did up to that point. 22 years later, this record still holds it down, without question.
Oxbow, An Evil Heat (2002)
I met Eugene S. Robinson roughly 15 years ago when I was working for the label they were on at the time, Neurot Recordings. I had heard the name thrown around but had never actually heard them until then. My first exposure to them was this record, and it will always be a special record to me. This record single-handedly got me through some very dark times, and it taught me some very important things about the ways I had been interpreting music at the time.
An Evil Heat, to me, is still one of the heaviest records of all time. Now I don't mean that in the sense that it's a document of a band trying to "sound heavy" in the metal sense, but more in the emotional and cathartic sense, while still being insanely intense and dynamic. You are missing out if you have never heard this record. Cut to 15 years later, having released past projects with and for him, it was amazing to have him on board as a part of the Sterileprayer record. He handles the vocals on the track "Backward Infinite" on the album.
Lull, Moments (1998)
So there was this big box chain store that opened in the town I lived in. They are out of business now, but years ago, they had these constant revolving cutout bins full of cassettes and CDs that were basically just overstock copies that they had to get rid of. Everything in those bins were always dirt cheap. There was a long period of time, nearly a solid year, these cutout bins were filled to the brim with cassettes and CD's from Earache, Nuclear Blast, Relapse, Relativity/Combat and Wax Trax Records.
Most of these things were like a dollar each, so I would grab whatever I could from those labels because I knew I liked a majority of what they had been putting out at the time. Lull stood out in a big way to me. It was an opposite from what I was used to hearing from the Release Entertainment stuff that I was used to, like Merzbow, Atrax Morgue and so on. It was symphonic, dark, but still had the mild industrial elements to it, keeping it relative.
More importantly, this album wound up serving a pretty important and useful purpose to me. Having ADD, this album wound up being played nearly every night for years when I would go to sleep. It opened my eyes to versatility in electronic and experimental music in general.
D.R.I., Dealing with It (1985)
This was the first hardcore punk record I had ever heard. I remember the first time I heard this record vividly, and it absolutely blew my mind. I was 9 and it literally changed my life forever. Before I had heard this record, the only music I knew existed was whatever was playing on the radio at the time. As a young kid in Portland, Oregon, it was all about Gloria Estefan, Steve Winwood, Michael Jackson, and the most "edgy" think I had heard up to that point was DJ Jazzy Jeff and the Fresh Prince's "Nightmare on My Street".
Then I spent the Summer in Idaho with my mom and met my cousin Chris. He was older than me and skateboarded. I pretty much idolized him immediately. He gave me two cassettes to check out, and this was one of them. It was like a light switch went on when I got about 30 seconds into the first song, "Snap,: and that was it for me. The adrenaline rush I felt from the sheer intensity and speed of that record made me realize that this was the music I had been looking for in my short existence as a kid.
From then on, it was all about DRI, Suicidal Tendencies, DI, Bad Brains, TSOL, you name it. If it was loud and abrasive, I was all for it. I wore that Dealing with It cassette out. I played it so much that it started to degrade to the point where the actual tape sounded warped and shitty, ultimately causing the chrome tape to break inside it so I ended up getting it on CD later. I still listen to it to this day.
Atrax Morgue, Sickness Report (1996)
When it comes to something that directly influenced the music I am working on as Sterileprayer, it's Atrax Morgue. Marco Corbelli was the guy behind Atrax Morgue. Although a lot of the Merzbow stuff seemed to have gained more cult popularity when it came to noise/power electronics stuff, I always found myself gravitating more towards Corbelli's Atrax releases more. This album seemed to be the most accessible release, especially at the time, and it's a great record. Intense textures of anti-structure happening here, and although super abrasive, it still has a lot of variation.
The mixing and mastering made it a great listen because it maintains an even-keel throughout. Atrax Morgue's entire catalog has a strong theme that harbors a very morbid and healthy respect for death. Corbelli himself had a pretty dark back story as it was, having eventually committed suicide back in 2007. Nevertheless, he left behind a pretty extensive and impressive legacy in the noise and experimental music realm, and Sickness Report was my personal favorite.
***
Pick up a copy of Sterileprayer's Accepting the New Normal album on vinyl, CD, or cassette via Blackhouse Records.
Tagged: sterileprayer