We can all argue for days about both the positive and negative aspects of social media, but to not recognize how important it has been for the underground music scene would be foolish. Mantlet is a band that further proves that notion.

"[Vocalist] Dane [Barker] and [drummer] Luke [Thomson] had been jamming with a few people and it didn't work out, so I messaged them off the back of a post on a UKHC Facebook group and it kinda came together from there," guitarist Alec Davies tells No Echo about Mantlet's formation.
So, what brought the musicians together, speaking from an influences point of view? "We all basically hit it off from a mutual love of Shattered Realm and other old NJ/NY bands. We draw inspiration and influence from that kinda stuff and a lot of the '90s Euro stuff, the H8000 scene is obviously the big one.
"Luke's dad played guitar in Bolt Thrower, so that has a bit of an influence on how we write too. It's hardcore that's 100% for moshers. We try to mix American goon riffs with the Euros love of At the Gates."
Fuck, how sick is that? Anyway, Mantlet's latest material can be found on their brand-new split release with Kold War, a South Wales hardcore outfit:
Alec said the following about their songwriting: "Lyrically, our songs are about posers and leeches in the scene, trend-hoppers that are trying to make a few quid off of other bands. Obviously, we don't want to lose money on anything we do, but if you're selling 3 shirt designs before anyone has heard your music, you need to re-think your priorities. They also touch on life in a pretty shit city.
"As far as writing, everyone comes up with riffs at home but we pretty much wrote both songs as a group in the rehearsal room. Everything seems to come together better when more heads are involved from the start."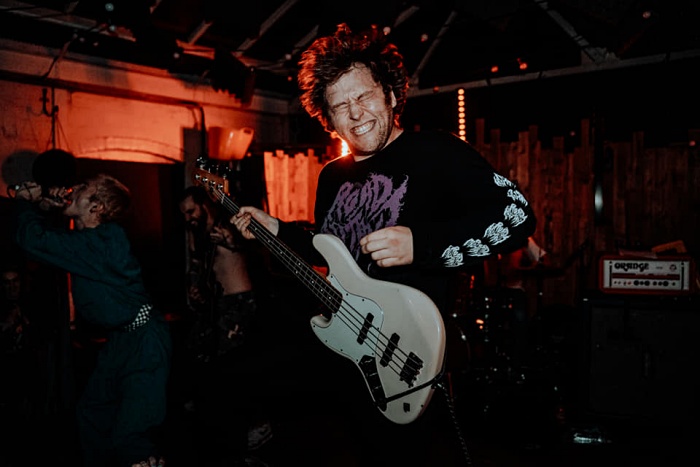 No Echo asks Alec about Mantlet's local following. "There is zero scene in our city Coventry (shout out Climate of Fear who have questionable CVHC ties), so we are usually associated with the Birmingham scene. We're ok with this as it's a really strong and welcoming scene, and we've made real friends with the other local bands. Everybody should be listening to Cauldron, Cruelty, Phaze Two, Severance, and Suppress."

Mantlet's Burning EP (embedded below) came out at the end of 2019:
Like countless other bands, the pandemic threw a huge wrench in Mantic's plans, but it looks like demand for their metallic hardcore is strong. "We had a load of shows planned to follow up the new release, but unfortunately had to pull these because of the pandemic. We're aiming to make up for all the pulled shows as soon as we can. Nuclear Family Records made tapes for the split but sold out of the physical copies on the first day, so we're looking at more options at the moment – stay tuned for info."
Mantlet on social media: Facebook | Instagram
***
Donate a few bucks to help with No Echo's operating costs:
Tagged: mantlet