"A couple of us have been bouncing around the Albany scene for a while, whether playing in bands, going to school, hosting shows, or kicking it." That's how Russell Hanusik, drummer of New York band Halo Bite, starts the conversation with No Echo. We're chatting about the hardcore quintet's new release, Real Guns, Fake Holsters, which just arrived on streaming outlets today. But before we go there, let's get some more backstory cooking.
"Eventually, Jeremy (guitar) reached out to me about playing guitar in an older project he was trying to rehash. After a few months, we decided to go in a different direction and start a new project which grew to become Halo Bite.
"We reached out to longtime friend J (vocals) to come by practice, and the fit was perfect. J pitched the name, and shortly after we went to record our debut EP apathy!. Not too long after recording, Angie (guitar) and Chandler (bass) entered the mix after we met through a mix of mutuals at shows/the internet."
How would Russell describe the Halo Bite sound? "J has a vocal style that is brazen and sentimental with accompanying lyrics that are both hard-hearted and sensitive," Russell says. "We wanted the songs to be different, unapologetic, and something you can dance to. Not every song has to have a designated mosh part, ya know? As a collective, we've all brought our influences to the table.
"While we definitely draw inspiration from bands like Gouge Away, Angel Du$t, Cerce, and the like, we're going to keep people guessing what we'll do next by mixing in influences from outside the realm of modern hardcore. Collectively, we've played everything from bass in funk bands, drums in prog metal bands, and solo acoustic projects. We've got Slipknot, La Dispute, My Chem, Silk Sonic, and so much more on the mind when we go to write."
With the new songs out, Russell and the Halo Bite crew are looking to get busy this year. "We want to gig as much as possible. We have a 5-day run of dates starting February 17th to celebrate the release of Real Guns, Fake Holsters. We're sharing bills with bands like Kidnapped, Snubbed, Prize, Flowers For Burial, and Husbandry.
"If you're in the 518 on March 22nd, catch us with Show Me the Body, Jesus Piece, Scowl, Zulu and Trippjones @ The Fuze Box."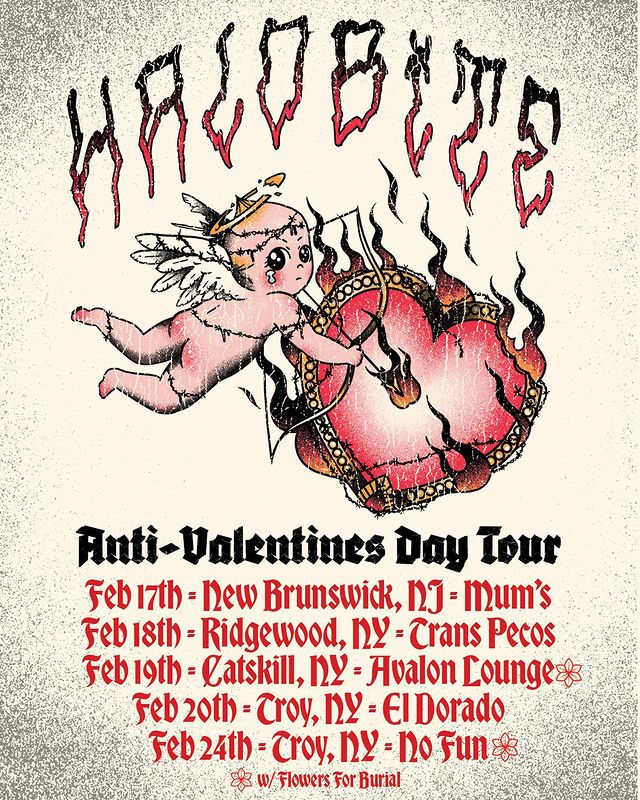 What other bands from the Albany region should we check out? "Can't have this conversation about name dropping the homies in Sunbloc and Prize. Two of our favorite Albany-based bands who write nothing but hits. If you haven't checked out the new Cold Kiss, Flowers For Burial, or Miller Time you really should, if you don't know them now, you will really soon.
"Lemon of Choice are serious chillers, and were integral parts of the engineering side of apathy! as well as the new release. Also big shout out to the friends in Means of Survival, some heavy hitting HVHC [we agree]."
***
Halo Bite on social media: Twitter | Instagram | Bandcamp
***
Help Support What No Echo Does via Patreon:
***
Tagged: halo bite