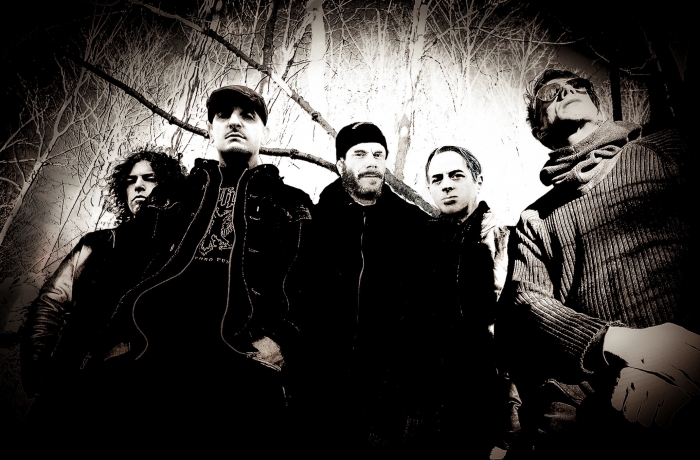 "I don't know if produced is the right word," says Lou Di Bella. "That makes me sound important. Basically, I just 'cut and pasted' bits and pieces of art and footage that I could find to make sense of the song visually, how I see it."
The Subzero vocalist is describing the new music video collage he's constructed for "House of Grief," the title cut to the band's 2020 single. The metallic hardcore vet continues: "I'm not downplaying the process. It was tedious and mentally draining. It took months to peel through thousands of images until I was satisfied with each one. I enjoyed the challenge of putting it together and absolutely hated it a the same time. And as much as I hated it, I never wanted it to end, cause then what do I do next?"
As No Echo's Adam You broke it down in his review of Subzero's EP, "the title track kicks off with a sample from Leon: The Professional, and it indirectly encapsulates the band's trademark duality. Always as forward thinking as they are punishing, there's a delicate art to these assassins."
Lou had more to say about his creative process in the making of the "House of Grief" video piece: "In some way, it's sort of a positive and therapeutic process. I wanted to piece together this story with random yet significant clips that follow the dark content of the lyrics and the music. In a way so that it would reflect the feelings and emotions that come with depression and mental health, which is what the song is really about.
"That and how to hold yourself up mentally, physically and emotionally during those agonizing moments. Other people might interpret the song / video differently and I think that's cool. The viewer's own imagination in regards to what the song and video means to them is what's most important."
No Echo is pleased to present the premiere of Lou's jarring video for "House of Grief" below:
"Today, we have the choice to have this video redone with a legit crew and a professional director, but I'd rather not. To me, personally…the dark, morbid imagery and emotions within this video were compiled while I was very much living in them. I don't think there's a more honest way to have captured that misery other than during the moments that I existed in it.
"Some of the most creative ideas and concepts come out of the darkest places in your mind. I don't think anyone could really truly understand or appreciate the absolute very best in even the smallest things unless you've been through the worst of things. There's always some kind of beauty within the sorrow. You just have to open up your mind to see it."
The House of Grief EP is available now via Upstate Records.
Catch Subzero on November 20th at Upstate Records' first-ever Family and Friends Showcase at the Brooklyn Monarch in Brooklyn, NY. Get tickets here.
***
Help Support What No Echo Does via Patreon:
***
Tagged: subzero