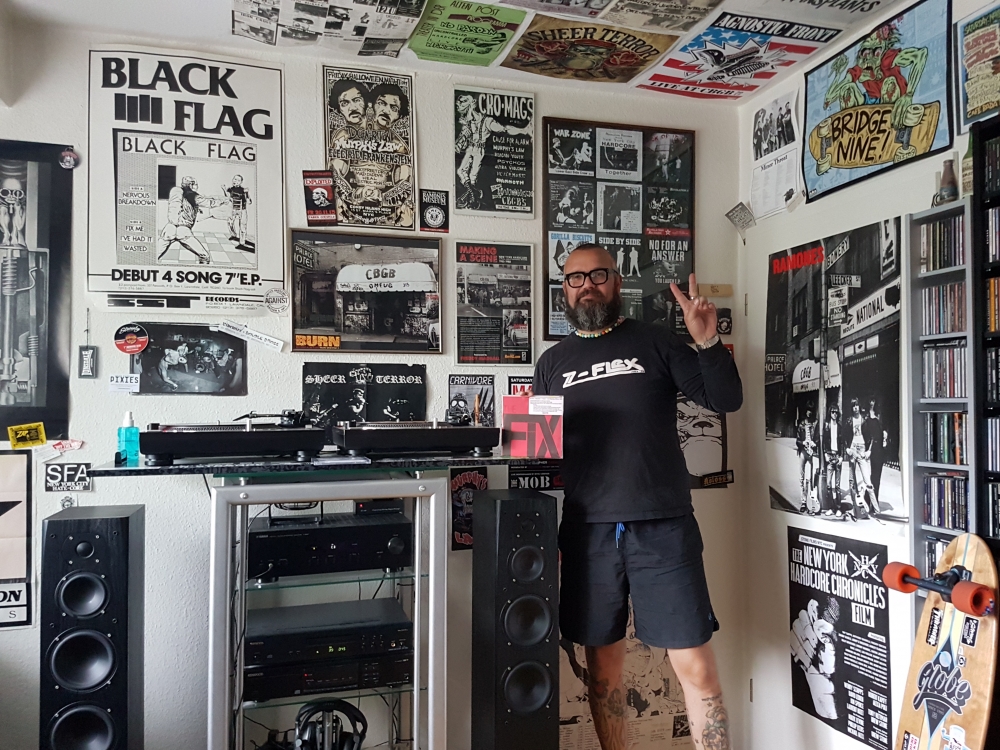 Jens Firchau is a 43-year-old hardcore fan living in Germany. The married father of one spends his days working in a factory, but when he has spare time (never an easy thing when you have young kids!), he's on the hunt for vinyl. In this latest Record Collector piece, Jens talks about his passion for music and all-things Dischord!
How long have you been collecting records?
I bought my first hardcore/punk LP when I was 14, and it Angry Samoans' Back from Samoa. My mother was scared by its sound and cover [laughs]. Before I discovered hardcore music, I heard stuff like Iggy Pop, B-52's, and the Pixies, and I still love all of those artists.
Where/how do you usually find your records these days?
In the late '80s and the early '90s, before "www," I bought my music off of mailorder lists from Lost & Found, CoreTex Records, and private sellers. The Flex! U.S. Hardcore Discography by Burkhard Järisch was the Bible at that time. Now it's easy thanks to Discogs, eBay, and a few private sellers.
What is the most you paid for a single record, where/how did you obtain it, and what was it?
399€ for the Youth Brigade Possible E.P. 7" on Dischord Records from Discogs. There were only 1000 made and they were never repressed.
If you had to pick one record label you feel had/has the best track record of quality releases, who would that be and what are some key titles you love?
Wow, that's not easy to answer, but I'll go with Alchemy Records from San Francisco. Poison Idea's War All the Time, with the track "Nothing Is Final" which has the crazy piano intro, and "Marked for Life"... Jerry A's vocals... wow!
Of everything in your current collection, what is your most prized record and why?
Believe it or not, it's Murphy's Law 's Back with a Bong on Profile Records. I love the '89 the NYHC sound mixed with Fishbone's ska/reggae style. Murphy's Law are still great. I also saw them a few times in Germany during the '90s.
Is there anything that frustrates you about the current record collecting scene?
The price levels, but everyone thinks that these days.
Which records are still on your want list that you've had a tough time tracking down through the years?
The only one that I'm missing is SSD's debut LP, The Kids Will Have Their Say. It's just too expensive right now.
***
Follow Jens on Instagram.
Tagged: record collector